Cranberry Cream Cheese salad ring is a welcome change from the usual side dish. You can even have it for dessert!
Cranberry Orange Ginger Cream Cheese Salad Ring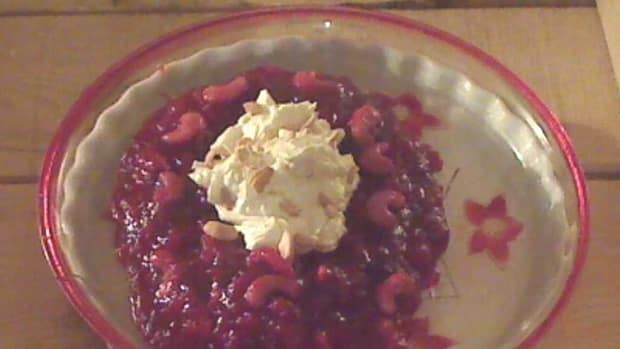 I don't know why people insist on buying the cranberry sauce in the can. Making cranberry sauce from scratch is almost as easy as opening the can. In some cases, when your can opener refuses to play well with the can, it's even easier! Sugar, cranberries and water, how simple is that? In addition, you get the fun of listening to the berries as they pop like popcorn. How cool is that?
Ah, but I can't leave well enough alone. I have to make something special for Thanksgiving, so I'm going to doll my cranberry sauce up, put it into a ring mold, and have a lovely presentation.
When I was a little girl, going to my Uncle Bob's house for Thanksgiving, he made the most wonderful cranberry ring with cream cheese. I loved it but never got the recipe. When I asked him about it, he said he hadn't made it in so many years he had forgotten how to make it and never wrote it down. I've looked all over the Internet, but, alas no joy. So, today, I'm going to attempt to make a similar side dish. Wish me luck!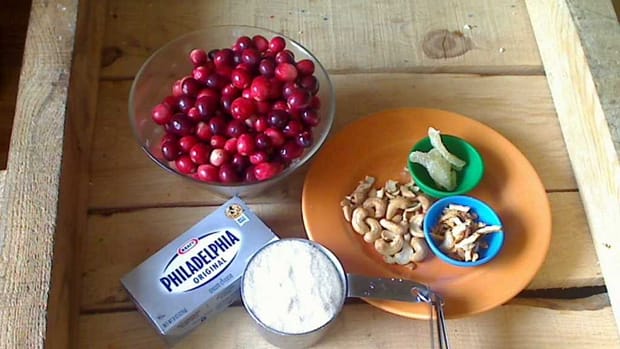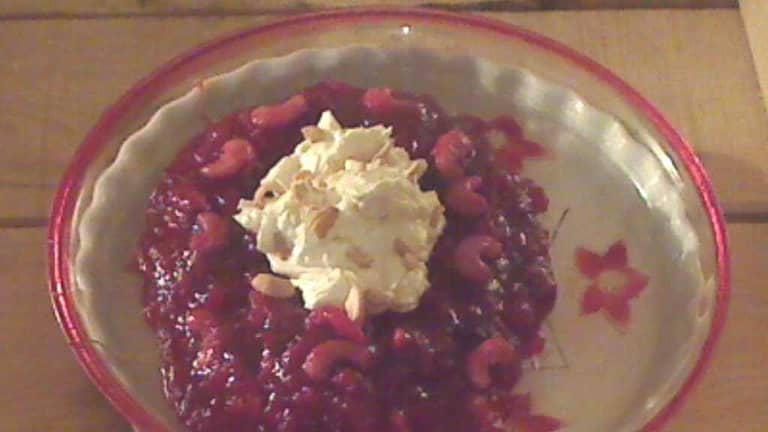 Servings (slide to adjust):
servings
Calories per serving:
252
kcal
Ingredients
1

cup

pure cane sugar

1

cup

water

1

tablespoon

orange rind

1

tablespoon

candied ginger

12

ounces

cranberries

,

1 bag of fresh

½

cup

Whole cashews

8

ounces

Cream cheese softened

¼

cup

pure cane sugar
Ingredients necessary for the recipe step are in italic.
Instructions
1 tablespoon candied ginger

Slice the ginger.

1 cup pure cane sugar,

1 cup water,

1 tablespoon orange rind

In a deep, heavy bottom pot, put the sugar, water, orange rind, and ginger.

Bring to a simmer, and simmer, uncovered for about 5 minutes to allow the orange rind to soften.

Remove the pan from the heat.

Carefully start spooning the mixture over the cashews until they are all covered, then put in the rest of the mixture, using a spatula to spread it all evenly.

Let it sit on the counter for about a half an hour, then put in the refrigerator to firm, at least three hours.

8 ounces Cream cheese softened,

1/4 cup pure cane sugar

In a stand mixer, put the cream cheese and sugar. Mix until fluffy.

Get a large bowl, larger than your ring mold, and fill it with hot water. Have a serving plate ready.

Dip the mold in the hot water, being careful not to let the water get into the ring.

Put the plate over the ring, and turn upside down. Your ring should pop out very nicely.

Spoon the cream cheese mixture into the center of the ring, and decorate as desired.

Serve cold.
Notes
Quick notes
I used a hand blender to puree mine, but you can use a regular blender, or if you like whole cranberries, omit this step entirely.
Variations
You can omit almost everything except the sugar. if you are allergic to nuts, certainly omit the cashews. If orange or ginger bother you, omit those, too.
Nutrition
Serving:
108
g
Calories:
252
kcal
Carbohydrates:
36
g
Protein:
1
g
Fat:
12
g
Saturated Fat:
7
g
Polyunsaturated Fat:
1
g
Monounsaturated Fat:
4
g
Cholesterol:
39
mg
Sodium:
25
mg
Potassium:
68
mg
Fiber:
1
g
Sugar:
32
g