This is a lovely way to make moist pork with great sauce.
Pork Chops Paprikash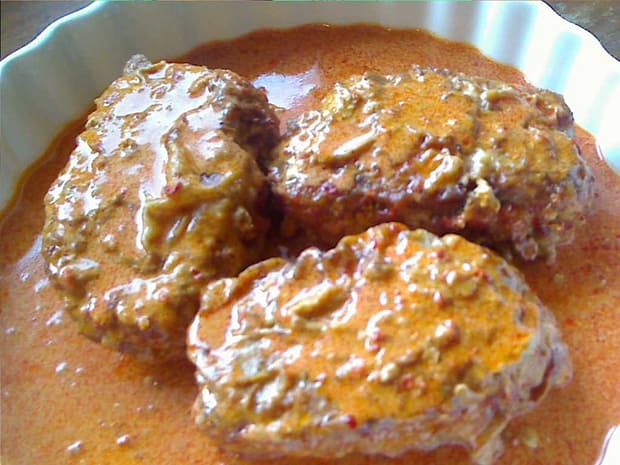 When I was a little girl, my mother had the entire collection of The Woman's Day Encyclopedia of Cooking, and there was a recipe in for Hungarian Porkchops, which I have been making for many years. Today, I decided to change the recipe a bit and came up with Pork Chops Paprikash.
In Glendale, California, which has a large Armenian population, we have Red Pepper Sauce. It's basically paprika peppers, and I use it quite often, in sauces, eggs, and other dishes. There are many brands and you can probably find it in ethnic European stores. I highly recommend it.
Paprikash dishes call for sour cream. I have probably talked about this before, and I will say it again. When you buy sour cream, please only get the kind that has cultured cream. The other stuff has gelatin and other ingredients as fillers, and they just are not real sour cream. The Alta Dena brand has a wonderful saying on the top of the tub, "Those cravings you feel are totally natural". I love that because it's true – there is nothing in that sour cream except cultured cream, the way sour cream should be.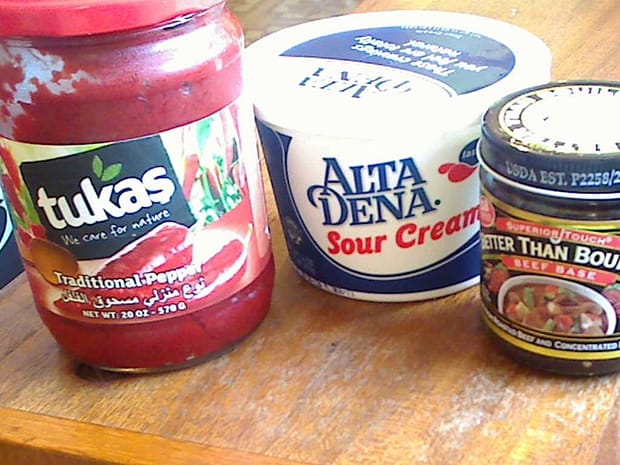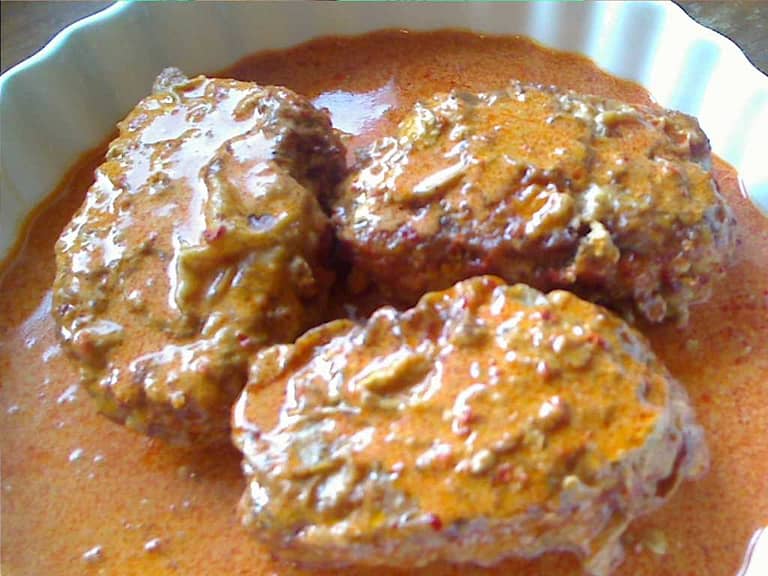 Servings (slide to adjust):
servings
Calories per serving:
301
kcal
If you purchase any of the products through these affiliate links, I get a few pennies that help keep The Good Plate open. I use these products myself and want you to be able to easily find them.
Ingredients
4

medium-size boneless Pork Chops

1

cup

flour

1

teaspoon

onion powder

1

teaspoon

garlic powder

2

teaspoons

paprika

1

teaspoon

freshly cracked pepper

½

teaspoon

fine sea salt

1

tablespoon

olive oil

1

teaspoon

Chopped Shallots in Oil

1

teaspoon

beef base

1

cup

hot water

2

tablespoons

Red Pepper Sauce

1

cup

more or less of Real Sour Cream
Ingredients necessary for the recipe step are in italic.
Instructions
4 medium-size boneless Pork Chops

Wash the pork chops and pat them dry.

1 cup flour,

1 teaspoon onion powder,

1 teaspoon garlic powder,

2 teaspoons paprika,

1 teaspoon freshly cracked pepper,

1/2 teaspoon fine sea salt

Get a clean plastic bag and put the flour and spices in it.

Put the chops in the bag and shake it until the chops are well coated.

Heat oil in a skillet, and when the oil is heated, put the chops into the skillet, and brown on both sides. Do not burn.

Remove the chops from the pan, and set aside.

1 teaspoon beef base,

1 cup hot water

Combine the beef base and the hot water. Mix well to make the broth.

1 teaspoon Chopped Shallots in Oil

Sauté the shallots in the oil, adding more oil if necessary.

Add the beef broth and scrape up the good stuff on the bottom of the pan.

2 tablespoons Red Pepper Sauce

Add the red pepper sauce and mix that in as well.

Put the chops back into the pan, lower the heat and cover the pan.

Simmer for about 20 minutes, or until the chops are completely cooked (150 degrees).

Remove the chops to a serving platter, keeping them warm.

1 cup more or less of Real Sour Cream

Add the sour cream to the pan, and whisk it all in well.

Spoon over the chops.
Notes
Quick notes
This is very nice served with noodles or spaetzle.
Variations
If you do not want to use pork, you can use chicken instead.
Nutrition
Serving:
542
g
Calories:
301
kcal
Carbohydrates:
38
g
Protein:
14
g
Fat:
11
g
Saturated Fat:
6
g
Polyunsaturated Fat:
1
g
Monounsaturated Fat:
3
g
Cholesterol:
49
mg
Sodium:
103
mg
Potassium:
424
mg
Fiber:
5
g
Sugar:
11
g