Last Updated on February 2, 2023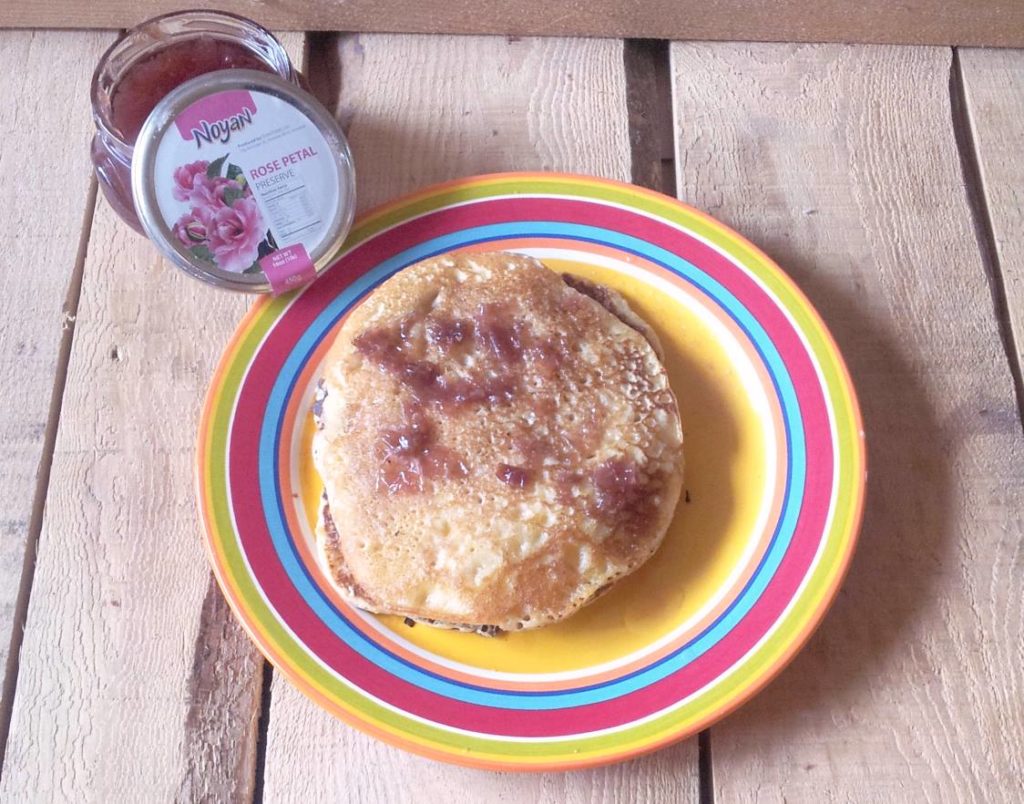 I like to make something special on Wednesday mornings because Spane goes to school late on Wednesdays. Spane wanted pancakes, and as I looked in the pantry to get the ingredients out, I spied a can of peaches. I love peaches, and I especially like them with rose preserve and Marsala.
Rose preserves are made from real rose petals and sugar. Roses taste like they smell, and they are very good for you. They have lots of vitamin C, so I try to cook with roses, or drink rose juice during flu season. I'm staying healthy! You can usually find rose preserves at Mediterranean markets, or you can purchase rose preserves on-line at Amazon or other food websites. They are also delightful on ice cream and a variety of other desserts. Don't be afraid pf eating flowers, they taste good, and they're good for you!
Summary: These elegant pancakes can be served for breakfast, or on a special occasion.
Ingredients
— Peaches —
1 8 oz Can peaches drained
2 tablespoon Sugar
1/4 teaspoon Mace
— Pancakes —
1 1/2 cup Flour
3 teaspoon Baking powder
1/2 teaspoon Sea salt
1 teaspoon Pure Vanilla
1 1/4 cup Milk
3 tablespoon Butter melted
1 Egg
Sunflower oil for oiling the pan
— Sauce —
1 tablespoon Butter
1 tablespoon Marsala
2 tablespoon Rose preserve
Instructions
Instructions
If you do not have a tortilla warmer, pre-heat the oven to 225 and have ready a baking sheet.
Put the peaches into a small food processor and liquefy them. Put them in a small pot with the sugar and mace. Cook them on low, stirring often until they have softened, about 5 minutes.
Meanwhile, melt the butter that you will need for the batter and sauce.
Combine sift together the flour, baking powder and salt. Put that in a medium bowl. Add the vanilla, hot peach mixture, and 3 tablespoons of the melted butter. Stir to cool, then add the egg so it won't scramble. Mix well, then start adding the milk. You may have to add more or less depending on how much liquid you got from the peaches. The batter should be not so thick that it clumps, and not so thin that it's runny. If you add too much milk, add some more flour.
Heat a skillet to medium, and put a thin layer of sunflower oil in the pan. Whirl it around to coat the whole pan. Use a ladle to put one ladle full of batter in the skillet, spreading it around a bit. Cook until the top is bubbling and the sides have lifted up a bit, about 3 minutes. Flip and cook on the other side, about 1 minute. Put in the tortilla warmer, or on the baking sheet in the oven. Cook the rest of the batter.
When all the batter has been made into pancakes, put the Marsala and rose preserves into the pan with the remaining melted butter. Turn the heat to medium and stir continuously until the sauce starts to boil. Remove from the heat.
Immediately plate the pancakes and drizzle the hot butter sauce over them.
Quick notes
I use cooking Marsala which does not have alcohol. If you use regular Marsala, make sure the sauce gets very hot to burn off the alcohol. You can find rose preserves at Mediterranean markets. They are very delicious, and good for you, too.
Variations
You can omit the sauce and just use your favorite syrup.
Preparation time: 5 minute(s)
Cooking time: 10 minute(s)
Diet type: Vegetarian
Number of servings (yield): 2
Culinary tradition: French
Calories: 971
Fat: 42g
Protein: 24g
My rating 5 stars:  ★★★★★ 10 review(s)
Copyright © The Good Plate.
Recipe by Adrienne Boswell.
Microformatting by hRecipe.