You don't have to wait for Valentine's Day - these are great any day
Sour Cherry Jellies for Valentines Day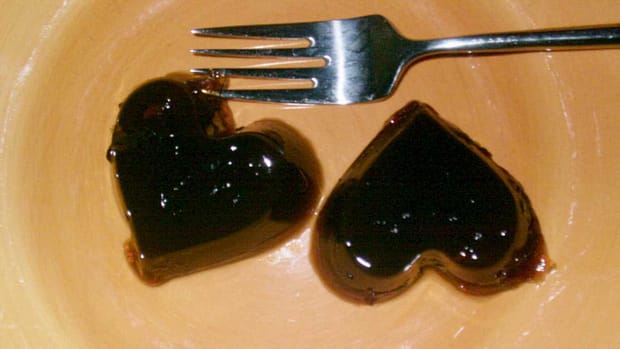 You know, sometimes you're a day late and a dollar shy. I found silicon heart-shaped molds at a resale shop back in November and saved them to make something for Valentine's day. Spane came home from school on Valentines Day with a box of chocolate he was selling as a school fundraiser. After dinner, we went to the market to buy milk, and sell candy to the store owner. While we were there I got a bottle of sour cherry syrup to put in my coffee. Spane did very nicely selling candy on the home to people who were getting last minute Valentine gifts.
It wasn't until the next morning when I was sipping my sour cherry flavored coffee, which was excellent by the way, and happened to look up and see the valentine molds, that I remembered I hadn't done anything for Valentines Day, but I could be a day late and a dollar shy if I made Sour Cherry Jellies.
If you're trying to find sour cherry syrup, look in Mediterranean markets. Zergut makes the one I use. If you can't find it at your local store, visit Indo-European, and order directly from them. They make all kinds of really good, minimally processed foods.
Did you know that sour cherries are really good for you? Medicinally, sour cherries may be useful in alleviating sleep problems due to its high melatonin content, a compound critical in regulating the sleep-wake cycle in humans. These jellies have intense flavor, and a low in sugar and calories, so they make a healthy treat.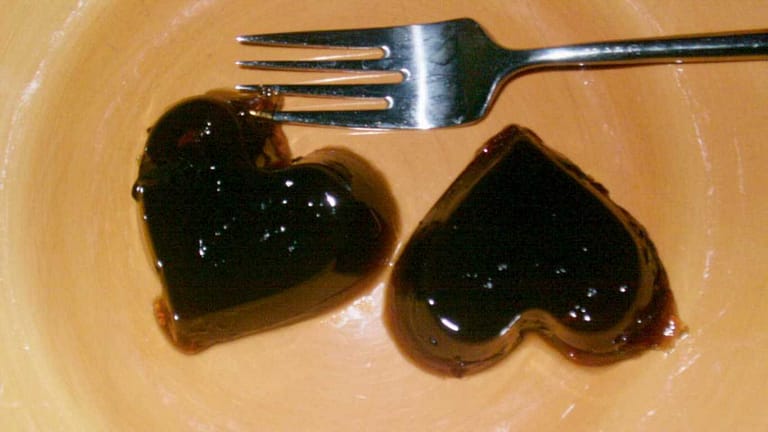 Servings (slide to adjust):
servings
Calories per serving:
239
kcal
If you purchase any of the products through these affiliate links, I get a few pennies that help keep The Good Plate open. I use these products myself and want you to be able to easily find them.
Ingredients
12

ounces

Sour Cherry Syrup

2

package

Unflavored Gelatin

12

ounce

Water

,

boiling

½

teaspoon

Almond Extract

½

teaspoon

Brandy extract
Ingredients necessary for the recipe step are in italic.
Instructions
In a small pot, put 1 cup of water and 1/2 cup sour cherry syrup.

Bring to a boil.

Pour the boiling liquid into an at least quart size bowl.

Sprinkle the gelatin over the hot liquid.

Stir to mix the gelatin completely into the liquid.

Add the almond extract and brandy flavoring.

Add 1 cup of sour cherry syrup.

Add 1/2 cup of cold water.

Stir to combine.

Pour into heart shaped mold or nice glasses.

Refrigerate until set, about 2 hours.
Notes
Quick notes
These have very intense flavor, but they do not taste or look at all like cherry Jello. Sour cherries are tart. The syrup used for this recipe has no corn syrup, just sugar, and sour cherry juice.
Variations
You could make this using sour cherry juice, but you would want to add about 1/2 cup of pure cane sugar and taste for sweetness. Some sour cherries are more tart than others.
Nutrition
Calories:
239
kcal
Carbohydrates:
0
g
Protein:
2
g
Fat:
0
g
Saturated Fat:
0
g
Polyunsaturated Fat:
0
g
Monounsaturated Fat:
0
g
Trans Fat:
0
g
Cholesterol:
0
mg
Sodium:
6
mg
Potassium:
1
mg
Fiber:
0
g
Sugar:
57
g