The taste of these is exceptional.
Armenian Raisin Bread French Toast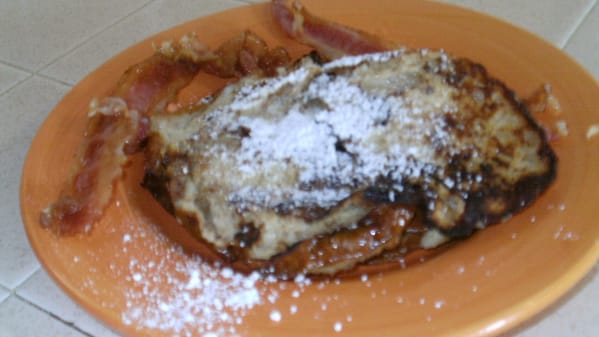 Armenian Raisin bread makes the best French toast. This is not the same thing as traditional raisin bread you might find at the local supermarket. I highly recommend seeking this bread out.

I love living in Glendale, California, where we have wonderful Armenian bakeries and lovely little Raisin Bread. They are reminiscent of Panettone. I had one Raisin Bread leftover from making Apple Brown Betty, and I was looking for something interesting to make for breakfast this morning. I took the one bread, and using an electric knife, got it into 4 nice slices. You have to get yourself an electric knife for slicing bread. Your bread will last longer, and you can have it whatever thickness you like.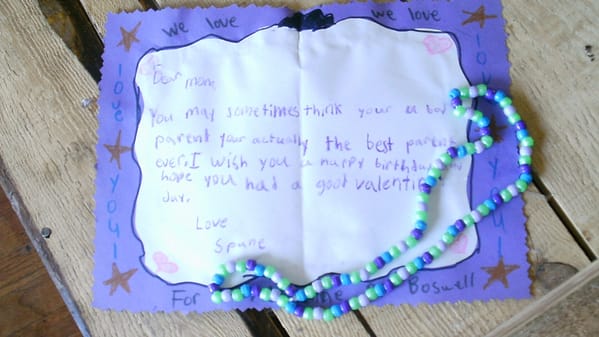 It just so happened that when I made this originally, the next day was my birthday. My son made me a card in honor or that and the really good French toast. Of course, you don't have to wait for a holiday to make this, you can make it any time.
Making the Toast
If the bread is freshly baked, it will be too moist to absorb the liquid. It's pretty easy to fix that. Just slice the bread horizontally and put the bread in a very low oven for about 15 minutes. A very low oven is about 250 F / 120 C. You want the oven to be low because you don't want the bread to brown, only dry out enough to be able to absorb the liquid.
Want to make it into holiday French toast? You can add a little cinnamon to the liquid mixture, or if you want it "Pumpkin Spice", then add a little pumpkin spice.
Of course, you are not limited to powdered sugar for a topping. You could use maple syrup, honey, or your favorite pancake topping.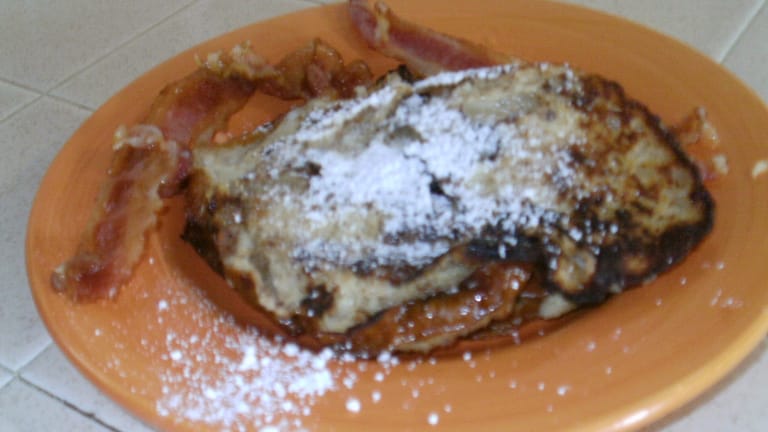 Servings (slide to adjust):
Servings
Calories per serving:
182
kcal
If you purchase any of the products through these affiliate links, I get a few pennies that help keep The Good Plate open. I use these products myself and want you to be able to easily find them.
Ingredients
1

Armenian Raisin Bread

1

egg

¼

cup

milk

½

teaspoon

cinnamon

1

teaspoon

sugar

,

pure cane

¼

teaspoon

vanilla extract,

pure

1

tablespoon

butter

¼

cup

Powdered sugar

,

pure cane for topping
Ingredients necessary for the recipe step are in italic.
Instructions
Slice the bread into 4 slices. If you use an electric knife, you will have no problems.

Mix the egg, milk, cinnamon, sugar, and vanilla together in a shallow bowl.

Heat a skillet on medium heat.

Add the butter to the skillet and swirl it around to coat the skillet.

Dip each piece of raisin bread in the egg mixture, then put it in the skillet.

Turn the heat to low, and let the bread cook for about 2 minutes, then turn.

Serve hot with powdered sugar on top.
Nutrition
Calories:
182
kcal
Carbohydrates:
26
g
Protein:
4
g
Fat:
7
g
Saturated Fat:
4
g
Polyunsaturated Fat:
0
g
Monounsaturated Fat:
2
g
Cholesterol:
20
mg
Sodium:
85
mg
Potassium:
95
mg
Sugar:
19
g