Instant Pot Transylvanian goulash is similar to Hungarian goulash with the addition of sauerkraut which gives it more flavor.
Instant Pot Transylvanian Goulash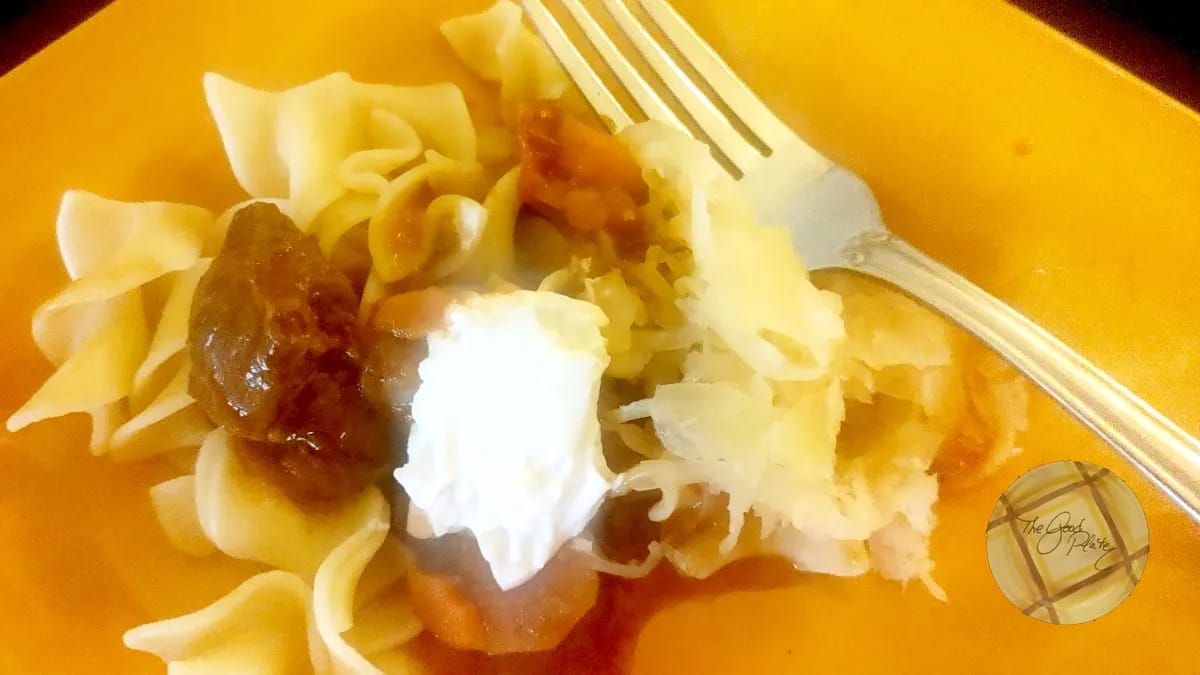 Instant Pot Transylvanian goulash is similar to Hungarian goulash with the addition of sauerkraut. You might think that the briny, fermented flavor of sauerkraut would clash, but it enhances the flavor even more.
I made this hearty goulash stew for a Halloween party and joked that even the most hardened vampire wouldn't be unable to resist its goodness. The sauerkraut was an added bonus that boosted the flavor while cutting the richness. I served it with noodles, but spaetzle would have been better – I was outvoted!
Goulash has been my favorite stew since I was a little girl when my family was stationed in Germany. German goulash is great, but Hungarian was my favorite – until now. Now my favorite is this Transylvanian with red wine and sauerkraut.
Sauerkraut is not scary. If you have not had it yet, it's merely cabbage fermented in brine. It has many health benefits and can even help you lose weight.
It aids in digestion because cabbage is fibrous. Because it's fermented, it is also full of probiotics that can help IBS.
Sauerkraut can help weight loss because it is very low in calories, with only 16 calories per half-cup serving. Since it's full of fiber, it makes you feel full quicker, so you eat less.
With all that, it also has the following vitamins:
It's tasty and good for you! It's a win, win!
What Kind of Sauerkraut?
There are many different brands of sauerkraut, some sourer than others. Sauerkraut that comes in a glass jar or comes in a plastic bag seems not to be quite as bitter. If you get the sauerkraut that comes in a can, I recommend rinsing it thoroughly to eliminate the excess brine. I find that heating it with a little white wine also cuts the pungency. Recently, I discovered Hengstenberg Bavarian Wine Sauerkraut. It's the most popular brand in Germany for a reason. It hits all the notes for the perfect flavor.
What to serve with Goulash
Warm it up and serve it separately for those who don't care for sauerkraut. Those who want to partake can add it to their plate.
Spaetzle is my preferred accompaniment for goulash, but extra-wide egg noodles do nicely, too. If someone thinks they are missing out on potatoes, goulash also does very well with mashed potatoes.
Since there are already a lot of vegetables in the stew, a vegetable side is not really necessary. You could start with a small salad and serve the stew itself with crusty bread to sop up all those flavorful juices.
A bottle of Cabernet or Shiraz would go nicely with this, too. Make something light for dessert, maybe Cherries Jubilee or Tiramisu.
Recipe
Servings (slide to adjust):
Calories per serving:
497
kcal
If you purchase any of the products through these affiliate links, I get a few pennies that help keep The Good Plate open. I use these products myself and want you to be able to easily find them.
Ingredients
Ingredients necessary for the recipe step are in italic.
Instructions
If you have a removable inner pot you can put on the stovetop, set it on the stove top. Otherwise, set your Instant Pot on saute.

1 tablespoon olive oil,

1 Onion,

1 red pepper,

4 cloves Garlic,

1 Carrot

Heat the pot and when it is shimmering add the olive oil. Allow the olive oil to also heat upthen add the vegetables. Add the carrot, onion and red pepper first as they take the longest to cook.

2 pounds Beef chuck,

1/4 cup flour,

1 teaspoon Black pepper

Mix the beef with the flour and black pepper making sure that all the pieces are coated.

1 teaspoon olive oil,

1/2 teaspoon ham base

Add the additional olive oil to the pot and brown the meat on all sides. You will have to do this in batches. You want to brown the beef, not steam it so make sure there is plenty of room to move the meat around. When all the meat has been browned, remove it from the pot and set it aside.

If you are not using a removable inner pot, turn the Instant Pot off. Otherwise, put the inner pot in the base.

1 teaspoon cayenne,

1/2 teaspoon dried shallot,

1/2 teaspoon white pepper,

2 tablespoons red pepper paste,

1 tablespoon tomato paste

Add the remaining seasonings, including the red pepper paste.

Turn the Instant Pot to pressure cook for 35 minutes. Let the stew Natural release for 15 minutes then Quick release any remaining pressure.

2 tablespoons Butter,

2 tablespoon Flour

Remove the top of the Instant Pot. If the stew seems too thin, use a fork to mix the flour and butter together. Add that to the stew and cook it until it thickens.

1 cup sauerkraut,

1 pound noodles,

1/4 cup sour cream

Serve the stew with sauerkraut, noodles, and sour cream for garnish.
Notes
Feel free to replace the cayenne with paprika if you do not like spicy foods.
Nutrition
Serving:
373
g
Calories:
497
kcal
Carbohydrates:
28
g
Protein:
26
g
Fat:
29
g
Saturated Fat:
12
g
Polyunsaturated Fat:
2
g
Monounsaturated Fat:
12
g
Cholesterol:
107
mg
Sodium:
392
mg
Potassium:
666
mg
Fiber:
3
g
Sugar:
3
g
Halloween Transylvanian Goulash with Music