Use this hack to make Hungarian Goulash in under an hour.
Instant Pot Hungarian Goulash

Using this hack for Instant Pot Hungarian Goulash, you can get the deep flavor from hours of slowing simmering in a Dutch Oven, and the speed of Instant Pot will make it all happen in under an hour!

A Dutch Oven is the tool to use when you want to make a rich, flavorful stew. But, it takes hours of slow cooking to get the meat tender. I've got a hack for that. You cook the meat in the Instant Pot with some beef base for about 20 minutes and then add it to the rest of the ingredients in the Dutch Oven. It's the best of both worlds.
Could you do the whole thing in the Instant Pot?  Sure, but you wouldn't get the great flavor simply because browning the meat and vegetables really requires more room so good caramelization can occur. That caramelization is what gives the deep flavor.  I love my Instant Pot and often use the saute function, for smaller things.  If I want to saute a lot, then it's a Dutch Oven or large saute pan.
It's All About the Base
So, do you know about Better than Bouillon Beef Base? I've been using it for years, and it was recently mentioned in America's Test Kitchen as their winning brand for a beef base. It's great because it stores easily in your refrigerator and doesn't go bad. I used to buy beef stock in a carton, didn't need all of it, it would sit in the refrigerator until it became a Science Experiment, and I would throw it away. Beef Base doesn't do that. It comes in a jar, and you use a teaspoon added to a cup of hot water to make a cup of broth. What could be easier or more cost-effective?
This recipe calls for bacon fat. If you are concerned about extra fat, you can use Better than Bouillon's Ham Base instead.
Red Pepper Paste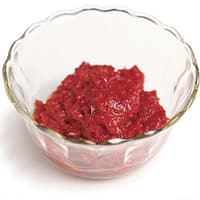 Red pepper paste is NOT the same thing as pepper sauce, so the stuff you put on your tacos is not going to work here. I like the Tukas brand. If you can't find it in your local supermarket, try a Mediterranean market or, of course, Amazon.
What to Serve with Hungarian Goulash
Spaetzle is a perfect side for this. Spaetzle are little dumpling noodles that are easy to prepare. You will find yourself making these a lot to go with other dishes.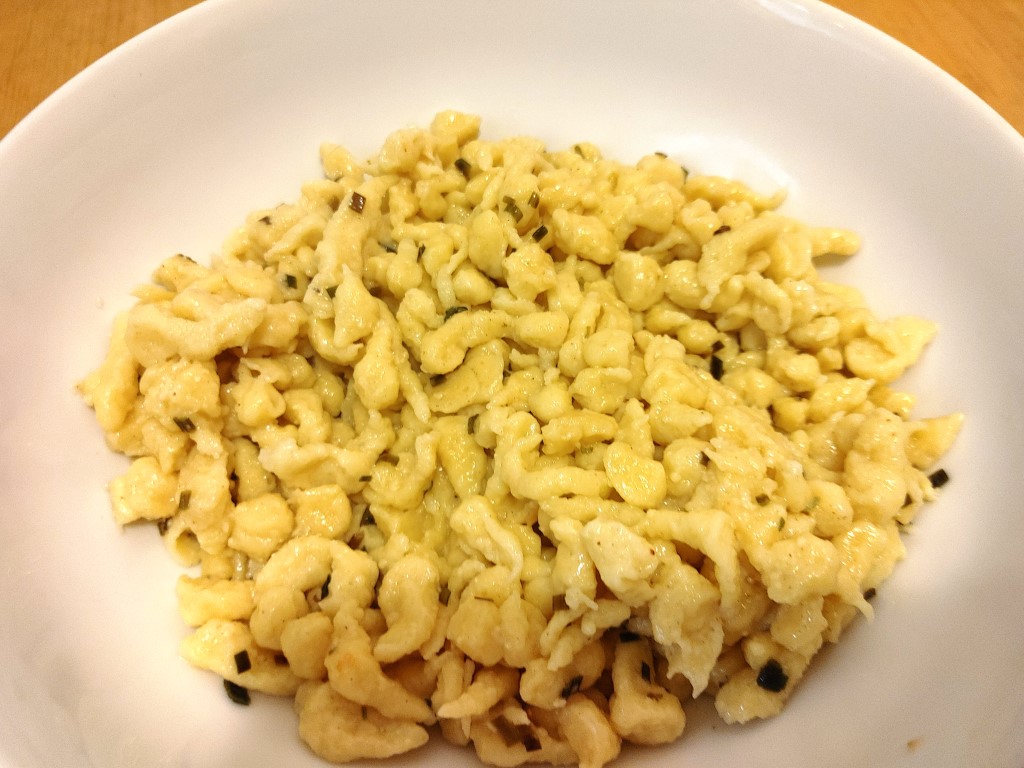 Spaetzle or Spätzle – How to Make Homemade Spaetzle
Learn how to make Spaetzle or Spätzle, a wonderful German pasta side dish that loves to be a bed for stew and other hearty dishes.
Let's Make Instant Pot Hungarian Goulash!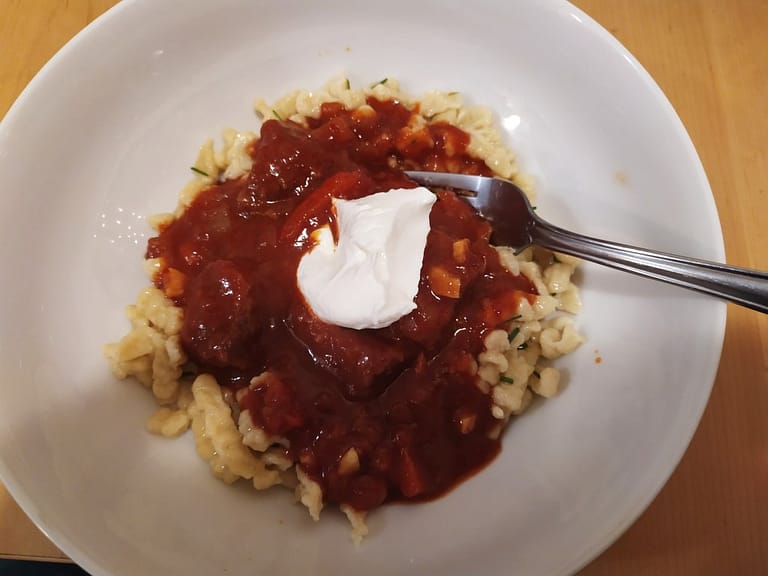 Servings (slide to adjust):
Calories per serving:
375
kcal
If you purchase any of the products through these affiliate links, I get a few pennies that help keep The Good Plate open. I use these products myself and want you to be able to easily find them.
Ingredients
1

pound

sirloin

,

cubed

1

teaspoon

bacon fat

, or 1/8 teaspoon ham base

1

teaspoon

olive oil

1

onion

,

chopped

1

red pepper

,

chopped

2

cloves

garlic

,

chopped

¼

cup

flour

1

tablespoon

Paprika

1

teaspoon

cayenne

½

teaspoon

dried shallots

½

teaspoon

white pepper

2

tablespoons

red pepper paste

1

tablespoon

tomato paste

2

teaspoons

beef base

2

cups

water

¼

cup

sour cream

,

for garnish
Ingredients necessary for the recipe step are in italic.
Instructions
1 pound sirloin,

1/4 cup flour,

1 tablespoon Paprika,

1/2 teaspoon white pepper,

1 teaspoon cayenne

Add the flour, some cayenne, some white pepper and some paprika to the meat in a bowl. Stir it up until it is completely covered.

1 teaspoon bacon fat,

1 teaspoon olive oil

Put the bacon fat and the olive oil into the bottom of a dutch oven. Turn on the heat and when the oil is warm enough add the meat, shaking off any excess flour and saute it until it is nicely browned.

2 teaspoons beef base,

2 cups water

Put the browned meat into the instant pot. Mix the water and beef base thoroughly. Pour this over the beef and set the pot into the instant pot. Cover the top and set it to pressure for 20 minutes.

1 onion,

1 red pepper,

2 cloves garlic,

1/2 teaspoon dried shallots

Meanwhile, saute the onion, pepper, shallot, and garlic until the end of the onion is translucent.

1 tablespoon tomato paste

Add the tomato paste and mix it together with the vegetables.

When the meat is cooked let it naturally release for 10 minutes and then quick release. Carefully remove the inner pot from the Instant Pot. Use a slotted spoon and put the meat into the Dutch oven.

Turn the heat up under the Dutch oven and let the meat cook a bit with the vegetables stirring constantly. Carefully add the liquid in the inner pot to the Dutch oven and mix to combine.

2 tablespoons red pepper paste

Add the pepper paste, cayenne, and white pepper. Taste for seasoning and cook on low heat until the mixture is nice and thick about 10 minutes.

Garnish with sour cream. Serve over spaetzle.
Nutrition
Serving:
321
g
Calories:
375
kcal
Carbohydrates:
22
g
Protein:
24
g
Fat:
20
g
Saturated Fat:
8
g
Polyunsaturated Fat:
2
g
Monounsaturated Fat:
10
g
Cholesterol:
71
mg
Sodium:
700
mg
Potassium:
1052
mg
Fiber:
5
g
Sugar:
10
g