Chocolate fruitcake is an amazing cake nothing like the fruitcake you might be familiar with.  This moist cake is rich and flavorful.
Chocolate Fruitcake
Chocolate fruitcake is an amazing cake nothing like the fruitcake you might be familiar with.  This moist cake is rich in chocolate, chocolate chips, fruits, nuts, and booze. The batter makes enough for one springform cake and 6 muffins.  For the best flavor, the cake should age for about a month. Enjoy!
Fruitcakes come in many varieties. They originated in ancient Rome when they consisted of pomegranate seeds, pine nuts, and raisins that were mixed into barley mash. In the Middle Ages, honey, spices, and preserved fruits were added. They were intensive and expensive so only for very special occasions. Serving a fruitcake in December meant that you could enjoy the memory of fruits when they were in season.  It made the long, dark winter a little more enjoyable.  Cakes wrapped in liquor-soaked cloth could last a very long time, over a hundred years!
You can go any time on social media polls about how people feel about fruitcakes. They either love them or hate them. I can understand not liking them.  Often, they are so dense they seem inedible.  The light cakes have very little flavor, fall apart if they have no liquor, and dry out to be used as doorstops.  The dark fruitcakes are lovely, but they, too, can seem overwhelming.
When I was looking for a good fruitcake recipe, I came across the one in King Arthur Baking, Everyone's Favorite Fruitcake. I made it and it was very good.  However, I thought I could make it a little better, and I did.  The addition of chocolate chips and espresso powder take an already great cake right over the top.  You might decide to make chocolate fruitcake a new holiday tradition, I know I did.
Notes about Chocolate Fruitcake
You can get holiday fruit in all kinds of different varieties.  I really like red cherries, so I put an extra container of red cherries in.  Some people like green cherries and pineapple best so if you like that, use that. You can also use dried fruit and reconstitute it with liquid.  Cranberries are a good idea.  If you happen to have figs on hand, they add their own sweetness to the party.
This recipe makes a lot of batter.  Make sure you have a large bowl to make it.  When I make it, there is enough for a 10-inch springform pan and 6 regular-sized cupcakes. It will also fit in two loaf pans.
I highly recommend using a spray-on like Baker's Joy or Pam with flour.  Spray liberally, then put parchment paper on the grease, and spray that, too.  Allow one to two hours baking time plus time for the cake to cool off.  Make sure to wrap it carefully so it will stay fresh.  You are encouraged to "feed" it with liquor enhanced simple syrup once a week until you are ready to serve it.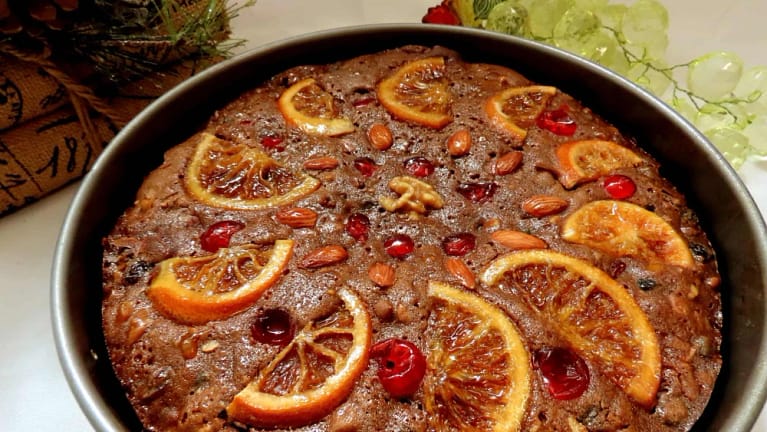 Servings (slide to adjust):
Calories per serving:
509
kcal
Ingredients
~~ Fruit ~~
1 ½

cups

mixed fruit

1 ½

cups

Raisins

1 ½

cups

Dates

,

chopped

1

cup

Cherries

,

candied

¾

cup

Cinnamon Whiskey
~~ -- Nut Mixture -- ~~
1

cup

Chocolate chips

½

cup

Walnuts

,

chopped

½

cup

Almonds

,

chopped
~~ Batter ~~
½

pound

butter

,

unsalted at room temperature

2

cups

brown sugar

,

packed

1

teaspoon

salt

1

teaspoon

cinnamon

¼

teaspoon

allspice

¼

teaspoon

nutmeg

1

teaspoon

baking powder

4

large

eggs

,

at room temperature

3

cups

Flour

2

tablespoons

cocoa

,

unsweetened

2

tablespoons

Molasses

2

tablespoons

honey

1

teaspoon

espresso powder

¼

cup

boiling water
~~ Topping ~~
4

Sliced oranges

4

Cherry halves

8

walnuts
~~ Glaze ~~
2

tablespoons

Spiced Rum

¾

cup

simple syrup
Ingredients necessary for the recipe step are in italic.
Instructions
For the fruit
1 1/2 cups mixed fruit,

1 1/2 cups Raisins,

1 1/2 cups Dates,

1 cup Cherries,

3/4 cup Cinnamon Whiskey

Combine the fruit with the whisky in a non-reactive bowl; cover and let rest overnight.

Preheat the oven to 300°F/148°C. Prepare a springform pan by greasing and flouring it. Add parchment paper and grease and flour that as well. Use muffin pan liners for the muffin pan.
For the Nuts
1 cup Chocolate chips,

1/2 cup Walnuts,

1/2 cup Almonds

Mix the nuts and chocolate. Set them aside.
For the Batter
1/2 pound butter,

2 cups brown sugar

Place the butter and sugar in a large bowl and beat together until well combined.

1 teaspoon salt,

1 teaspoon cinnamon,

1/4 teaspoon allspice,

1/4 teaspoon nutmeg,

1 teaspoon baking powder

Beat in the salt, spices, and baking powder.

Beat in the eggs one at a time, scraping the bowl after each addition.

3 cups Flour,

2 tablespoons cocoa

In a separate bowl, whisk together the flour and cocoa.

2 tablespoons Molasses,

2 tablespoons honey,

1 teaspoon espresso powder,

1/4 cup boiling water

In a separate bowl, combine the molasses and honey to make a syrup. Next, put the espresso powder in a heatproof bowl or measuring cup and stir in the boiling water.

Add the flour mixture and the syrup to the mix in the bowl, beating gently to combine.

Stir in the espresso, then the fruit (including any additional liquid collected in the bowl), and the nuts. Scrape the bottom and sides of the bowl, and stir until everything is well combined.

Spoon the batter into the pans, filling them about 3/4 full.

4 Sliced oranges,

8 walnuts,

4 Cherry halves

Decorate the top of the cake with the orange slices, walnuts, and a cherry half. Put a single cherry on top of each muffin top.

Bake the cakes on the middle shelf of the oven, as follows: about 60 minutes for the individual cakes; 65 to 70 minutes for the small loaves; 75 minutes for the medium loaves, and 2 hours + 10 to 15 minutes for the 9" x 5" loaves. The cakes are done when a cake tester inserted into the center comes out clean.

Remove the cakes from the oven. Fruitcake can remain in its pan for storage if desired. Or carefully remove the cake from the pan after about 5 minutes, loosening its edges first.

2 tablespoons Spiced Rum,

3/4 cup simple syrup

Combine the rum and the simple syrup.
Nutrition
Serving:
163
g
Calories:
509
kcal
Carbohydrates:
80
g
Protein:
4
g
Fat:
17
g
Saturated Fat:
9
g
Polyunsaturated Fat:
2
g
Monounsaturated Fat:
5
g
Cholesterol:
84
mg
Sodium:
194
mg
Potassium:
468
mg
Fiber:
4
g
Sugar:
50
g