Yes, you can! Crispy and spicy turkey wings without all the fat. For wing lovers, if you like Buffalo Wings, you'll love these because there is more wing!
Buffalo Turkey Wings in the Air Fryer
For wing lovers, if you like Buffalo wings made with chicken, you will love these because these Buffalo Turkey Wings have more wing!
Why Buffalo Turkey Wings?
For those of us who really like Buffalo wings made from chicken, it seems there are never enough wings. Chicken wings are tiny compared to turkey wings. Turkey wings have a lot of flavor on their own, just as chicken wings do, But they're bigger! A LOT bigger. They are so big that one wing will serve two people.
You might decide to cut the wings off if you are deboning a turkey. This is a wonderful use for them.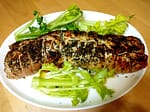 How to Debone Turkey – Moist and Easy to Carve
Learn how to debone turkey. This method leaves you with a moist and delicious bird that will not dry out and is a breeze to carve and a delight to eat.
Spices to use
One of the problems with traditional wing sauce is it has a lot of butter. All the butter is not good if you are trying to stay away from fats. Well, Frank's Red Hot Sauce people came up with a spice blend, Franks's Red Hot Spice Blend, that you can shake on your food without all the fat. It easily mimics the liquid sauce. You can probably find it in your grocer's spice section or you can check Amazon as well.
The other spice I used is Peppered Habanero from Fresh Jax. It is very spicy. My friend, Nora from Milano Courier, turned me on to this spice. Use it sparingly if you are sensitive to spicy food. It complements and enhances Frank's Red Hot Spice Blend very well.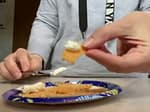 Crispy Cheese Crisps for Snacking
Crispy Cheese Crisps come together in about a minute in the microwave and make a good low-carb snack to enjoy with a dip or by themselves.
Use an Air Fryer
By using an air fryer, you are really reducing the fat and calories. You still get nice, crispy skin and tender meat. My air fryer, the GoWise Rotisserie Roaster Air Fryer, comes with a cage to put the wings in so they slowly turn while they are cooking. They cook perfectly.
What to serve with the wings
You can serve the traditional sides, celery, carrots, and blue cheese dressing. It would go nicely with a big garden salad, maybe roasted potatoes. Because you are not eating as many calories, you can have a beer to go with it.
Servings (slide to adjust):
Calories per serving:
210
kcal
Ingredients
~~ — Serving — ~~
¼

cup

Mayonnaise

½

cup

Sour cream

2

tablespoon

Blue cheese

⅛

teaspoon

Bitters

1

teaspoon

Black pepper

,

freshly ground

2

cups

Celery stalks
Ingredients necessary for the recipe step are in italic.
Instructions
Make the Dressing
1/4 cup Mayonnaise,

1/2 cup Sour cream,

2 tablespoon Blue cheese,

1/8 teaspoon Bitters,

1 teaspoon Black pepper

Combine the mayonnaise, sour cream, blue cheese, black pepper, and bitters in the small bowl of the food processor. Process until the cheese is very small. Remove the dressing from the processor and put it in a small bowl. Refrigerate it.
Notes
The Habanero Pepper is VERY spicy.  Seriously, if you don't like your tongue on fire, please omit it.
Nutrition
Serving:
131
g
Calories:
210
kcal
Carbohydrates:
8
g
Protein:
6
g
Fat:
18
g
Saturated Fat:
6
g
Polyunsaturated Fat:
4
g
Monounsaturated Fat:
7
g
Cholesterol:
31
mg
Sodium:
820
mg
Potassium:
283
mg
Fiber:
1
g
Sugar:
2
g