Learn how easy it is to spatchcock, or butterfly, poultry. A chicken is used here, but this method will work for turkey, goose, duck, quail, etc. If it has feathers, this method works. Why pay extra for something you can do for free?
Spatchcock Chicken or any Poultry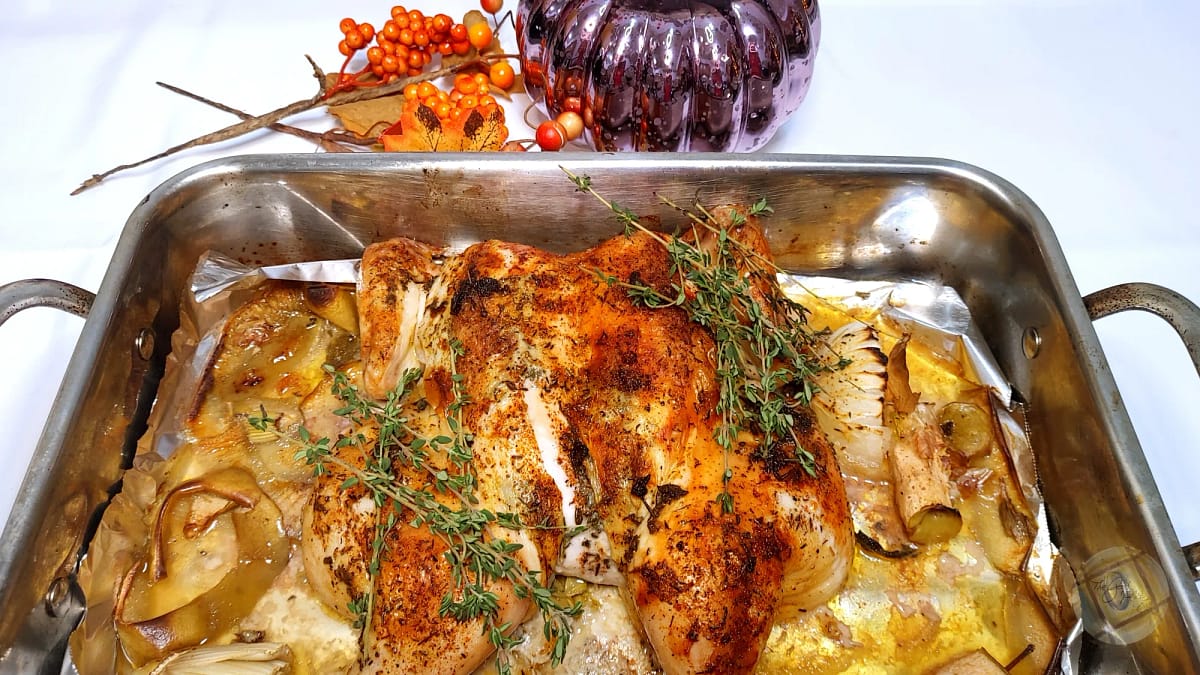 How to Spatchcock Chicken, Turkey, or any Poultry
Learn how easy it is to spatchcock chicken or any poultry. A chicken is used here, but this method will work for turkey, goose, duck, quail, etc. If it has feathers, this method works. Why pay extra for something you can do for free?
What is Spatchcocking?
What is Spatchcocking
Spatchcocking, or butterflying, is another tool in your chest to get a good moist bird on the table. By flattening poultry, you are ensuring that it will cook uniformly at the same rate and retain moisture. This is one of the methods I recommend in my eBook, The Good Plate Talking Turkey. The process is very simple. Just flip the bird on its front, remove the spine with poultry shears, turn it over, put your hands on the breast like you are an EMT doing a chest compression, and press down hard to break the breast bone. Tuck the wings in, season, inject with marinade, roast and you're done. It's a lot easier than deboning.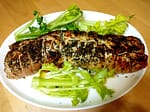 How to Debone Turkey – Moist and Easy to Carve
Learn how to debone turkey. This method leaves you with a moist and delicious bird that will not dry out and is a breeze to carve and a delight to eat.
Compound Butter for my Spatchcock Chicken
When I made this chicken, I made a compound butter with fresh herbs and unsalted softened butter. I also made a fruit stuffing that I cooked separately. The vegetable ends and apple peels from the stuffing were used as an aromatic bed to lay the chicken on. Half the compound butter was used for the stuffing and half under and on the chicken skin.
Inject Moisture
The other trick up my sleeve for a nice, moist bird, is using a marinade injection needle filled with broth, melted butter, and white wine. It gives a lot of flavor. If you don't want to use butter, you could use olive oil. Don't like wine? No worries, just omit it. For injection needles, I highly recommend the kind the screws on. They're much easier to use and don't come apart in the middle of injecting. I also do this for my Turkey Roasted in a Nesco and for Deboned Turkey.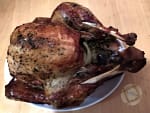 How to Roast a Perfect Turkey in a Nesco Electric Roaster
How to get your turkey's skin crisp but keep the meat moist in a Nesco roaster oven – with a timetable.
Get Accurate Temperature Readings
Use an instant-read thermometer. The little pop-up that might come with your bird, especially with turkeys, is inaccurate. Usually, I just remove it. Digital instant-read thermometers are better than analog ones. You don't have to spend a fortune, the one I have was less than $30.00 and I use it all the time.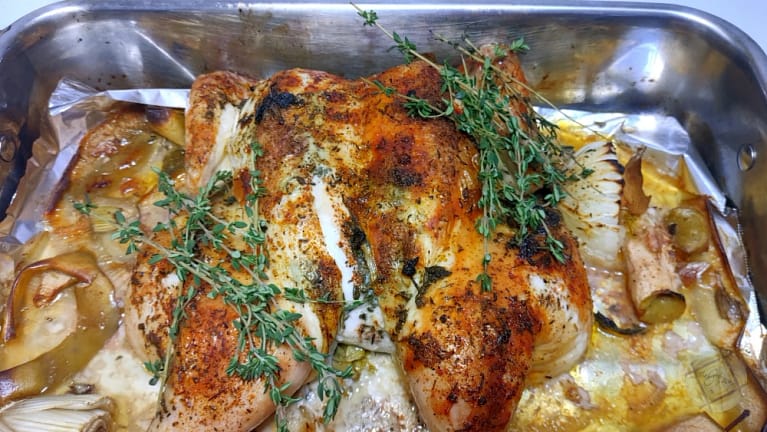 Servings (slide to adjust):
Calories per serving:
512
kcal
Equipment
Ingredients
~~ — Compound Butter — ~~
½

cup

Butter

,

unsalted, softened

1

tablespoon

Sage

,

fresh

1

tablespoon

Rosemary

,

fresh

1

tablespoon

Thyme,

fresh
~~ — Aromatics — ~~
½

teaspoon

Black pepper

,

freshly ground

½

teaspoon

Salt

Onion

,

skin and root

Celery

,

Root and leaves

Apple

,

peels and core
~~ — Injection Liquid– ~~
2

tablespoon

Butter

,

unsalted, melted

1

teaspoon

Chicken base

1

cup

Water

,

boiling

2

tablespoon

White wine
Ingredients necessary for the recipe step are in italic.
Instructions
Put the chicken on a cutting board and blot it with paper towels.

Turn the chicken on its front and cut along one side of the spine with poultry shears.

Remove the giblets and neck if they are present. Set the giblets aside and put the neck and spine together to be used for broth.
For the Optional Compound Butter
1/2 cup Butter,

1 tablespoon Sage,

1 tablespoon Rosemary,

1 tablespoon Thyme

Roughly chop the herbs. Put the softened butter in the bowl of a food processor. Add the herbs and process until it is thoroughly mixed.
For the Aromatics
1/2 teaspoon Black pepper,

1/2 teaspoon Salt,

Onion,

Celery,

Apple

Put the aromatics on the bottom of a foil-lined roasting pan. Salt and pepper the inside of the chicken. Put the chicken on top of the aromatics breast side up.
For the Injection
2 tablespoon Butter,

1 teaspoon Chicken base,

1 cup Water,

2 tablespoon White wine

Combine the chicken base and boiling water. Add melted butter and wine.

Using your gloved hands, put compound butter under the chicken's skin and rub it on the skin as well. Be thorough. Dip the injection needle in the injection liquid and fill the needle. Stab and inject the chicken breast, thigh, leg generously. Keep doing this until you have used up most if not all of the liquid. If the skin puffs up while you are doing this, it's normal. If some of the liquid comes out, that is normal, too.

1 teaspoon Northwoods Seasoning

Sprinkle the chicken generously with the seasoning. Cover the pan with foil and put it into a 325°F / 162°C oven.

Roast the chicken until it reaches 150°F / 65°C, about an hour. Remove the foil and turn the heat up to 475°F / 246°C and roast for an additional 10 to 15 minutes or until the internal temperature is 165°F / 73°C.

Let the chicken rest at least 20 minutes before carving. To prevent the skin from getting soft, don't tent it.
Notes
The compound butter is optional. You could use olive oil with herbs instead. You could also use olive oil in the injection liquid.
Nutrition
Serving:
375
g
Calories:
512
kcal
Carbohydrates:
1
g
Protein:
70
g
Fat:
23
g
Saturated Fat:
13
g
Polyunsaturated Fat:
2
g
Monounsaturated Fat:
6
g
Cholesterol:
227
mg
Sodium:
630
mg
Potassium:
794
mg
Fiber:
0
g
Sugar:
0
g