If you are not a fan of raw egg, this is the one for you - and it's a LOT easier than traditional
Almost Eggless Eggnog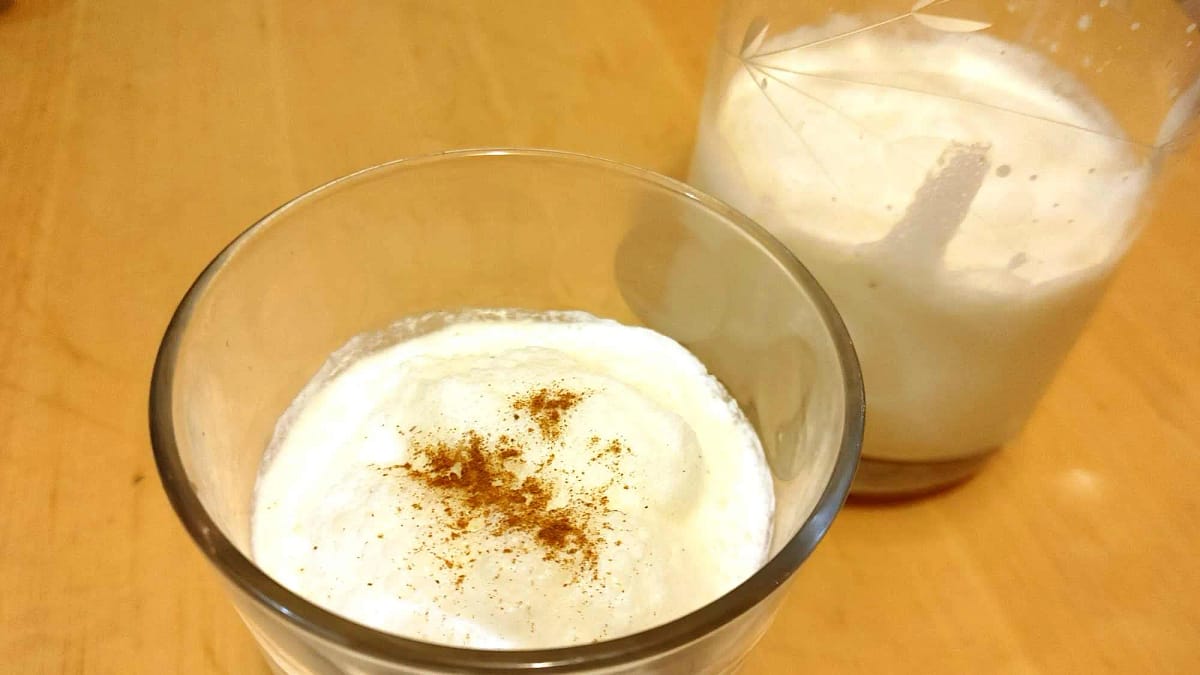 For a lighter, less eggy, eggnog, look no further than this Almost Eggless Eggnog. It's a breeze to make and very tasty.

I have a love-hate relationship with eggnog. I love the flavor but I don't like the thick texture, especially from store-bought eggnog. A few years ago, I made it from scratch with all the eggs and I was kind of grossed out. Seriously, I have a thing about raw eggs so you will never see me eating runny eggs of any kind. That left me with the dilemma of making eggnog that I would actually like.
I like the flavor of eggnog so much that I make Eggnog Fudge and Eggnog French Toast and a spicy pancake mix so I can celebrate the flavor throughout the year.
Ho! Ho! Ho! Eggnog Fudge
Eggnog Fudge for Holiday gifts and entertaining. If you like eggnog and you like fudge, you will love this Holiday treat.
Nutmeg for Almost Eggless Eggnog
The predominant flavor in eggnog is nutmeg. You might be used to the ground nutmeg that comes in a bottle and has probably been sitting in your spice rack for ages and tastes like wood shavings. Nutmeg is the seed of the nutmeg fruit and mace is the lacy covering on the seed. The seeds should be ground using a nutmeg grinder or Microplane. Since the flavor is so important, it's best to get the best nutmeg you can, and I recommend Penzey's for the most flavor.
A long time ago, I found a rather strange-looking blender at a resale shop, and since my blender was on the fritz, I bought it. It's the best blender I have ever had. Yes, they are normally expensive, but very well worth it. The best part about a Margaritaville blender is it shaves the ice before putting it into the carafe. I use mine to blend drinks like almost eggless eggnog, smoothies, and soup. You can't go wrong.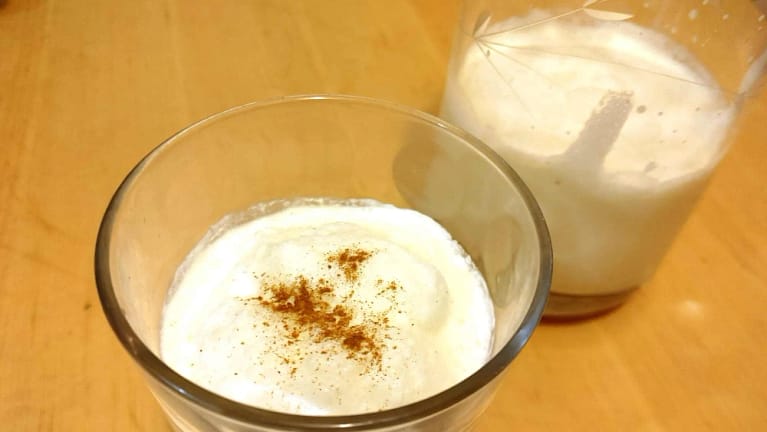 Servings (slide to adjust):
Calories per serving:
181
kcal
Equipment
If you purchase any of the products through these affiliate links, I get a few pennies that help keep The Good Plate open. I use these products myself and want you to be able to easily find them.
Ingredients
Ingredients necessary for the recipe step are in italic.
Notes
If you don't want any egg at all, you can completely omit it. It will still be thick enough because of the cream.  Enjoy!
Nutrition
Calories:
181
kcal
Carbohydrates:
10
g
Protein:
4
g
Fat:
14
g
Saturated Fat:
9
g
Polyunsaturated Fat:
1
g
Monounsaturated Fat:
4
g
Cholesterol:
80
mg
Sodium:
51
mg
Potassium:
128
mg
Fiber:
0
g
Sugar:
10
g