Make these in the spring with green tomatoes are available
Fried Green Tomatoes with Bacon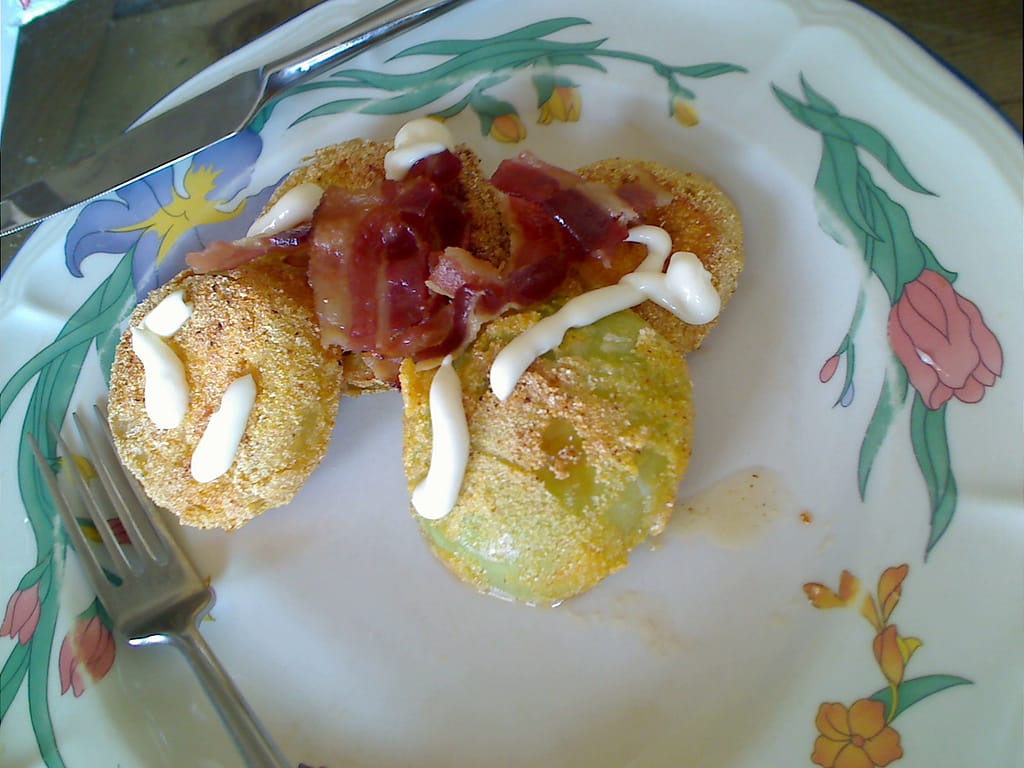 This is not something for every day. Green tomatoes are wonderful in the spring before the beautiful red tomatoes are ripe – that is if you can keep from eating them!

Gifts from Friends
I have a good friend who I have known for a long time who is moving out of state. To save moving costs, she decided to get rid of some of her things and invited me to come over and see if there was anything I wanted to needed. Included in the group were a set of dinner plates that I absolutely loved, so she gave those to me, as well as a new cover for my couch, storage containers, some lovely glass bowls, some stuff for the pantry, and two lovely green tomatoes someone had given her.
It's so unusual to be able to get green tomatoes, and when she asked me if I wanted them, I jumped for joy. I even had some leftover bacon for them and bacon fat that I had saved in the refrigerator. No, I don't save bacon fat just for green tomatoes, it's also great for flavoring home fries, and making mirepoix. Yes, you can buy bacon flavoring, but it's usually salt with some flavoring in it – there's nothing like the real thing.
Fried Green Tomatoes
You can serve this with or without the bacon. Bacon fat gives this terrific flavor, but if you don't have any bacon, or don't want to include meat, then just use the fat or oil of your choice.
It's important to use real green tomatoes, underripe tomatoes, not a ripe green variety of tomato. Green tomatoes are tart and hold their shape.
If you like your food spicy, add more cayenne. For an Italian version, omit the cayenne and add Italian seasoning, oregano, and parmesan cheese. For Mexican version, add cumin and oregano, and add lime juice to the dipping sauce.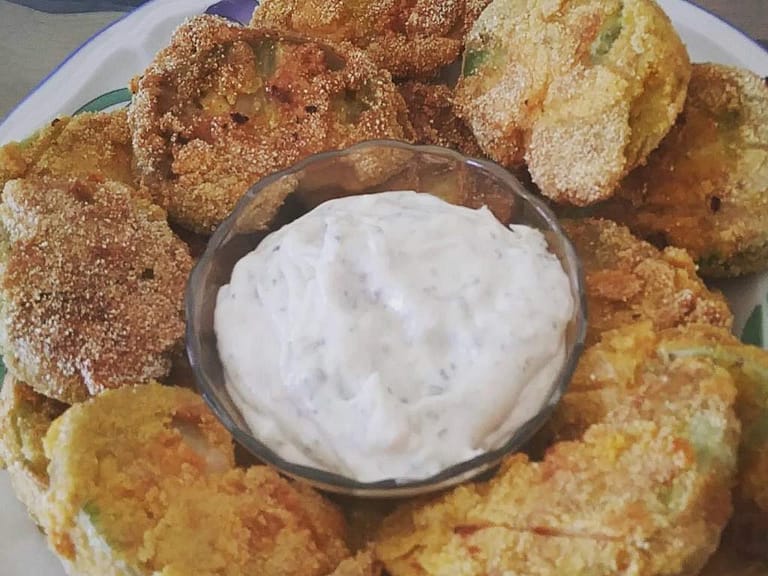 Servings (slide to adjust):
Calories per serving:
847
kcal
Ingredients
4

medium green tomatoes

1

egg

,

beaten

1

cup

flour

2

cups

cornmeal

½

teaspoon

sea salt

½

teaspoon

onion powder

½

teaspoon

garlic powder

1

teaspoon

paprika

¼

teaspoon

cayenne pepper

½

teaspoon

dry mustard

2

tablespoons

bacon fat

2

tablespoons

sunflower oil
For the Sauce
1

clove

garlic

⅓

cup

mayonnaise

3

basil leaves

,

fresh

½

teaspoon

Sunny Paris
Ingredients necessary for the recipe step are in italic.
Instructions
If you do not already have leftover bacon on hand, then cook about 4 slices of bacon until crisp, and reserve the fat and at least 2 strips of bacon. Eat the others!

Slice the tomatoes in 1/4 inch slices and set aside. Sprinkle the salt on the tomatoes and let them rest while you get everything else ready.

Have ready three shallow bowls, a cake rack, and a baking sheet with sides. Put the cake rack on the baking sheet and have it close to you.

Mix the cornmeal, onion powder, garlic powder, paprika, cayenne, and dry mustard together.

Dredge each tomato slice in the flour, shake off excess and put on the cake rack.

When you have finished dredging all the slices, take each one and dip it in the egg, then dredge it in the cornmeal mixture. Set aside on the cake rack.

Have a thick bottom frying on the stove on medium heat. An iron skillet is the best choice. Move the baking sheet to a clear area on top of your stove.

Put the bacon fat and oil into the pan and heat until the mixture starts to bubble, but not burn.

Carefully place about 4 slices of tomato in the hot fat. Turn when you see the edge start to brown, about 3 minutes. Turn and cook on the other side, about 2 minutes, then remove to the cake rack to drain. Prepare the remaining slices the same way.
For the Sauce
Put the garlic in a small food processor and process it until it is in tiny pieces. Add the rest of the ingredients and process as well. Put the sauce in a nice bowl for serving.

Enjoy!
Notes
You can make this completely vegetarian if you fry the tomatoes in vegetable oil. You could make it vegan by using yogurt instead of egg.
Nutrition
Calories:
847
kcal
Carbohydrates:
93
g
Protein:
17
g
Fat:
45
g
Saturated Fat:
12
g
Polyunsaturated Fat:
10
g
Monounsaturated Fat:
21
g
Cholesterol:
92
mg
Sodium:
757
mg
Potassium:
628
mg
Fiber:
8
g
Sugar:
9
g