Enchilada Howard con Carne Guisada is The Good Plate's version of the famous enchilada at El Coyote in West Hollywood, California. The original dish was named after one of their first customers over 80 years ago. These are topped with Carne Guisad. Ole!
Enchilada Howard con Carne Guisada
Last Updated on August 19, 2022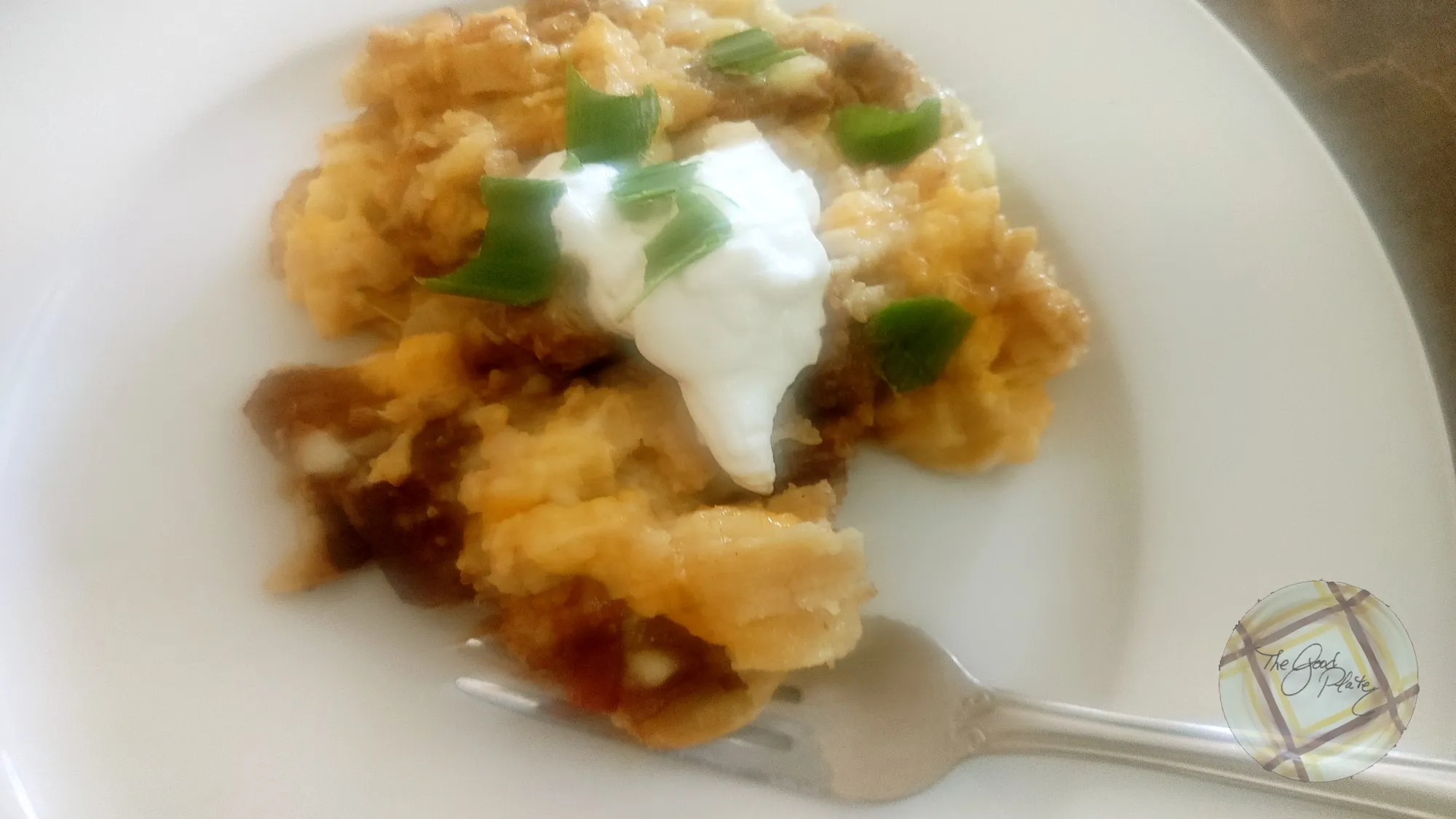 Enchilada Howard con Carne Guiada is The Good Plate's version of the famous enchilada at El Coyote in West Hollywood, California. These are topped with Carne Guisada. Ole!
The original dish at El Coyote is cheese enchiladas covered with Chili Colorado. It was named after one of their first customers over 80 years ago. It's delightful and earthy. It's my absolute favorite dish besides the fabulous margaritas. If you are ever in West Hollywood, you have to go there just for the Enchilada Howard.
I had made a pot of Carne Guisada (from the Puerto-Rican – Beef Stew) in my Instant Pot and thought it would make an excellent topping for enchiladas. Instead of a pork stew, this features beef.
The recipe for Carne Guisada in the Instant Pot makes enough for at least 8 people. You will only need a quart of the Carne Guisada for this dish. You can serve the rest separately, or you can freeze the rest in a Souper for another batch of enchiladas.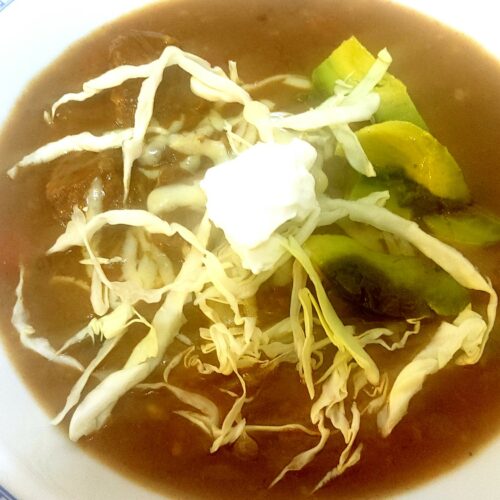 Carne Guisada for the Instant Pot – Beef Stew
Carne Guisada for the Instant Pot brings a hardy and spicy dish that is perfect in cold weather as stew and for the summer for tacos.
Making the Enchiladas
Tortillas must be warmed before they are handled; otherwise they break. One thing I have never liked about making enchiladas is having to dip them in hot oil to make them flexible. I don't know how many times I've burned my fingers! So, instead of using hot oil, I heat the tortillas in a tortilla warmer with a damp papertowel.
To make Enchilada Howard, put grated cheese and onion in the center of a warm tortilla, roll it up tightly and set it in a stew lined casserole. If the tortillas aren't cooperating, use toothpicks to hold them together. Put the rest of the stew on top, bake it, let it rest, and enjoy!
What to Serve with Enchilada Howard
Since your Instant Pot isn't in use while making the enchiladas, you can make beans to go with your meal. Start them about 15 minutes before you start making the enchiladas. They take about an hour to cook, preparing the enchiladas takes about 15 minutes, plus baking another 45 minutes. If you are very handy, you can take the beans out of the Instant Pot, rinse it, and make rice, too.
Be sure and have sour cream and hot sauce at the table for those who like their food very spicy or not spicy at all. A fresh salad would make a nice accompaniment. Since the Carne Guisada has stout in it, stout would be a good alcoholic beverage to serve or water and lemon for those who don't indulge.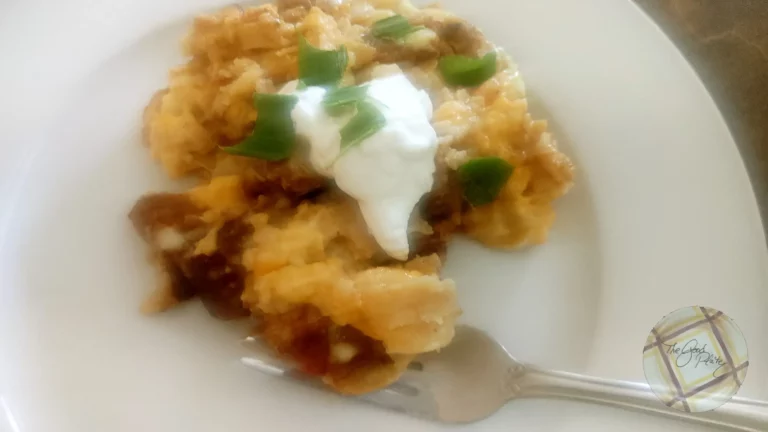 Servings (slide to adjust):
servings
Ingredients
~~ Enchiladas ~~
8

corn tortillas

,

(see notes)

1

pound

Queso Enchilada

,

or Colby

1

onion

¼

cup

Cotija cheese

,

crumbled
~~ Guisada ~~
¼

cup

flour

¼

teaspoon

salt

1

teaspoon

black pepper

,

freshly ground

1

pound

boneless chuck roast

,

trimmed and cut into 1-inch pieces

2

tablespoons

olive oil

2

medium onions

,

chopped

3

celery stalks

,

chopped

4

serrano peppers

,

chopped

1

red bell pepper

,

chopped

2

tablespoons

tomato paste

12

ounces

beef broth

12

ounces

Stout

,

Guinness recommended

4

teaspoons

ground cumin

1

tablespoon

chili powder
~~ For Serving ~~
½

cup

sour cream

¼

cup

Green onion
Ingredients necessary for the recipe step are in italic.
Instructions
~~ Guisada ~~
When chopping the serrano peppers, use gloves. These peppers are VERY hot and they will absorb into your skin and be uncomfortable, so always wear gloves.

1/4 cup flour,

1/4 teaspoon salt,

1 teaspoon black pepper

Combine flour, salt, and pepper in a shallow dish. Toss beef with the flour mixture.

1 pound boneless chuck roast,

2 tablespoons olive oil

If do not have the removable inner pot, then put your Instant Pot on saute mode. Put the oil in the pot and when it is almost smoking, add the beef. For small inner pots, do this in batches. Brown the meat on all sides then remove it from the pot.

2 medium onions,

3 celery stalks,

1 red bell pepper,

4 serrano peppers

Add the onions, celery, and bell pepper. Saute until the onions are translucent, then add the serrano peppers and saute them. Saute the mixture for about 5 minutes.

2 tablespoons tomato paste

Add the remaining flour and tomato paste. Stir and saute for about 2 minutes.

Add the broth and stir.

4 teaspoons ground cumin,

1 tablespoon chili powder

Add the cumin and chili powder and stir.

For removable pots, put the pot back into the Instant Pot. For non-removable, turn the pot off.

Cover and seal the pot. Make sure the seal is in the sealed position. Put the pot on High Pressure for 35 minutes. Use natural release for up to 20 minutes, then Quick Release until all the pressure is released.

Remove the cover. If the sauce is not thick enough, add 1/4 cup of flour and put the machine on saute mode. Stirring constantly, break up the flour and stir until the sauce has thickened.

Put the guisada in the refrigerator to cool before making the enchiladas.
Notes
If you have small tortillas, you will need about 12.  If you have the larger ones, about 8 tortillas should be enough.  This will also be dependent on the size of your casserole.
Nutrition
Serving:
352
g
Calories:
590
kcal
Carbohydrates:
31
g
Protein:
28
g
Fat:
39
g
Saturated Fat:
19
g
Polyunsaturated Fat:
2
g
Monounsaturated Fat:
15
g
Cholesterol:
107
mg
Sodium:
981
mg
Potassium:
610
mg
Fiber:
4
g
Sugar:
6
g
Enchilada Howard con Carne Guisada Transcript
Good afternoon and welcome
to The Good Plate's kitchen.
Today we're making Enchilada
Howard con Carne Guisada.
Enchilada Howard, served at
El Coyote in West Hollywood
is named after one of El
Coyote's first customers.
So if you're in West
Hollywood stop at El Coyote
for Enchilada Howard and
one of their their famous margaritas.
In another video we
made the Carne Guisada
enjoyed it and saved
leftovers for enchiladas.
First, we have ready the
frozen Carne Guisada,
cheese, onion, and tortillas.
We defrosted the stew
and greeted the Colby
cheese and onion
in the Braun food processor.
Tortillas must be warmed before
they're handled otherwise they will break.
Instead of softening
them in hot oil
these tortillas are in a tortilla
warmer with a damp paper towel.
The soften in the
microwave for thirty seconds.
Mix the cheese
and onion.
Put some of the stew at
the bottom of your casserole.
To make the
enchiladas put a tortilla
on the sauce
and put some cheese
and onion mixture on top.
Roll the sides up tightly.
If sides don't want to stay,
use of toothpick
to secure them.
Keep doing this until
your casserole is filled up.
Spoon to remainder of the sauce over the
enchiladas making sure they're all covered.
Remove the toothpicks if you used them.
Top the enchiladas
with Cotija cheese.
Bake the enchiladas at
350
degree oven for
about forty five minutes
or until the cheese is melted.
Removed the casserole from the oven
and let it sit for about ten minutes before
serving it.
Serve the enchiladas with sour
cream and green onions for garnish.
Enjoy.
Ingredient amounts and
directions are on the website.
Thanks for watching
and please subscribe.
See you next time
on The Good Plate.