Try to serve these in little paper cups. You can buy them in craft or kitchen supply stores, or online.
Cheesecake Stuffed Chocolate Dipped Strawberries
Last Updated on February 2, 2023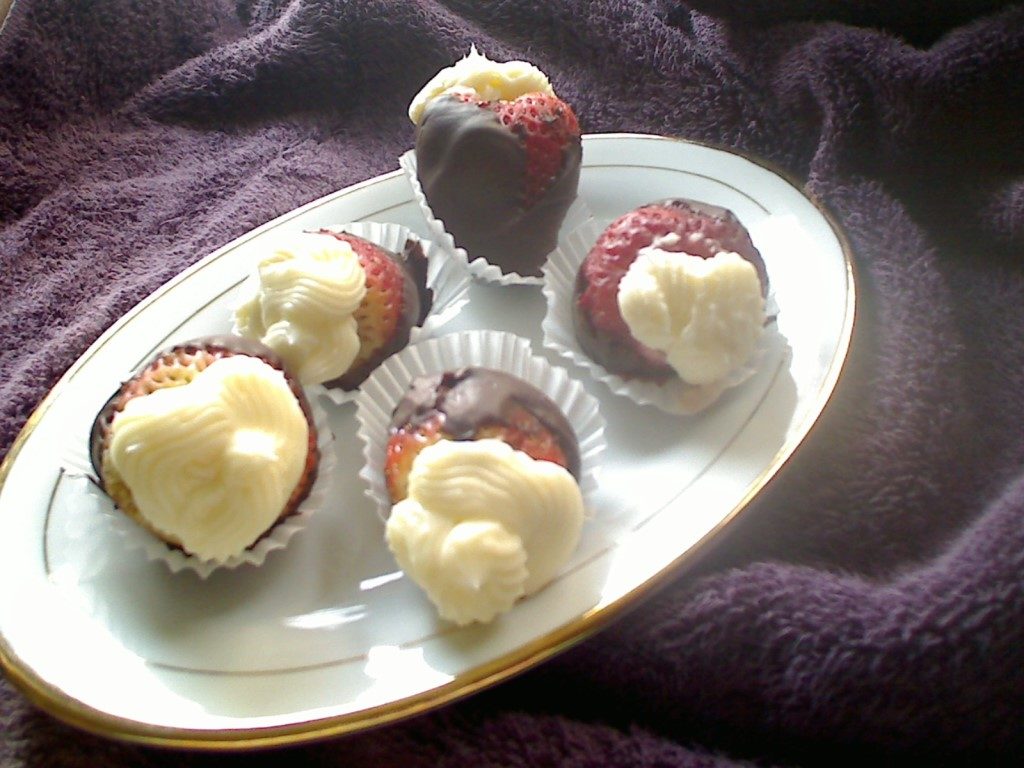 The other day, when I was perusing Pinterest, I came across something that looked fabulous. It was strawberries stuffed with cream cheese, and it was called Cheesecake Stuffed Strawberries. I pinned it and decided it would make a nice treat for the kids in Spane's class going to the Planetarium field trip. Last year, I made White Chocolate Rum Raisin Cookies for Mrs. Mary's class when we went to The Natural Science Museum.
I lucked out, and strawberries were Buy One box, Get One Free. There are 24 kids in Spane's class, plus the teacher, and possibly one or two more parents who, like me, volunteered to go on the trip to help with the children. There were enough strawberries, with a few extra for the house.
I decided to change the original recipe a little and dip the strawberries in chocolate. All the recipes on the Internet tell you to add shortening to the chocolate to temper it. I don't like shortening, and I knew that I had dipped strawberries before without it. Of course, looking in The Joy of Cooking, I found that I didn't need shortening at all, just a candy thermometer, that I have a nice glass one with a clip. There are instructions later in this post about how to do this.
How to Temper Chocolate
This is just so easy, and much better than using the microwave. All you have to do is get a large metal bowl and a 4-quart saucepan. Fill the saucepan about 1/3 with water. Put the bowl in the pan, so that it is sitting on top of the pan, not in the water. This is how you make a double boiler if you don't already have one.
Now, put the chocolate pieces, either broken up pieces of whole chocolate or chips. Heat the water to boiling. Soon you will see the chocolate starting to melt on the sides of the bowl. Now, start stirring, and when almost all the chocolate has melted, put the candy thermometer in. Keep stirring constantly until the thermometer reaches 130 degrees, then take the chocolate off the pan. I would lower the flame on the pan, in case you need to reheat your chocolate. Let it sit for a minute, and then you can start dipping your fruit. If the chocolate starts getting too hard, put it back on the pan, and stir it until it has a nice consistency again. When you have dipped everything, and there is still chocolate left, cover it, and put it away for another use.
Preparing the Berries
Since you are going to be stuffing the berries, you will want to hull them well. I use a special little strawberry huller tool that you can pick up at any good kitchen supply shop. Make sure that you get all the leaves off, and a little into the strawberry itself. You should see a little hole, and that is where you want to be.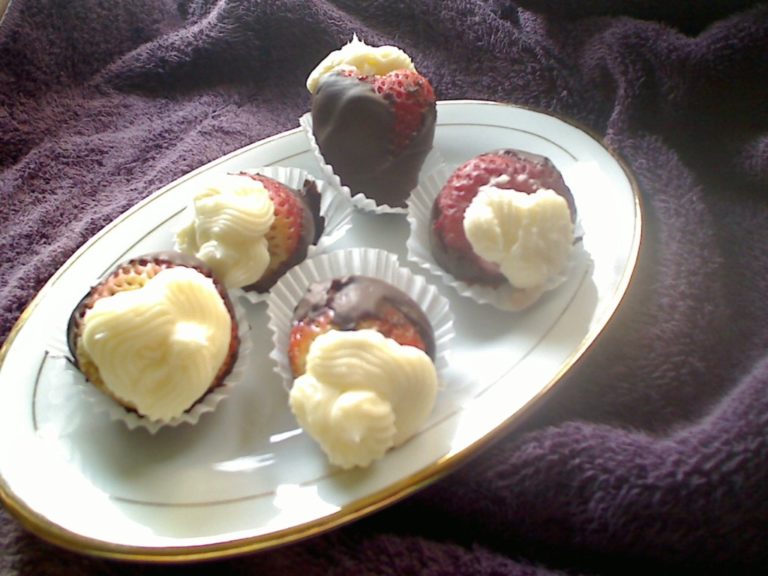 Servings (slide to adjust):
Ingredients
2

large containers

strawberries

1

bag

semi-sweet chocolate chips

1

package

cream cheese

½

cup

powdered sugar
Ingredients necessary for the recipe step are in italic.
Instructions
Have ready small paper candy cups. Line them up on a one or two sheet pans and have them near the stove.

Hull the strawberries and set them aside. Make sure that they are dry and not in standing water, otherwise, they will begin to soften.

Melt the chocolate in a double boiler, stirring occasionally until most of the chocolate is melted. Check the temperature, and if it is 100 degrees or over, stir constantly until it reaches 130 degrees. When the chocolate reaches 130 degrees it is ready to take off the heat. Let it sit for a minute, and then start dipping the fruit.

Dip the bottom of a strawberry in the chocolate, and swirl it around until most of the berry is covered in chocolate, then immediately place it in the paper muffin liner. Continue doing this with the remaining strawberries.

Let the chocolate come to room temperature before starting to stuff the berries.

Beat the cream cheese and powdered sugar on high for two minutes. You should have a silky filling at this point.

Choose a rosette piping end, and attach it to your piping bag. Put the bag in a tall glass, and fill it with the filling you just made.

Carefully fill the top of each strawberry. Make it look nice.
Notes
Quick notes
Don't try to do this on a hot day. Your kitchen and fruit should not be above 70 degrees.
Variations
You can add a little vanilla to the filling if you want.
Nutrition
Serving:
78
g
Calories:
238
kcal
Carbohydrates:
24
g
Protein:
3
g
Fat:
17
g
Saturated Fat:
10
g
Polyunsaturated Fat:
1
g
Monounsaturated Fat:
5
g
Cholesterol:
21
mg
Sodium:
62
mg
Potassium:
147
mg
Fiber:
2
g
Sugar:
21
g