Super healthy food
Beet and Lentil Soup
Beet and Lentil Soup with ginger spiciness is a gift from the earth that you can share with loved ones with some warm crusty bread. If you like beets and you like lentils, this is the soup for you!

Everyone who knows me, knows I love beets. I love their sweet flavor and their mouth feel as well. What I don't like, and I assume a lot of people agree with me, is sometimes beets just taste like dirt. Beets are way too much of a wonderful vegetable to taste like dirt, but if they're not prepared correctly, they most certainly will taste just like the stuff under your feet.
Beets are Healthy
These tasty red root vegetables are a healthy source of vitamin C, fiber, folate, manganese, and potassium. Great for boosting the immune system, they are good for your skin and your hair. Even furry friends benefit from eating beets, and most dogs and cats like the way they taste, too. More beets!
Ways to Cook Beets
This recipe calls for beets that have already been cooked.  I highly recommend using an Instant Pot or another pressure cooker.  The reason is that using pressure to steam beets means that they will cook more evenly, thoroughly, and quickly. When I originally made this, I had some uncooked beets I had bought for King Salad that I had made after work one night.
The following table courtesy of Amy and Jack Pressure Cooker Recipes shows the cooking times for beets in the Instant Pot. Yes, you must measure the beets. If you don't have a tape measure, you can use a ruler and the formula to get the circumference. Circumference = D * π (Diameter times Pi).
Circumference
Inches
Centimeters
Minutes
5
12.7
11 – 15
5.5
13.97
14 – 18
6
15.24
17 – 21
6.5
16.51
18 – 23
7
17.78
20 – 25
7.5
19.05
24 – 28
8
20.32
27 – 31
8.5
21.59
30 – 34
9
22.86
32 – 36
You can also roast beets and get an excellent flavor. Of course, it takes longer, but if you don't have a pressure cooker, I recommend roasting them. It takes about an hour, plus time to cool enough so you can peel them. Don't try to peel beets before you cook them.
I don't recommend boiling beets. The water takes away the good flavor and you end up with – you guessed it, something that tastes like dirt!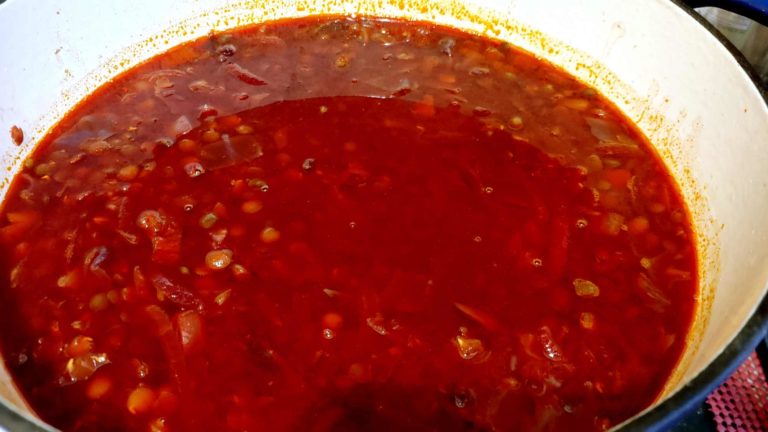 Servings (slide to adjust):
Calories per serving:
219
kcal
If you purchase any of the products through these affiliate links, I get a few pennies that help keep The Good Plate open. I use these products myself and want you to be able to easily find them.
Ingredients
3

Beets

1

tablespoon

Vegetable base

6

quarts

Water

1

tablespoon

Ghee

1

cup

Red cabbage

1

cup

Onion

,

chopped

2

cloves

Garlic

2

cup

Lentils

1

teaspoon

Candied ginger

2

teaspoon

Ground ginger

1

teaspoon

Penzey's pepper

1

tablespoon

Tomato paste

4

tablespoon

Red pepper paste
Ingredients necessary for the recipe step are in italic.
Instructions
For the Beets
Measure the beets or eyeball them first. You will be cooking them according to the timetable above. Put the beets in the steamer basket, washed but unpeeled. Put the basket in the inner pot of an Instant Pot and add a cup of water. Close the lid and cook for the specified time. Use the quick-release method when the beets are done. Remove the steamer basket from the inner pot and put the basket with the beets in the refrigerator to cool off. When they are cool enough to handle, peel them and use a mandoline to julienne cut them. Set them aside.
Notes
For vegan, substitute olive oil for the ghee.  
If you don't want to julienne the beets yourself, you can use canned julienned beets instead.
Nutrition
Serving:
1541
g
Calories:
219
kcal
Carbohydrates:
36
g
Protein:
15
g
Fat:
2
g
Saturated Fat:
1
g
Polyunsaturated Fat:
0
g
Monounsaturated Fat:
1
g
Trans Fat:
0
g
Cholesterol:
5
mg
Sodium:
165
mg
Potassium:
628
mg
Fiber:
17
g
Sugar:
6
g