Risotto is perfect in the Instant Pot - no more having to stand around.
Instant Pot Risotto with Mushrooms and Saffron
Instant Pot Risotto will become your go-to method of making this creamy rice dish. No more standing and stirring for you!

I love risotto. I love that it's versatile and I can add vegetables and protein as I see fit. It turns out creamy and wonderful. What I don't like about risotto is having to stand in front of a hot stove babysitting and stirring the rice. No wonder risotto calls for wine – you have to have a glass of wine to make it worthwhile for all that effort. That was why risotto became a loved side dish for special occasions. Well, guess what? No more. Now, with the Instant Pot, it's literally, "Set it and Forget it!"
Let's Talk about Instant Pots
When I got my first Instant Pot, it was a little three-quart pot that I bought from a neighbor because I wanted to see what everyone was talking about. I think the first thing I made in the Instant Pot was beans. They didn't turn out so good and I wasn't very happy with the little pot. Then a friend told me I needed to add more water and low and behold, those beans came out perfect. I was officially in love with my Instant Pot.
While watching an America's Test Kitchen video about these kinds of devices, they mentioned the newer pot. The new one has an inner pot that can be put on the stovetop for sautéing and has a lot of other features. Making artichokes was great in my old pot, but it was hard to fit them in, so I upgraded and I'm so glad I did. The very first thing I made? Risotto. And guess what? There's a RISOTTO setting on the new Instant Pot. If for no other reason, get that pot, get the Instant Pot Duo Evo Plus pot.
Using the settings is a LOT easier with this new machine, too. The dial makes it effortless. The top of the pot is a lot better, too, because the vent automatically defaults to seal. I don't know how many times I put the top on my old machine just to hear it whistling a few minutes later and realize I had the lever in the vent position. It's also a lot more difficult to burn yourself with this machine. There are a lot of Instant Pots made by that brand, so be sure you're looking at the Duo Evo Plus.
About the Risotto
The first time I made risotto in the Instant Pot, I was very surprised when I opened the lid and saw a lot of liquid standing on top of the rice. I turned my back for a second and when I turned back, all the standing liquid was gone because with the lid off, the little rice grains just absorbed as much as they wanted. It was a revelation. Then I added the cheese and I was a happy camper.
If you are lucky enough to have leftover rice, you can make one of my favorite appetizers, Risotto Rice Balls, now updated to show the air fryer method instead of frying in hot oil. They're tasty and good for you, too.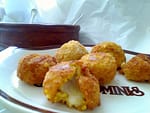 Risotto Rice Balls with Garlic Basil Tomato Mayonnaise
Make these rice balls with leftover Risotto, and serve as an appetizer or a light lunch with a tossed salad.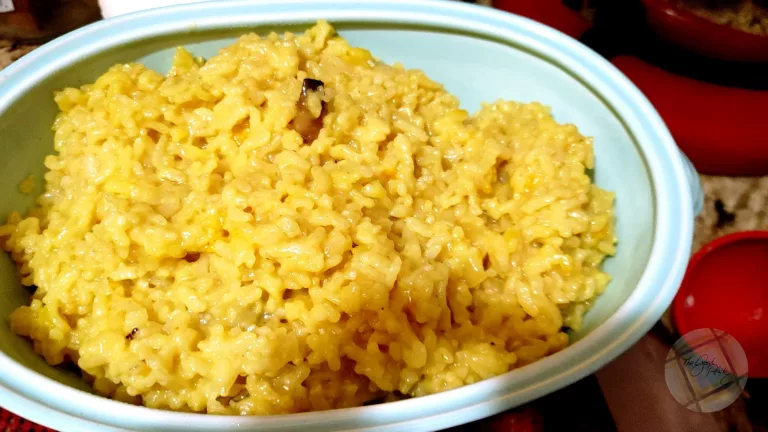 Servings (slide to adjust):
Calories per serving:
126
kcal
If you purchase any of the products through these affiliate links, I get a few pennies that help keep The Good Plate open. I use these products myself and want you to be able to easily find them.
Ingredients
1 ½

tablespoon

chicken base

3 ½

cups

water. boiling

½

teaspoon

saffron

2

tablespoon

butter

,

divided

½

onion

,

minced

1

cup

mushrooms

,

sliced

½

teaspoon

shallot

2

cups

Arborio Rice

½

cup

White wine

⅓

cup

shaved parmesan
Ingredients necessary for the recipe step are in italic.
Instructions
1 1/2 tablespoon chicken base,

3 1/2 cups water. boiling,

1/2 teaspoon saffron

Mix the chicken base and water together completely. Add the saffron and set it aside.

Put the Instant Pot on saute mode and add half of the butter.

1/2 onion,

1 cup mushrooms,

1/2 teaspoon shallot

Saute the onions until they are translucent, then add the mushrooms and shallot. Saute a minute or so.

Add the rice to the pot and stir it around to get it thoroughly coated.

Add the wine and the stock.

Put the Instant Pot on rice.

When the rice is done, remove the inner pot. If it looks like there is too much liquid left, don't worry, it will absorb almost immediately.

Put in a nice serving dish and enjoy.
Nutrition
Serving:
196
g
Calories:
126
kcal
Carbohydrates:
12
g
Protein:
5
g
Fat:
5
g
Saturated Fat:
3
g
Polyunsaturated Fat:
0
g
Monounsaturated Fat:
2
g
Cholesterol:
14
mg
Sodium:
244
mg
Potassium:
75
mg
Fiber:
1
g
Sugar:
1
g