Beef Stroganoff soup is comforting and very easy to make. Ready in under a half hour, it's a good way to use up leftover beef roast or steak.
Beef Stroganoff Soup for the Instant Pot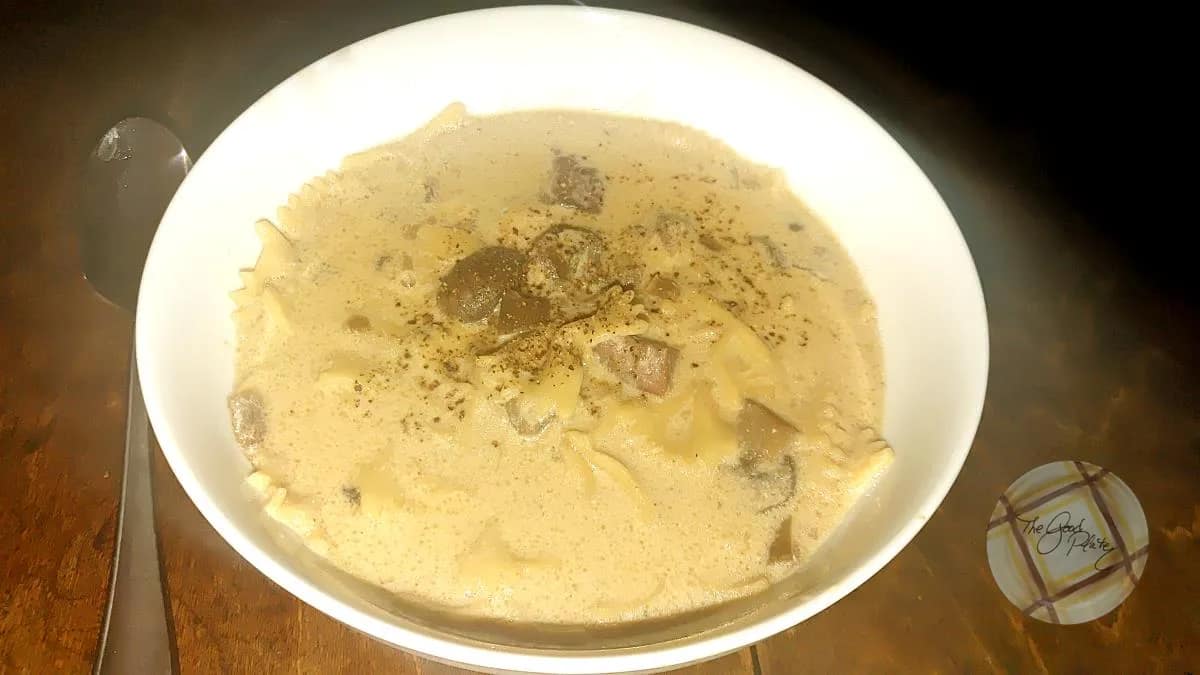 Beef Stroganoff soup is comforting and very easy to make. Ready in under a half hour; it's an excellent way to use leftover beef roast or steak.
This soup is easy to make and very comforting on a cold winter night. When you're in the mood for Beef Stroganoff but don't have the time or energy to make it, make this soup instead.
A Little History
Beef stroganoff is a classic Russian dish that has gained immense popularity worldwide. Here I have transformed this delicious dish into a hearty soup. Beef stroganoff soup is a twist on the classic recipe that's sure to warm your soul.

Beef Stroganoff Boswell with Flap Meat
The Boswell take on the classic Russian Beef Stroganoff is made with flap meat, the same as fajitas so it stays nice and tender.
The classic dish is named after one of the influential Russian Stroganov family members. A legend attributes its invention to French chefs working for the family, but the recipe is a refined version of older Russian dishes. The first mention of the recipe was in 1871 in Elena Molokhovets's classic Russian cookbook A Gift to Young Housewives, which gives the first known recipe for Govjadina po-strogonovski, s gorchitseju, "Beef à la Stroganov, with mustard." Twenty years later, in 1891, French chef Charles Brière, who was working in Saint Petersburg, submitted a recipe for beef Stroganoff to a competition sponsored by the French magazine L'Art culinaire. This led Larousse Gastronomique to assume that he was the inventor of this dish.
Why this Recipe for Beef Stroganoff Soup Works
There are several reasons why this recipe works so well and why it's so easy to prepare.
The Instant Pot
The Instant Pot or any multi or pressure cooker makes this a one-pot meal. Dump everything in the pot, set it, and sit down to a filling soup in less than half an hour. If the meat you have is a little tough, it will soften in the cooker.
What about pasta in the Instant Pot? My mother was cooking spaghetti with red sauce in an old-fashioned pressure cooker when the pot exploded, and our kitchen looked like a crime scene; we picked spaghetti off the walls for days. I was hesitant to try making pasta in my Instant Pot until I read this authoritative article, How to Cook Pasta in the Instant Pot. I recommend visiting there for their timetable.
Leftovers
Sometimes, you might have a small amount of leftover beef roast or steak. If you are tired of using it for tacos or don't even have enough for tacos, this recipe is the answer. You can add additional pasta or mushrooms to stretch it. This soup is a complete meal on its own, but you can also serve it with some crusty bread or a side salad to make it even more filling.
You might have made my Easy Caramelized Onions and have leftovers from that as well. I put mine in ice cube trays, froze them, and put them in a bag to add to other foods like this Beef Stroganoff soup.
Soup Base
You might have seen me mention Better Than Bullion soup bases. I always have three: beef, chicken, and vegetable in my refrigerator. Recently, I added Sauted Onion to my standards in addition to Roasted Garlic and Ham. I don't work for them, but I like their products. It keeps me from having to have leftover broth or stock turning into science experiments in the back of my refrigerator.
The beef base makes a wonderful beef broth. The addition of sauteed onion base makes the broth taste like it's been simmering for hours. This is the same combination I used for Easy French Onion Soup.
To ensure the base is thoroughly mixed in the broth, put it in a heat-proof measuring cup and add boiling water. You can use a mini whisk to stir it up. I recommend getting a few of those mini whisks. They're great for stirring small amounts of sauce, mix better than a spoon, and fit where a regular-sized whisk won't.
Substitutions
If you want to make this soup but only have raw ground beef, you can start off by browning the beef using the saute function on your Instant Pot before continuing with the rest of the steps.
If you want to make this vegan, you can use mushrooms instead of beef and vegan sour cream. Omit the beef base and use only the sauteed onion base or substitute vegetable base for the beef base.
If you want to make it gluten-free, substitute rice for pasta.
You could substitute leftover turkey, chicken, or pork for the beef if you want.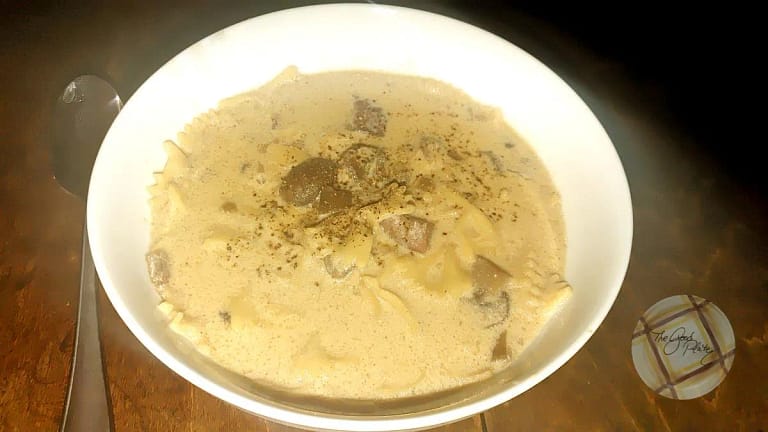 Servings (slide to adjust):
servings
Calories per serving:
393
kcal
Ingredients
8

ounces

Steak

,

cooked

1

teaspoon

Beef base

1

teaspoon

Sauteed Onion Base

3

cups

Water

,

boiling

2

tablespoon

Butter

¼

cup

Caramelized onions,

optional

10

Mushrooms

,

sliced

½

teaspoon

Dry mustard

1

tablespoon

Worcestershire sauce

8

ounces

Pasta

½

cup

Sour cream

2

tablespoon

Flour

½

teaspoon

Black pepper

,

freshly ground
Ingredients necessary for the recipe step are in italic.
Instructions
Cut the steak into bite size pieces, about a half-inch each. Set aside.

1 teaspoon Beef base,

1 teaspoon Sauteed Onion Base,

3 cups Water

Put the beef and sauted onion base in a heat proof measuring cup. Add boiling water and stir. Set aside.

2 tablespoon Butter,

1/4 cup Caramelized onions,

10 Mushrooms

Put the Instant Pot on saute and add the butter, caramelized onions and mushrooms. Saute the mushrooms until they start to brown. Turn the Instant Pot off.

1/2 teaspoon Dry mustard,

1 tablespoon Worcestershire sauce,

8 ounces Pasta

Add the steak, pasta, dry mustard and worcestershire sauce. Stir to combine.

Add the water mixture and stir so everything is under the liquid.

Secure the lid on the Instant Pot and put it on high for 4 minutes. Let it naturally release for 5 minutes then quick release the rest of the pressure.

1/2 cup Sour cream,

2 tablespoon Flour

Stir the sour cream in. If there is a lot of liquid, put the Instant Pot on saute and add the flour. Stir until the mixture thickens. If there is not too much liquid, just put the top back on the Instant Pot and let it sit, still off, with the lid on for 5 additional minutes.

1/2 teaspoon Black pepper

Ladle the soup into bowls and grind black pepper on the top of each bowl.

Serve with crusty bread to sop up the soup. Enjoy!
Nutrition
Serving:
360
g
Calories:
393
kcal
Carbohydrates:
20
g
Protein:
18
g
Fat:
26
g
Saturated Fat:
13
g
Polyunsaturated Fat:
1
g
Monounsaturated Fat:
10
g
Trans Fat:
0
g
Cholesterol:
89
mg
Sodium:
392
mg
Potassium:
281
mg
Fiber:
1
g
Sugar:
2
g