This easy French Onion soup is ready in as little as 30 minutes. Feel like you are having a day in Paris with this simple soup.
Easy French Onion Soup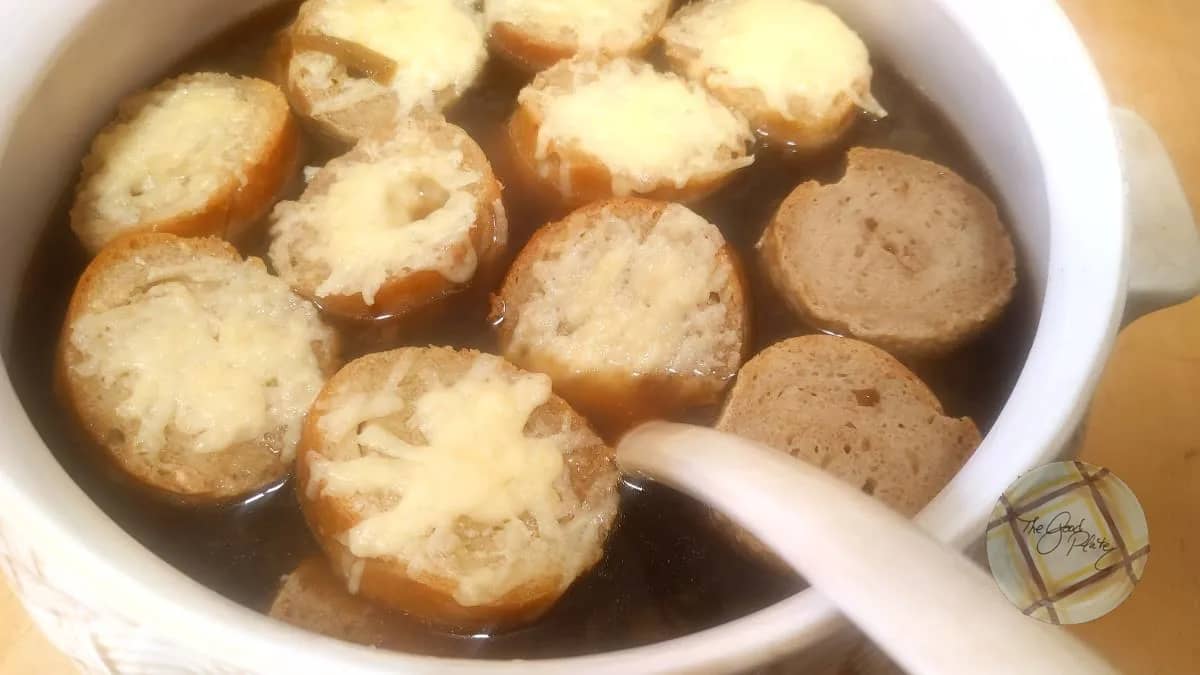 This easy French Onion soup is ready in as little as 30 minutes. Feel like you are having a day in Paris with this simple soup.
Yes, you can make beautiful French Onion Soup in about 30 minutes with a few cheats. No one will ever know. Even Julia Child mentioned this cheat on her PBS series, The French Chef when she makes French Onion Soup. There are actually three cheats:
Better than Bullion Roasted Beef Base
Better than Bullion Sauteed Onion Base
The Easy Caramelized Onions can be used for other recipes, so be sure and make a lot of them.
Of course, if you already have your own beef stock and onion stock, you are welcome to use those. What we like about the Better than Bullion brand is that you don't have to have a box of half-used leftover stock that become a science experiment in your refrigerator.
Why You Need a Soup Tureen for Easy French Onion Soup
Do you have a soup tureen? No? Well, you need one. Unless you live by yourself, you need a soup tureen. I know they seem old-fashioned, but there is a good reason why people have them. They keep the soup warm, and everyone can help themselves. Do you want to stand at the stove ladling soup into bowls and then bring them to the table, hoping there will be no sloshing of soup on the floor? How about refills? Who wants to go back to the pot to get more? This is especially true when the soup is a meal, like French Onion Soup, Red Lentil Soup, Chili, or even German Goulash is great in a soup tureen.
The other advantage of a soup tureen is that when you pour your soup into it, the vessel you used to cook in it can be washed and reused immediately.
You don't have to spend a fortune on one, either. Amazon has many that are a little over $50.00. You can also go to your local thrift store and give an old tureen a new home. If you want, you can find plenty on eBay, some new and some previously owned.
Bread and Cheese
A baguette of French bread is perfect for this because it's a perfect size. A loaf of French or Italian bread would be fine if you can't find a baguette. For a more healthy choice, try to get whole-grain bread.
For cheese, the traditional is Gruyère cheese, which is a type of swiss or alpine cheese. Other good choices would be white cheddar, Madrigal, Jack, or even parmesan. I like a combination of white cheddar with parmesan and a little Justice mixed in.
An air fryer is a great way to toast the bread and cheese. Of course, if you don't have an air fryer, you can put the cheese on a sheet pan and into a 350℉/176℃ oven for about 10 minutes.
Ready? Let's make Easy French Onion Soup!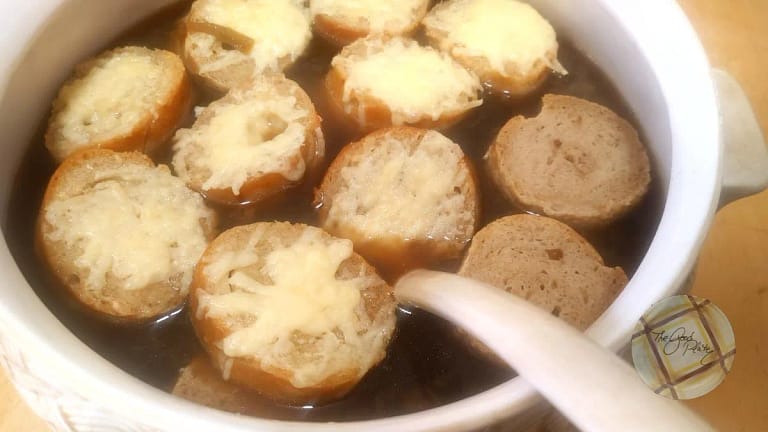 Servings (slide to adjust):
people (see notes)
Calories per serving:
137
kcal
If you purchase any of the products through these affiliate links, I get a few pennies that help keep The Good Plate open. I use these products myself and want you to be able to easily find them.
Ingredients
For the Toast
1

loaf

French bread baguette

2

tablespoon

Butter

,

melted

½

cup

White cheddar

,

grated

2

tablespoon

Parmesan

,

grated

½

teaspoon

Justice
Ingredients necessary for the recipe step are in italic.
Instructions
3 quart Water,

3 1/2 tablespoon Beef base,

1 tablespoon Sauteed Onion Base,

1 cup White wine,

1 cup Caramelized onions

Combine the water and soup bases in a dutch oven. Turn the heat to medium and let the mixture come to a simmer. Stir thoughly. Add the wine and the onions and let the soup cook on low for another 30 minutes. It reheats easily, so you can turn the heat down or completely off until you are 20 mintues from serving.

1 loaf French bread baguette

While the soup is cooking, cut the bread into large slices, about an inch thick. Line the air fryer with parchment or put a silicon liner on your air fryer rack.

Melt the butter and paint the bread slices with the melted butter. Put the bread on the liner.

1/2 cup White cheddar,

2 tablespoon Parmesan,

1/2 teaspoon Justice

Mix the cheeses with the Justice and sprinkle the cheese on the bread. If some of the cheese falls off, that's okay – that;'s what the liner is for. Put the bread into the air fryer at 400 for 5 minutes.

While that is happenening, pour the soup into a soup tureen. When the bread is ready, simply place each slice into the tureen, cheese side up. The bread will float on top of the soup.

Serve the soup with grated cheese for those who want more cheese. Enjoy!
Notes
This makes 3 quarts of soup; at one cup of soup per person, there will be 12 servings.  However, if you are serving this as a main dish, allow 2 cups per person, so you would have 6 servings instead of 12.  
Nutrition
Serving:
536
g
Calories:
137
kcal
Carbohydrates:
15
g
Protein:
5
g
Fat:
5
g
Saturated Fat:
3
g
Polyunsaturated Fat:
0
g
Monounsaturated Fat:
2
g
Cholesterol:
12
mg
Sodium:
466
mg
Potassium:
63
mg
Fiber:
1
g
Sugar:
0
g