Oh my! This Bacon Wrapped Spicy Ham Roll Stuffed Chicken is so good!
Bacon-Wrapped Spicy Ham Roll Stuffed Chicken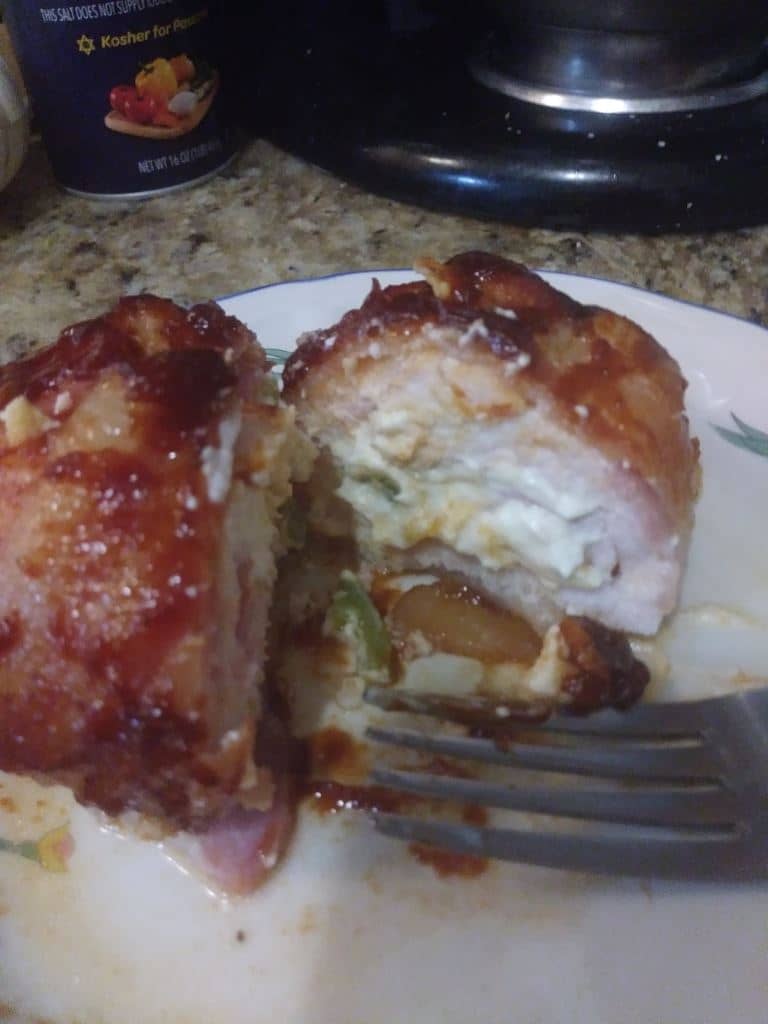 Bacon-Wrapped Spicy Stuffed Chicken with Ham Roll
When I posted this on Instagram, a lot of people said it looked delicious. I told them it was, and I wasn't lying.  The recipe is based on Bacon Wrapped Jalapeno Stuffed Chicken, which my good friend, Maria de la Rocha had posted quite a long time ago.  I had been meaning to make it, but when I actually looked at the recipe, I realized there were some changes I could make to make a better dish.
Spane's favorite appetizer is what I call Spicy Ham Rolls. It's basically ham slices rolled up with cream cheese and chopped jalapeño.  I got the recipe from a girl I worked with that had given her leftovers from a party she had had.  When I make them, they are gone immediately!
If you make this, you can use whatever barbecue sauce you like, or you can use the one in the recipe.  If you really don't like jalapeño, you can omit it and use bell pepper instead.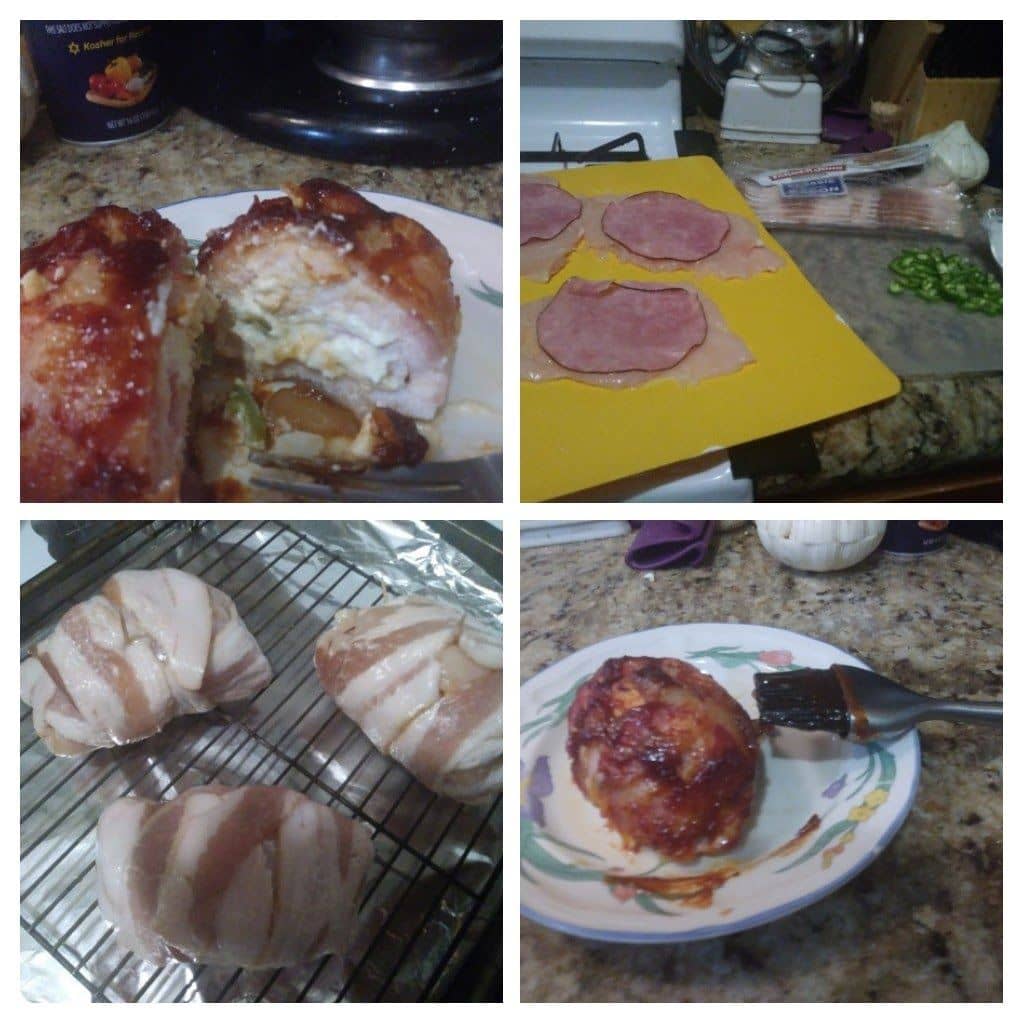 Mise En Place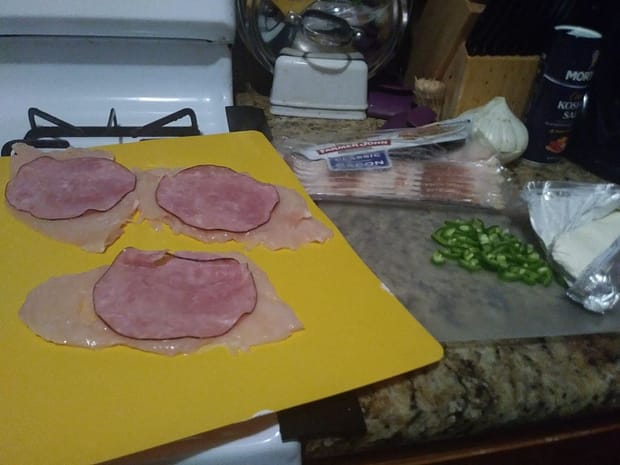 I also added cheddar cheese sticks that are not shown in this mise en place but are included in the recipe. Fresh jalapenos are better, but if you cannot find them, you could use canned jalapeno peppers. These are very rich, and one breast will usually feed two people. I usually serve them with a big green salad, crisp fried sliced potato, green beans and a glass of white wine.  Enjoy and let me know how you liked these in the comments.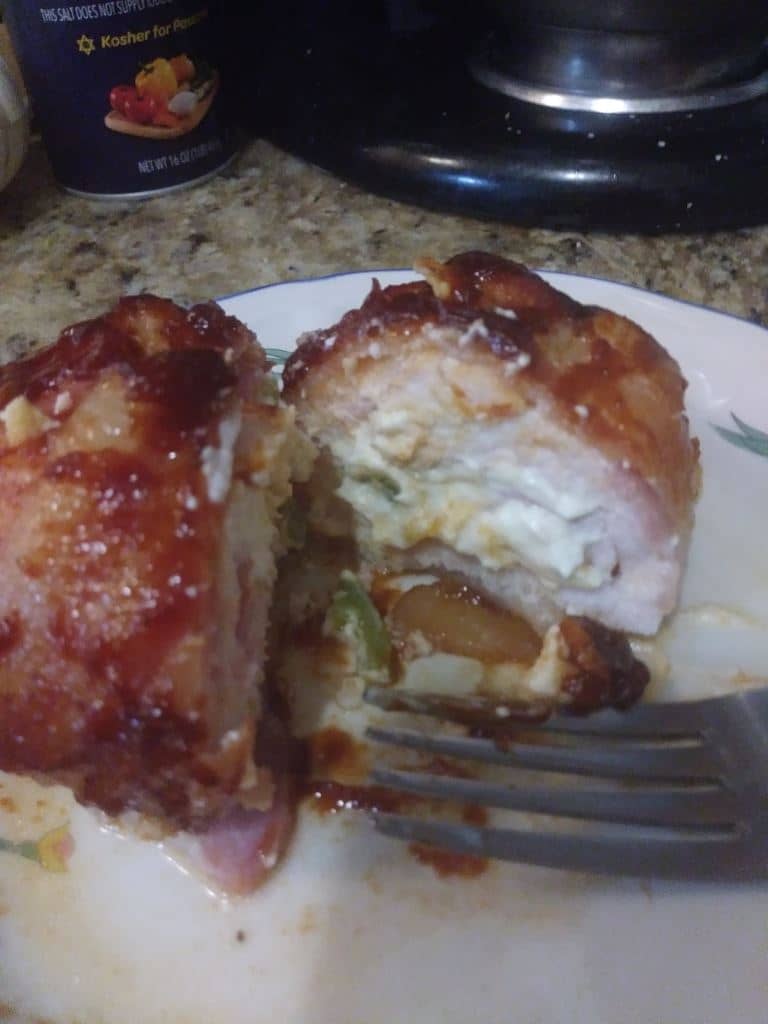 Servings (slide to adjust):
servings
Calories per serving:
939
kcal
Ingredients
4

chicken breasts

,

skinless and boneless

4

large

jalapenos

,

seeded and stemmed

4

ounces

cream cheese

,

softened

4

ounces

cheddar cheese

,

shredded

4

black forest ham

,

thin slices

12

slices

bacon

½

cup

Boswell Barbecue Sauce
Ingredients necessary for the recipe step are in italic.
Instructions
Preheat the oven to 350F/177C

Warning! Make sure you wear gloves when you do this to prevent the peppers' oils from getting into your skin. Do not rub your eyes or nose while doing this prep either. Chop the jalapenos into small dice. Mix the jalapenos with the cream cheese and set aside.

Have ready a half sheet pan, foil, and a cooling rack. Put the foil on the sheet pan, then the rack on the foil. This will make clean up easier.

If the chicken breasts are whole, then slice them open and butterfly them. Each side should be about the same size as a piece of ham. Pound them so they are all about the same thickness.

Then put a spoonful of the cream cheese mixture, and finally some of the cheddar cheese.

Roll the chicken breasts up making sure to tuck the ends in. Wrap the bacon slices around each chicken breast, making sure to cover the ends well. Secure with toothpicks if necessary.

Put the wrapped chicken on the cooling rack and place in the oven.

Roast for about 20 minutes and check to see if the bacon is brown. If the bacon is not brown, continue roasting until the bacon is browned and crisp and an instant-read thermometer reads 160F/71C.

Remove the bundles from the oven and brush them liberally with barbecue sauce. Then return them to the oven for another 5 minutes or until the barbecue sauce has browned. Remove from the oven and let rest for about 5 minutes.

You may find that some of the cheese has escaped in cooking. No worries, serve the chicken breasts and put some of that good cheese on the plate, too.

Enjoy!!
Notes
This is VERY rich, and you might want to plate these on a platter then cut them in half at the table for presentation, and give each guest a half.  The nutritional values expressed at for one piece each, not a half.
If you don't want jalapeno, you could substitute sweet bell pepper instead, or make it even hotter with a habanero pepper.
Of course, you can put this on the barbecue, too!
Nutrition
Serving:
314
g
Calories:
939
kcal
Carbohydrates:
10
g
Protein:
35
g
Fat:
84
g
Saturated Fat:
35
g
Polyunsaturated Fat:
9
g
Monounsaturated Fat:
36
g
Cholesterol:
172
mg
Sodium:
1412
mg
Potassium:
635
mg
Fiber:
1
g
Sugar:
5
g