This is a great salad that comes together quickly and can be made any time of the year, rain or shine!
Grilled Shrimp Salad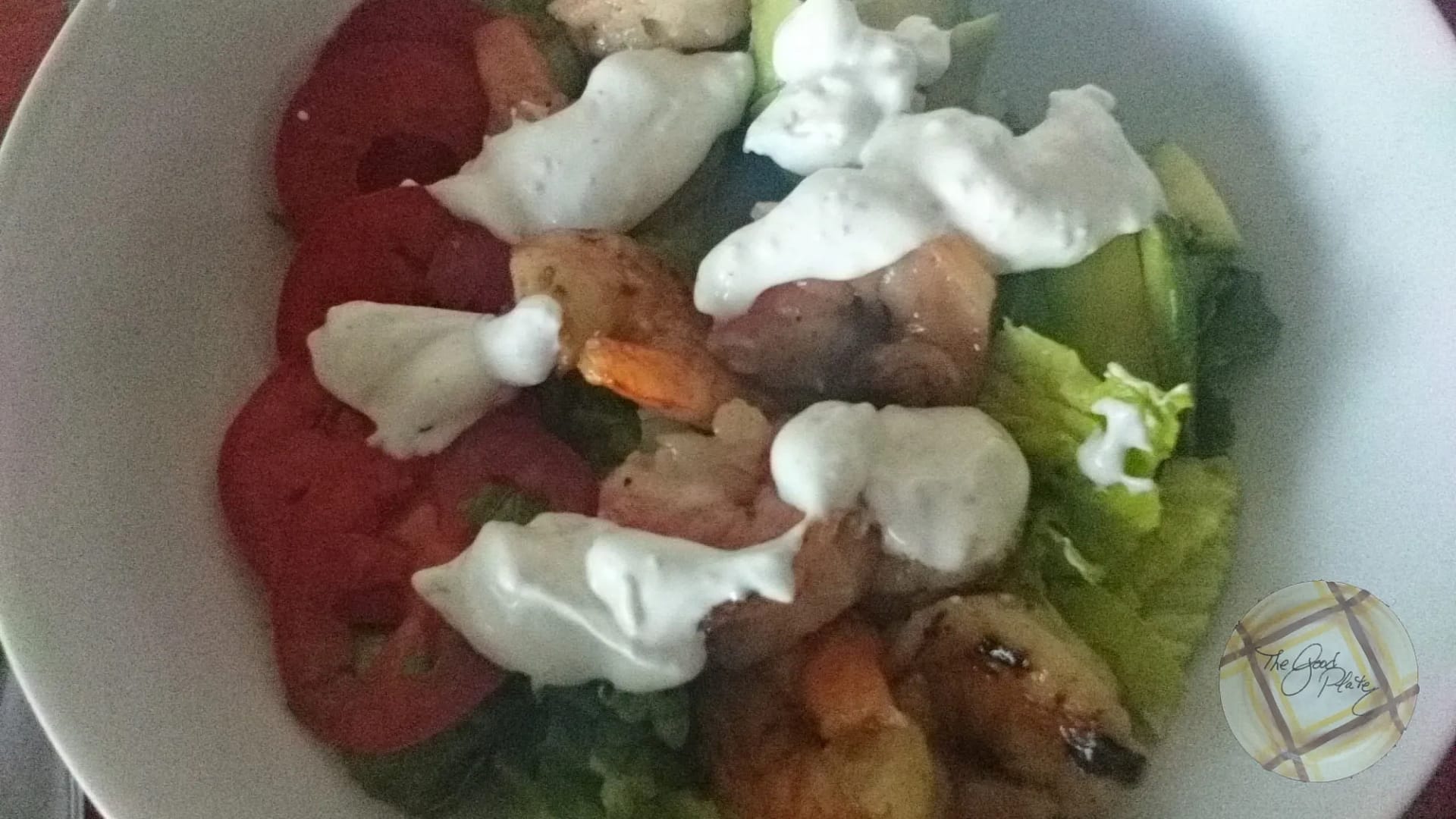 Grilled shrimp salad is easy to make, even in the winter, or in an apartment without a grill. You can add spices to make it just for you.
Grilled Shrimp Salad
I bought a cast iron reversible grill with a grill on one side and a griddle on the other. We live in an apartment and there is nowhere to put a barbecue, not even a little hibachi. I have found that if I marinate the food and put it on this grill, I can get a nice char and even a little smokiness.
The one I bought was a ProSource Griddle/Grill available on Amazon.  I liked it because its handles are on the outside, so you don't sacrifice grill space. It does an excellent job with shrimp, steak, chicken, basically anything you would put on the outdoor grill you can put on this. Of course, when you turn it over, it's perfect for pancakes, grilled sandwiches, and makes a great comal for making or heating up tortillas.
Gripe about Smoke Alarms
Of course, I have to put the fan on above the stove and open the door and windows. I keep the door to the hallway where the bedroom is closed because that is where the extra sensitive smoke alarm is – I wish smoke alarms could be remotely controlled or you could tell them, "Hey, I'm going to grill something on my stove top, don't go off!" I had one at one time that was so sensitive that it would go off if I boiled water. I put a hat over that one and left it alone. Okay, back to our regularly scheduled program…
Shrimp on the Barbie
Shrimp cook quickly on this type of grill. I suggest using bamboo skewers to keep them looking nice and for easy flipping. Don't forget to soak the skewers in water at least a half an hour before you start.
I'm Ready for My Close-up, Mr. Demille!
Crisp lettuce, juicy tomato, and buttery avocados nestled in a large bowl. Make sure to put these in the refrigerator while the prepping the shrimp. Take them out just before serving.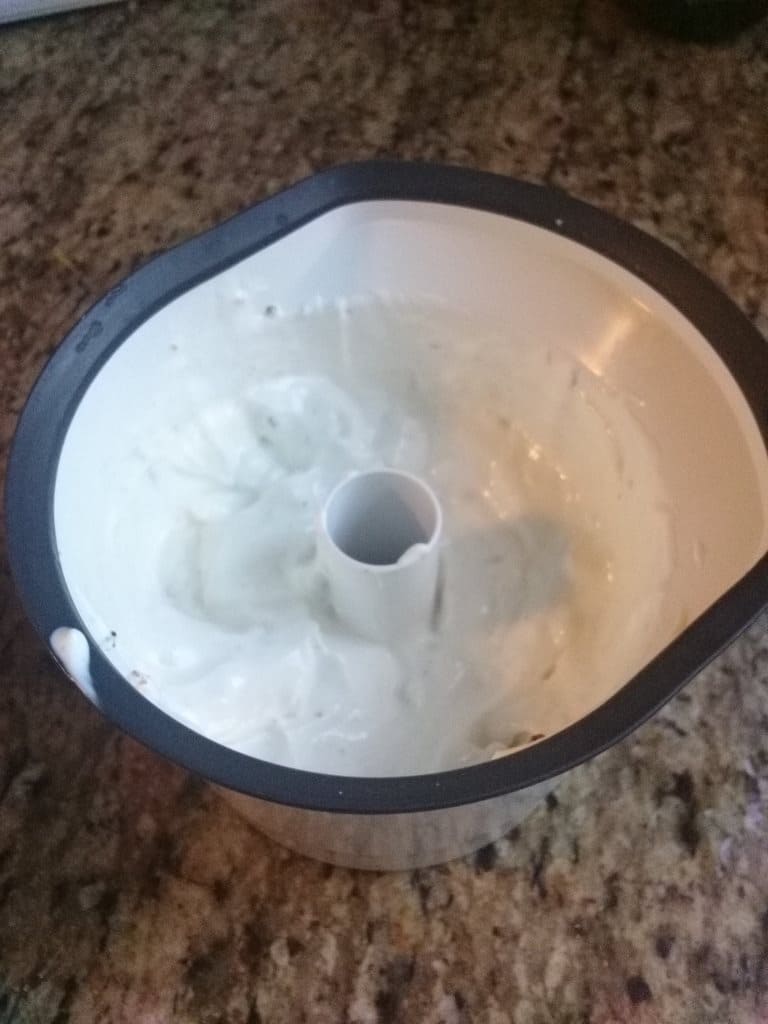 Mom's Blue Cheese Dressing
I make this dressing all the time and the easiest way to do it is in a small food processor. I know I've said this before and I'll say it again – don't use pre-crumbled blue cheese. That is just the bits that have dried up and fallen off the main wheel. Get a wedge of cheese at your local cheesemonger.
Let's Make Grilled Shrimp Salad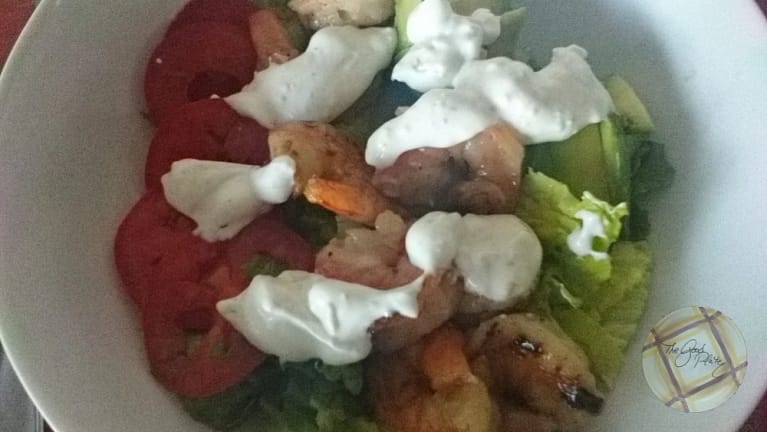 Servings (slide to adjust):
servings
Calories per serving:
569
kcal
If you purchase any of the products through these affiliate links, I get a few pennies that help keep The Good Plate open. I use these products myself and want you to be able to easily find them.
Ingredients
For the Shrimp
½

pound

raw shrimp

,

peeled and deveined

1

garlic clove

,

finely minced

1

tablespoon

olive oil

2

bamboo skewers

,

soaked in water for at least a half an hour
For the Salad
1

avocado

,

peeled and sliced

1

tomato

,

sliced

1

head

Hearts of Romaine

,

torn
For the Dressing
2

tablespoons

blue cheese

½

cup

sour cream

⅓

cup

mayonnaise

3

drops

Angostura Bitters

black pepper

,

Freshly grated
Ingredients necessary for the recipe step are in italic.
Instructions
For the Shrimp
1/2 pound raw shrimp,

1 tablespoon olive oil,

2 bamboo skewers,

1 garlic clove

Rinse the shrimp well, and check to make sure that it is thoroughly clean with no sand vein. Pat dry with a paper towel. Put the shrimp in a bowl with the olive oil and garlic. Toss together, and refrigerate for about 30 minutes. While that is happening, soak the bamboo skewers in water.

When the shrimp have finished marinating, put the grill on the stovetop over two burners and light the burners. Let the grill get nice and hot. Put the shrimp on the skewers, and then on the grill. Grill on one side, about 3 minutes, then flip and grill on the other side. They should just be starting to curl up and get pink – don't let them curl up all the way, they will be overcooked.
For the Dressing
Put Everything Together
1 tomato,

1 head Hearts of Romaine,

1 avocado

While the shrimp is marinating, tear the lettuce, cut the tomato and slice the avocado. Put them in a nice bowl and refrigerate until the shrimp have finished cooking. Take the grilled shrimp off the skewers and place them nicely on top of the salad. Dot with the dressing and serve.

Enjoy!
Notes
This goes very nicely with a dry white wine and some crusty sourdough bread.
Nutrition
Serving:
329
g
Calories:
569
kcal
Carbohydrates:
25
g
Protein:
12
g
Fat:
50
g
Saturated Fat:
14
g
Polyunsaturated Fat:
10
g
Monounsaturated Fat:
22
g
Cholesterol:
80
mg
Sodium:
485
mg
Potassium:
946
mg