This Apple Yogurt Raisin Bread is a slightly sweet yeast, yogurt and apple sauce bread with apple, raisin and walnut filling.
Apple Yogurt Raisin Bread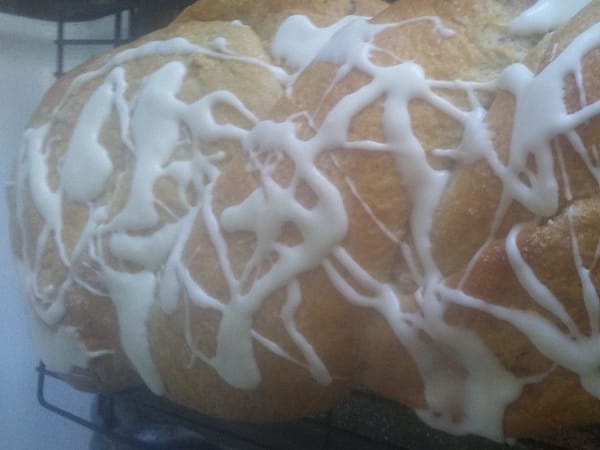 I don't usually do things that are complicated, and when I started making this bread, I thought it would be complicated, but, in truth, it wasn't. If this is your first time making bread, you might be intimidated by this, but trust me, it's going to be okay.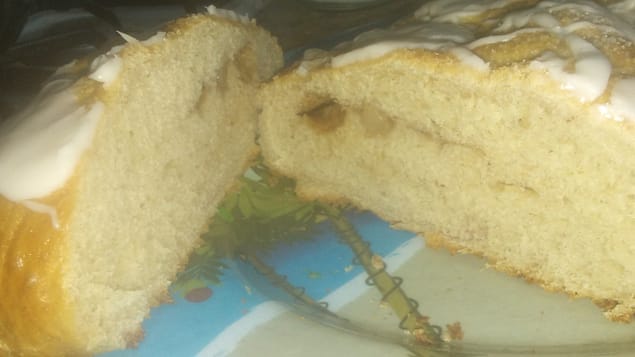 Here's what the bread looks like when you cut into it. As you get farther along, you will find more filling.
I used to make bread every week for my roommate who didn't think a meal was complete without bread. I haven't been making bread lately, but I have been making pizza dough and Calzone. Now that I have a working Kitchen Aid Classic stand mixer, I can make as much bread as I like.
When I was taking the Mise en Place picture, I forgot to include the walnuts, and they were in the filling. If you are allergic to nuts, please, by all means, omit them.
I like the skins left on apples. If you don't like the skins, please feel free to remove them. If you have a lot of apples to peel and core, you can use a Norpro Apple Machine to do all the hard work for you. I love mine when I'm making Apple Brown Betty.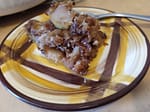 How to Make Apple Brown Betty - a Winter Favorite
We'll show you how to make Apple Brown Betty, a favorite winter dessert with tart apples and raisin bread - in the oven in under 10 minutes.
Kneading the Apple Raisin Yogurt Bread
Okay, let's talk about kneading. The picture you see above is what the dough looked like after my stand mixer had kneaded it for eight minutes. I wanted to knead it for a total of 10 minutes or so. When I took the dough out of the bowl, it was moist and sticky, so I kneaded more flour into it. That's a perfectly acceptable thing to do. You work the dough with your hands, until it isn't sticky and wet, but is nice and smooth. Don't add too much flour, you don't want the dough to be dry. You can squeeze a piece of dough off, stretch it and see how it responds. If it stretches easily, then you can stop kneading.
After the dough has risen, you're going to want to divide it into two pieces. Roll one out, and put the filling on it. Roll the other one out, and sprinkle cinnamon on it. If you like things extra sweet, you can sprinkle sugar as well.
Twist the two pieces together like a braid, put it on a pan that you have sprinkled cornmeal, or better yet, on parchment paper. Then you want to let it rise for another hour, and it should turn out looking like the picture above.
When the bread comes out of the oven it should be nice and browned. You can tap on it and if it sounds hollow, then it's done. Or, you can use an instant-read thermometer, as it did, and it should read about 200 degrees. Let the bread cool before glazing.
Choose The Correct Yogurt
The yogurt used for this recipe is plain yogurt.  Please don't be fooled into buying "Greek" yogurt.  The biggest difference between regular plain yogurt and Greek yogurt is the Greek is drained longer so it's thicker and does not yield as much as the plain yogurt. To production costs, manufacturers put gelatin and other thickeners in "Greek Style" yogurt.  Read the ingredients. There are some that are truly Greek, but they are more expensive.  Plain yogurt is fine, just make sure it doesn't have any sweeteners or other flavoring.  If you would like to make your own yogurt, you can follow my recipe for Sous Vide Yogurt.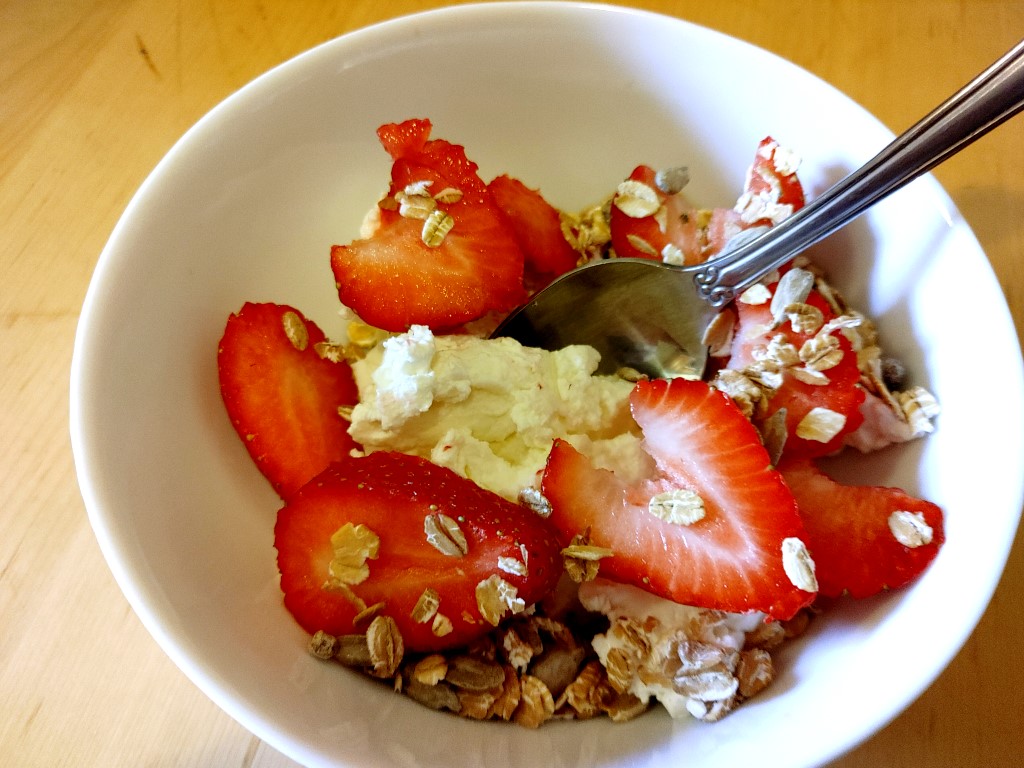 How to Make Homemade Yogurt Sous Vide
Learn how to use your sous vide immersion cooker to make homemade yogurt the easy way. Hands-free and consistent every time.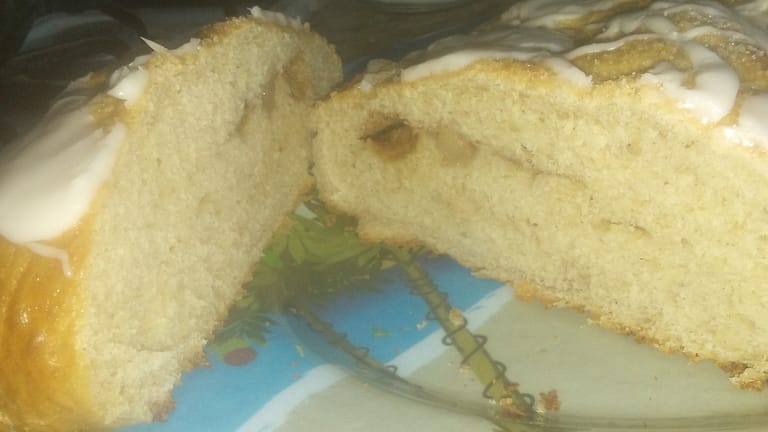 Servings (slide to adjust):
servings
Calories per serving:
312
kcal
Ingredients
DOUGH
3 ¼

cups

Flour

¼

cup

potato flour

,

OR 1/2 cup dried potato flakes

3

tablespoons

granulated sugar

1 ½

teaspoons

instant yeast

1 ¼

teaspoons

salt

1

teaspoon

cinnamon

3

tablespoons

unsalted butter

1

teaspoon

vanilla extract

1

large

egg

1

cup

yogurt

,

room-temperature or lukewarm

½

cup

apple sauce
FILLING
1

tablespoon

unsalted butter

1

tablespoon

brown sugar

1

teaspoon

cinnamon

1

cup

apple

,

chopped

1

tablespoon

walnuts

,

chopped

2

tablespoons

raisins
GLAZE
1

cup

confectioners' sugar

,

or glazing sugar

1

teaspoon

vanilla extract

1 to 2

tablespoons

milk
Ingredients necessary for the recipe step are in italic.
Instructions
To make the dough: Whisk or sift together all of the dry ingredients, then add the butter, vanilla, cinnamon, egg, yogurt and applesauce, mixing until a shaggy dough forms. Let the dough rest for 30 minutes; this resting period allows the flour to absorb the liquid fully, making it easier to knead.

Knead the dough for about 10 minutes; it should feel slightly sticky and soft. Add a couple of tablespoons of water if the dough feels firm or dry. Place the dough in a greased bowl, turning to coat. Cover the bowl, and let the dough rise until it's almost doubled in bulk, about 1 1/2 to 2 hours. The amount of time this takes will depend on the temperature of your kitchen.

To make the filling: While the dough is rising, make the filling. Melt the butter in a pan, add the apple, cinnamon, brown sugar and walnuts. Saute until the apple is soft, then add the raisins. Saute a few minutes, then cover and set aside.

To assemble the loaf: Gently deflate the risen dough and turn it out onto a lightly floured or greased work surface. Fold it over once or twice to remove the excess gas. Divide the dough in half. Roll the first half into a 10" x 12" rectangle. Spread the filling over the rolled-out dough, leaving a 1/2" margin clear of filling along all sides.

Starting with a long side, roll the dough into a log, sealing the edge. Place the log, filled side up, on a well-greased or parchment-lined baking sheet. Roll out the second dough, sprinkle it with cinnamon, then roll up as the first. Keeping the filling side up, twist or "braid" the two logs together, working from the center to each end. Pinch the ends together. Cover the twist lightly, and set aside to rise for 1 to 2 hours.

To bake the bread: Bake the loaf in a preheated 350 F / 176 C oven for 30 to 35 minutes, until it is lightly browned. Check the loaf after 20 minutes and tent with aluminum foil if it's browning too quickly around the edges. Remove the bread from the oven and allow it to cool for about 1 hour before glazing and serving.
Notes
If you are allergic to nuts, omit the walnuts, and don't use a nut based oil to oil your bowl to rest the dough.
Nutrition
Serving:
114
g
Calories:
312
kcal
Carbohydrates:
50
g
Protein:
8
g
Fat:
9
g
Saturated Fat:
5
g
Polyunsaturated Fat:
1
g
Trans Fat:
0
g
Cholesterol:
44
mg
Sodium:
304
mg
Fiber:
2
g
Sugar:
22
g