This Strawberry Balsamic pie is a celebration of summer.  It's easy to make and you don't even have to turn on your oven.  What's not to love?
Strawberry Balsamic Pie
Last Updated on October 29, 2021
This Strawberry Balsamic pie is a celebration of summer.  It's easy to make and you don't even have to turn on your oven.  What's not to love?

So, I asked my son if he wanted strawberries because they are in season and on sale at the supermarket. He said no, we don't eat them fast enough, and they go bad. I told him I would make some kind of dessert, and bought not one, but two containers of lovely red, ripe strawberries.
Strawberry Balsamic Pie Ingredients
This pie's filling is creamy from sweetened condensed milk and lemon juice.  The lemon thickens the milk on contact.  Balsamic vinegar wakes up fruits of all kinds, and especially berries.
When you are going to buy strawberries, check them carefully. Thoroughly look them over, especially on the bottom, where an errant bruised one is oozing fluid and affecting the others near it. Also check that the top part of the fruit is red, not pale green. If it's pale green, the fruit is not ripe and will be tasteless.  Try to get strawberries of relatively the same size.
After you get your berries home, unless you intend to eat them immediately, just put them in the refrigerator. Do not wash them! When you wash them, they will go bad quickly. If you must wash them, then let them dry in a single layer on a paper towel on a sheet pan, before putting them in the refrigerator.
You will enjoy this pie. You can buy a pre-made graham cracker crust, or you can make one yourself. I have a container of graham crumbs, so I make mine. I will put the recipe for the graham crust in as well.
If you still have any leftovers, cover the pie and put it in the refrigerator.  It should be good for a few days.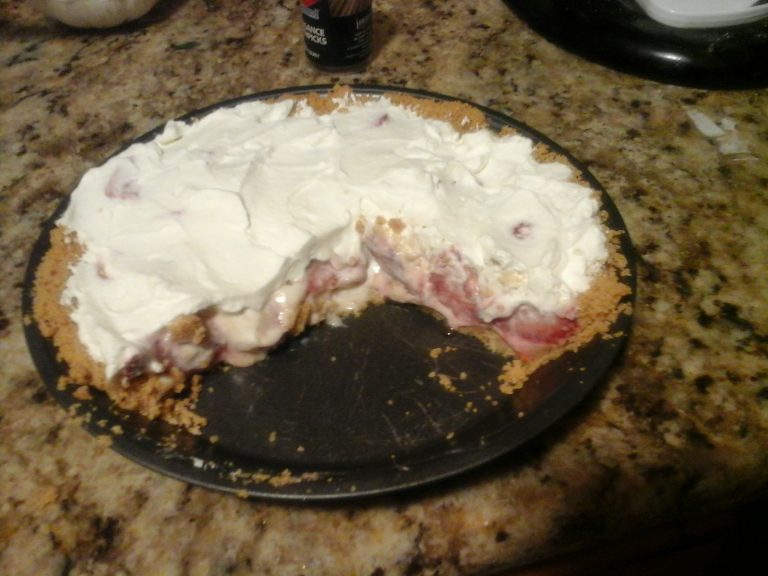 Servings (slide to adjust):
Equipment
Ingredients
Buy a Premade Crust
1

Premade Graham Cracker Crust
Or Make or the Crust
1 ¼

cups

graham cracker crumbs

½

cup

unsalted butter

,

melted (1 stick)

¼

cup

sugar
For the Filling
1

10 oz can

Sweetened Condensed Milk

¼

cup

Lemon Juice

1

teaspoon

Balsamic Vinegar

4

cups

Strawberries

,

sliced
Ingredients necessary for the recipe step are in italic.
Instructions
Using Premade Crust
Remove the protective cover from the premade graham cracker crust
To Make the Crust
Preheat the oven to 350. Prepare the pie crust by combining all the crust ingredients together, then turning them into a pie plate. Use the back of a measuring cup, or a glass to flatten and evenly distribute the crust. Bake the crust in the preheated oven for 8 minutes, remove and set aside to cool completely.
For the Filling
To make the filling, combine the lemon juice, vinegar and condensed milk, stir til thickened, a few minutes. Put the strawberries in with the milk mixture and toss completely. Fold that into the pie shell.

Refrigerate at least one hour. Put the bowl you are going to make the whipped cream in the refrigerator at the same time.
For the Topping
Nutrition
Serving:
177
g
Calories:
372
kcal
Carbohydrates:
53
g
Protein:
6
g
Fat:
16
g
Saturated Fat:
7
g
Polyunsaturated Fat:
2
g
Monounsaturated Fat:
6
g
Cholesterol:
37
mg
Sodium:
217
mg
Potassium:
348
mg
Fiber:
2
g
Sugar:
43
g