Stacked enchiladas with red chipotle sauce and a mixture of four cheeses are an absolute must-try. They're easy to make and delicious.
Stacked Enchiladas with Red Chipotle Sauce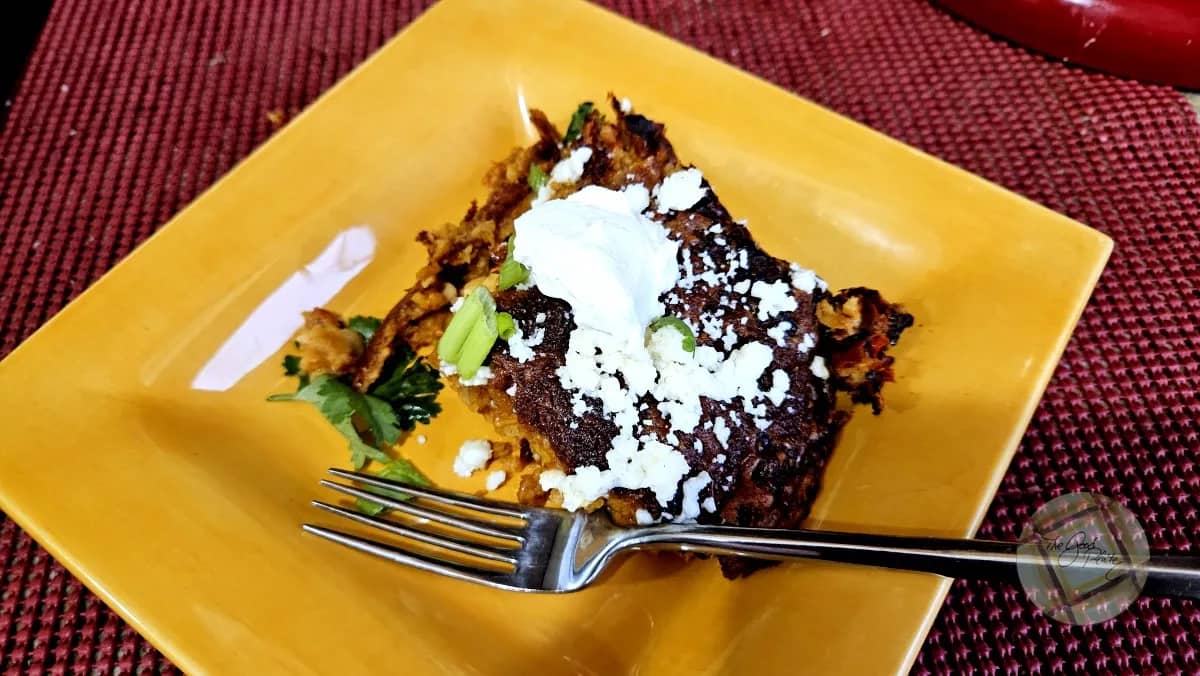 Stacked enchiladas with red chipotle sauce and a mixture of four cheeses are an absolute must-try. They're easy to make and delicious.
When it comes to Mexican cuisine, enchiladas are a beloved classic, and stacked enchiladas with red chipotle sauce elevate this dish to a whole new level of deliciousness. These enchiladas are a feast for the senses, featuring layers of corn tortillas filled with a tantalizing combination of meats, cheese, and vegetables, all smothered in a rich and spicy red chipotle sauce.
This dish is highly adaptable. Whether you're a carnivore or a vegetarian, you can customize the fillings to suit your preferences. The red chipotle sauce's versatility means you can adjust the spice level to your liking as well.
What are Stacked Enchiladas?
Stacked enchiladas differ because the tortilla is not rolled around the filling. The filling is put on top of the tortillas, almost like lasagna. The good thing about this is you don't have to soften the tortillas first; the sauce does that for you. That means not having to fry the tortillas in oil or preheat them. It's a good thing!
At the heart of stacked enchiladas lies a symphony of flavors. The layers of corn tortillas, typically softened slightly through dipping in the red chipotle sauce, provide a delicate yet substantial base. The filling is cabbage, onion, and a variety of cheeses. 
The cheeses include pepper jack, white cheddar, gruyere, and cotija cheeses. The pepper jack is there for heat. The cheddar is there for its buttery flavor. The gruyere is there for its melting quality, and the cotija is there for its nutty flavor.
Stacked enchiladas stand out from the crowd due to their distinctive flavor profile. The combination of tender tortillas, hearty fillings, and the smoky kick of chipotle sauce creates an unforgettable taste experience.
The Magic of Red Chipotle Sauce
The star of the show is undoubtedly the red chipotle sauce. Made from dried smoked jalapeños and dried New Mexico chilis, this sauce boasts a smoky, earthy flavor with just the right amount of heat. Its vibrant red color adds a visually appealing touch to the dish. The sauce's complex profile, featuring notes of smokiness, spiciness, and a hint of sweetness, complements the other ingredients perfectly, tying the whole ensemble together.
It's up to you to remove the chili seeds before soaking the chilis.  The more seeds you leave in, the hotter it is.  If you don't want very spicy, you can substitute Guajillo chilis for the New Mexicos.  
Stacked enchiladas are a feast for the eyes. The layers of tortillas, vibrant red sauce, and toppings create an enticing presentation that's perfect for special occasions or impressing guests.
What to Serve with Enchiladas
Enchiladas are often served with sour cream to cool your mouth. You can make Beans in the Instant Pot to go with them. Spanish rice is also a typical accompaniment. Of course, be sure and serve your feast with salsa and fresh guacamole.

How to Preserve Avocado and Make Guacamole Correctly
How to preserve avocado to keep it from browning to making guacamole the right way with only 5 ingredients – and no lime.
Recipe: Stacked Enchilada with Red Chipotle Sauce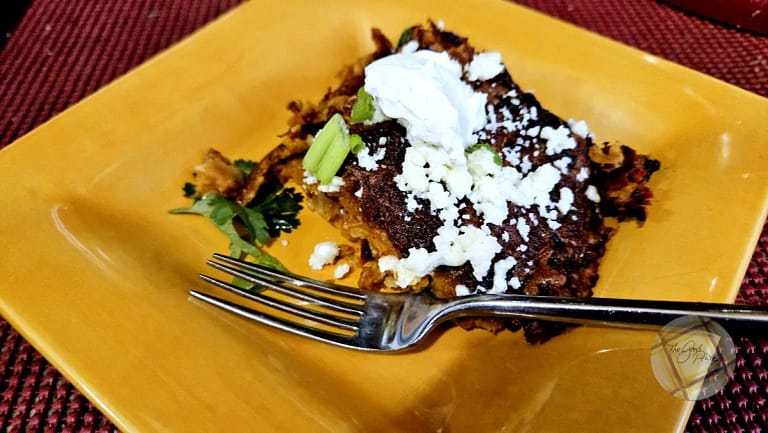 Servings (slide to adjust):
Calories per serving:
262
kcal
If you purchase any of the products through these affiliate links, I get a few pennies that help keep The Good Plate open. I use these products myself and want you to be able to easily find them.
Ingredients
~~ Sauce ~~
5

dried New Mexico red chiles

2

dried chipotle peppers

2

clove

garlic

,

peeled and crushed

1

small yellow onion

,

peeled and quartered

1

tsp.

ground cumin

¼

teaspoon

oregano

½

teaspoon

Salt

1

tsp

sugar

,

(optional)
~~ Enchiladas ~~
4

ounces

pepper jack cheese

4

ounces

white cheddar cheese

2

ounces

Swiss cheese

½

cup

cabbage

,

sliced

1

onion

,

chopped

8

corn tortillas

2

ounces

Cotija cheese

,

crumbled

½

cup

cilantro leaves

,

for garnish
Ingredients necessary for the recipe step are in italic.
Instructions
Sauce
5 dried New Mexico red chiles,

2 dried chipotle peppers

Bring a pot of water to a boil. Put the chilis in a non-reactive bowl. Pour the boiling water over them. Soak until soft, about 1 hour, then drain, reserving the soaking water.

2 clove garlic,

1 small yellow onion

Place chiles, garlic, onions, and 2 cups of the soaking water in a blender. Purée until smooth. Thin with more soaking water if the sauce is too thick.

1 tsp. ground cumin,

1/4 teaspoon oregano,

1/2 teaspoon Salt,

1 tsp sugar

Put the sauce into a saucepan. Add cumin, garlic, and oregano. Taste for seasoning. If it seems too bitter, add a pinch of sugar. Simmer, uncovered, over low heat for 10 minutes or until the sauce has thickened.
Enchiladas
4 ounces pepper jack cheese,

4 ounces white cheddar cheese,

2 ounces Swiss cheese

Shred the cheese in the food processor and add them to the bowl.

Finally, chop the onion in the food processor and add it to the bowl. Lightly mix the cheese, onion, and cabbage together.

Put 2 to 3 tablespoons of the sauce on the bottom of the casserole. Put a layer of tortillas on top of the sauce. Cover the layer with some of the cheese mixture. Spoon a little of the sauce on the cheese, then top with more tortillas, cover with the sauce, to make a second layer, then cheese, then the tortillas are last. Pour the remaining sauce over the casserole.

Sprinkle Cotija cheese over the top of the casserole. Bake in a

350

°F

oven for 30 minutes or until the sauce is bubbling and all the cheese has melted.
Nutrition
Serving:
149
g
Calories:
262
kcal
Carbohydrates:
19
g
Protein:
14
g
Fat:
15
g
Saturated Fat:
9
g
Polyunsaturated Fat:
1
g
Monounsaturated Fat:
4
g
Cholesterol:
47
mg
Sodium:
708
mg
Potassium:
271
mg
Fiber:
3
g
Sugar:
4
g
Video Transcript
Good afternoon and welcome to the Good Plate's Kitchen.
Today we are making enchiladas with red sauce.
And the first thing we're going to do is make the red sauce itself,
which means that you have to soak chilies in water.
And let's do that. Here's my chilies.
This is New Mexico and Chipotle.
Pour the water in here. Be generous.
Okay, this one here. That is chipotle.
And this is New Mexico.
Chipotles are hotter. Now if you want to, you can remove the seeds
if you don't want yours as hot. We like ours very, very hot.
I'll show you some of the other spices
that are going to be going into that.
We have an onion and some other spices. This is
cumin. This is roasted garlic from Penzey's, the best.
And oregano. Okay, well this has to soak for
about an hour and we'll be back when that stops soaking.
Okay, we have four different kinds of cheese.
This is a Cotija cheese. It's a Mexican cheese.
And we have gruyere and we have pepper Jack and pepper Jack.
And this is white cheddar. These are white cheddar.
And we're going to put these in the food processor
to grind them and they're going to be going and being mixed
with, onions and cabbage. And that's what we're going to stuff the enchiladas with.
Okay, the chilies have been soaking for an hour and
it's time to drain them and make the rest of the sauce.
When you work with chilies,
it's very important to always
work with gloves because those chilies get really,
really hot and you really don't want to get all that
on your fingers because it will stay with you.
So here we go. We're going to take this and take off anything strange like that.
I'm just taking the top off and this one's okay.
Now this one. Now let's see.
Little top, take that off.
And this little top off. That's the chipotle.
Isn't that amazing? The way that looked when we first put it in there.
And now it's all done. You're some New Mexicos.
They're all beautiful.
Okay, now that's done. Now that that's done.
We're going to put them, I'm going to put these
into the blender and let me see. There's one.
Two.
Three.
Four. Are there any more? Yes, there is.
Fantastic.
And I'm going to take about two
cups of the soaking liquid and add it.
We're going to add that soaking liquid.
Okay, now I'm going
to add roasted garlic.
Oregano
and cumin
Onion, onion and onion
And I will be back because I'm going to put this on the blender.
Okay, as you can see, it's done.
I wish you could smell this. It's amazing.
Okay, and now I'm going to put this into, I'm going to put this on the stove.
And you can see it's thickened with this.
It's thickened. This is the sauce. It's sticking up a little bit.
It's boiling. Very nice.
Very nice indeed. It smells amazing.
I'm going to take the heat off of it.
And get everything else ready.
Okay, time to assemble.
I have my tortillas here.
I'm not going to be rolling these just because, well, I'm lazy.
You can roll them, but I prefer doing this because
it doesn't involve oil or anything like that.
So here we go. Some of this lovely sauce on the bottom of the pan.
It's very strong.
And our tortilla.
[Music]
Now, finally, I'm going to sprinkle some cheese on here. This is
a cotija cheese. It's a very wonderful cheese.
It's a bit crumbly. It almost has a Parmesan
taste to it. It's not Parmesan,
but it has a similar kind of flavor.
Very generous.
This is a little piece.
See how easy this
is? It just falls apart, right in your hand.
This is the cheese that is used for
Mexican street corn.
Of course, if you can't find this cheese, you could always use Parmesan.
Or, cheddar, or something else.
Here we go.
Okay, this is going to go into the oven.
It's 350 for about 45 minutes,
or until all this cheese and the sauce is all nice and bubbling.
And we'll see you later.
And here it is. Fresh out of the oven. We'll put some more cheese on it.
And some cilantro and some scallions to make it look pretty.
And I'm going to cut into it in a moment. Here we are. Let's have a bite.
Added a little sour cream. It's a little
sour cream. Here's a bite. Yum!
That is just delicious.
There goes another one.
I wish you were here.
This is absolutely delicious.
And I'll see you next
time on the Good Plate.