What great stories you can tell about how these hens got flat
Memorial Day Highway Chicken
What great stories you can tell about how these hens got flat. Flattened "Highway" chicken cooks evenly on the grill. Put potatoes wedges "chips" on the grill at the same time, and have a BBQ feast!

A few years ago, for Glendale's Cruise Night, I had a Route 66 party BBQ, and I made Route 66 chicken which was inspired by recipes at Hot Smoked BBQ. I was wracking my brain this morning, trying to think of how to do the two Cornish Hens I'm making for my cousin's visit on Memorial Day. I thought of that chicken, and am going to prepare it today.
My cousin made chicken legs to supplement the Cornish hens – sadly, they could not be flattened. As a result, there was not enough room on the grill to make the potatoes, but guess what? I have extra coals – potatoes tomorrow!
I will say this is the best chicken I have ever had. Seriously, it was nice and moist because of the can of beer I had in on the grill, and the flavor was out of this world. It cooked evenly, a definite keeper!
Update! Tonight, June 2, 2012, I'm making Highway Chicken again, and the BBQ is in the front of the house, and a neighbor backs into the driveway, to the side, and he's almost running over my BBQ! And I'm screaming – "CHICKEN! DON'T RUN OVER MY CHICKEN". Finally, I get his attention, and I tell him the story, and he says, "I didn't know what you were talking about" as he pulls out a bag of El Polo Loco. Wow, THIS chicken almost WAS a highway chicken!
The good thing is, I got to make those BBQ chips tonight, and they were a hit!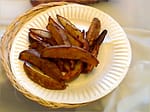 BBQ Chips – Smoky Barbecued Roasted Potatoes
These smoky BBQ chips are roasted potatoes on the grill and are perfect for Memorial Day, 4th of July, or that last Labor Day barbecue.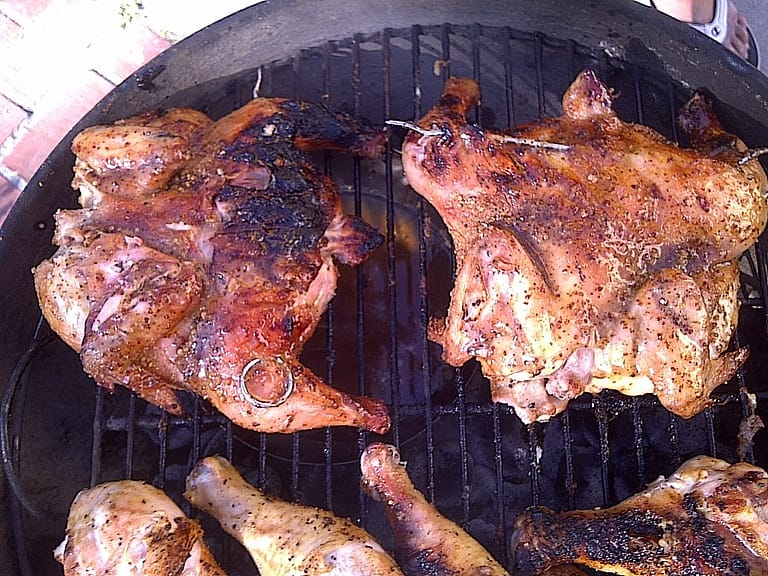 Servings (slide to adjust):
servings
Calories per serving:
641
kcal
If you purchase any of the products through these affiliate links, I get a few pennies that help keep The Good Plate open. I use these products myself and want you to be able to easily find them.
Ingredients
2

Cornish hens

Wood chips

,

soaked

1

can of beer

Dry Rub

Glaze
Dry Rub
3

Tablespoons

Sea Salt

4

Tablespoons

Black Peppercorns

,

freshly ground

4

Tablespoons

Garlic Powder

8

Tablespoons

Brown Sugar

4

Tablespoons

Mustard Seed

,

ground
The Glaze
2

Tablespoons

Honey

1

Tablespoon

Mustard

1

Tablespoon

Olive Oil
Ingredients necessary for the recipe step are in italic.
Instructions
Soak the wood chips in water at least an hour before starting up the grill.

To get the grill started, put a drip pan filled with beer on one side of the grate, and the coals on the other. You will be cooking the birds over the drip pan.
The Rub
3 Tablespoons Sea Salt,

4 Tablespoons Black Peppercorns,

4 Tablespoons Garlic Powder,

8 Tablespoons Brown Sugar,

4 Tablespoons Mustard Seed

If you have a small food processor, put everything in the bowl and mix thoroughly.

If you don't have a small food processor, then put all ingredients in a non-reactive bowl and mix everything thoroughly. Break any lumps of brown sugar using the back of a spoon, or use your fingers.

Use about 2 to 3 tablespoons of rub for every 2 pounds of chicken.
The Glaze
2 Tablespoons Honey,

1 Tablespoon Mustard,

1 Tablespoon Olive Oil

Stir the glazing ingredients until you have a smooth sauce.
Flatten Birds
Blot dry using paper towels,

Fold it open and push it flat,

Stick in two steel skewers crosswise to keep it flat,

Use your fingers to rub the dry rub on the skin and all the crevices. Make sure that you put some in the cavity of the chicken, too.

Put the chicken skin side down, legs facing the coals over the drip pan, and roast for a half an hour

Turn skin side up, legs facing away from the coals, and start putting the glaze on. Glaze every five minutes or so.

Brush the glaze on all sides of the meat during the last half hour of smoking. Make sure you cover all corners and crevices!

Repeat mopping every five or ten minutes or so in order to build up a nice and thick layer of shiny glaze.

You should be all done in an hour. The chicken is done when it reaches an internal temperature of 165 F / 73.8 C. Use an instant-read thermometer in the thickest part of the thigh.
Notes
You can have all kinds of fun with this recipe – telling people how the chicken got so flat – got run over by a truck!
Nutrition
Serving:
273
g
Calories:
641
kcal
Carbohydrates:
54
g
Protein:
5
g
Fat:
33
g
Saturated Fat:
9
g
Polyunsaturated Fat:
6
g
Monounsaturated Fat:
15
g
Cholesterol:
170
mg
Sodium:
7227
mg
Potassium:
796
mg
Fiber:
5
g
Sugar:
41
g