Habanero Cheddar pub burgers are not for the faint-at-heart. But, if you like spicy food, this might just be the burger for you!
Habanero Cheddar Burgers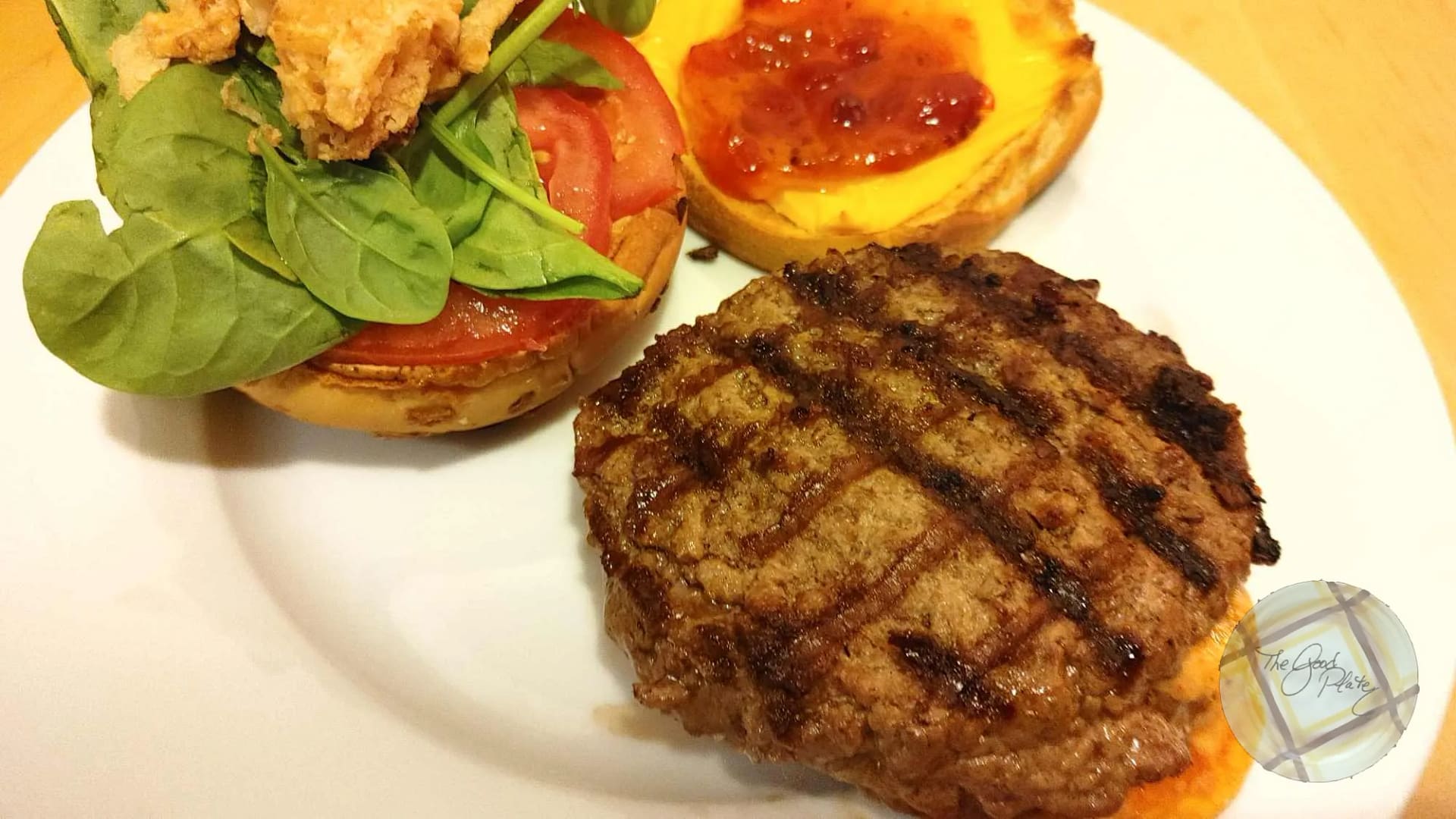 Habanero Cheddar pub burgers are not for the faint-at-heart. But, if you like spicy food, this might just be the burger for you!
Habanero is a serious chili. It is rated as having one of the highest on the Scoville scale. At 100,000 to 300,000 units, it regularly competes with scorpion and ghost peppers. Scoville units are exponentially counted. A bell pepper has a Scoville unit of 0, a Jalapeno up to 10,000, Tabasco up to 50,000 units.
However, with all that heat, habanero peppers have a unique, sweet peach flavor which is delightful as the heat registers on your tongue. The chili is often combined with mango because of this.
Seasoning for Habanero Cheese Pub Burgers
After all this talk about heat, don't be scared and think your mouth will forever be on fire. I don't use fresh habarero peppers, I use Fresh Jax Peppered Habanero Spice. The stuff is addicting on burgers and popcorn, too. It's very spicy, but it isn't that spicy that you wind up in the hospital.
Woody's Cook-in' Sauce is a staple in my house. I used to be able to find it at the supermarket, but now, I can only find it via Amazon. It's a very concentrated smokey flavor with almost no sugar so it won't burn. You can marinate meat in it and put it on the grill without it burning, then put your own favorite sauce on at the end. It's also an excellent base if you like making your own sauce.
Do you know the cheese that comes in the box of Kraft Macaroni and Cheese? That cheese is excellent for making garlic bread. I used to buy boxes of Mac and Cheese just to get the little packet of cheese inside. Not anymore; now I get this excellent powdered cheddar cheese from the friendly folks at Hoosier Farms.
Cheddar cheese doesn't melt very well and I don't like "plastic" cheese. Putting powdered cheese in burgers means you get a bit of cheddar flavor with every bite.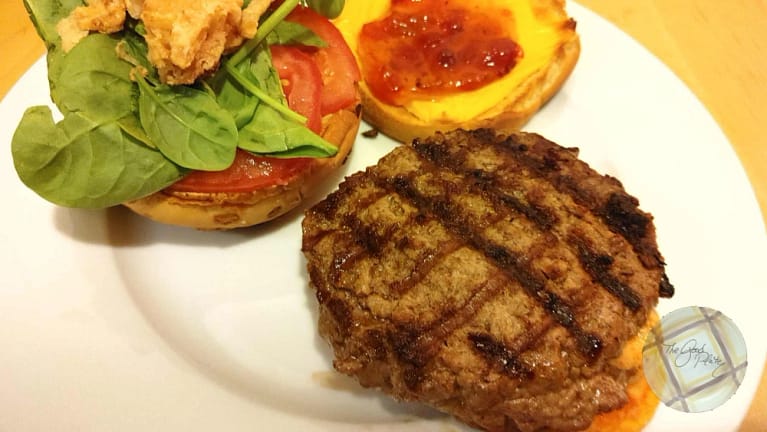 Servings (slide to adjust):
Calories per serving:
485
kcal
If you purchase any of the products through these affiliate links, I get a few pennies that help keep The Good Plate open. I use these products myself and want you to be able to easily find them.
Ingredients necessary for the recipe step are in italic.
Instructions
16 ounces beef,

1 tablespoon Woody's Cook-in' Sauce,

1 tablespoon Dehydrated onion,

1 tablespoon Cheddar cheese powder,

1/2 teaspoon Fresh Jax Peppered Habanero Spice

Mix the beef with the sauce, onion, cheese powder, and spice. Divide the meat into four sections, 4 oz each. Put them in a patty form and make patties out of them.

You can freeze them from here, or continue.

Get the grill very hot and oil it. Put the patties on the grill, wait a minute, and turn 1/4. This will create lovely hash marks. Then after about 3 and a half minutes, flip the burger, again turning 1/4 at the one-minute mark to create the hash marks. Let the burger cook to your liking, for an additional one or two minutes. Use an instant-read thermometer to determine doneness.

1/4 cup Spinach,

4 Hamburger buns,

4 slice Cheddar,

1 Tomato

When the burgers are done to your liking, remove them from the grill. Put the buns on the grill, face side down, and let them toast for about 30 seconds. Remove them from the grill and top them with the cheese, spinach leaves, and tomato slices. If you want, you can add other toppings.
Notes
You are more than welcome to add additional toppings or spreads to the burger bun.  Enjoy!
Nutrition
Serving:
202
g
Calories:
485
kcal
Carbohydrates:
34
g
Protein:
30
g
Fat:
25
g
Saturated Fat:
10
g
Polyunsaturated Fat:
1
g
Monounsaturated Fat:
10
g
Cholesterol:
88
mg
Sodium:
473
mg
Potassium:
491
mg
Fiber:
2
g
Sugar:
7
g