Barbeque burgers made with a special sauce and cooked on a cast iron grill taste like they just came off the backyard barbecue.
Barbecue Burgers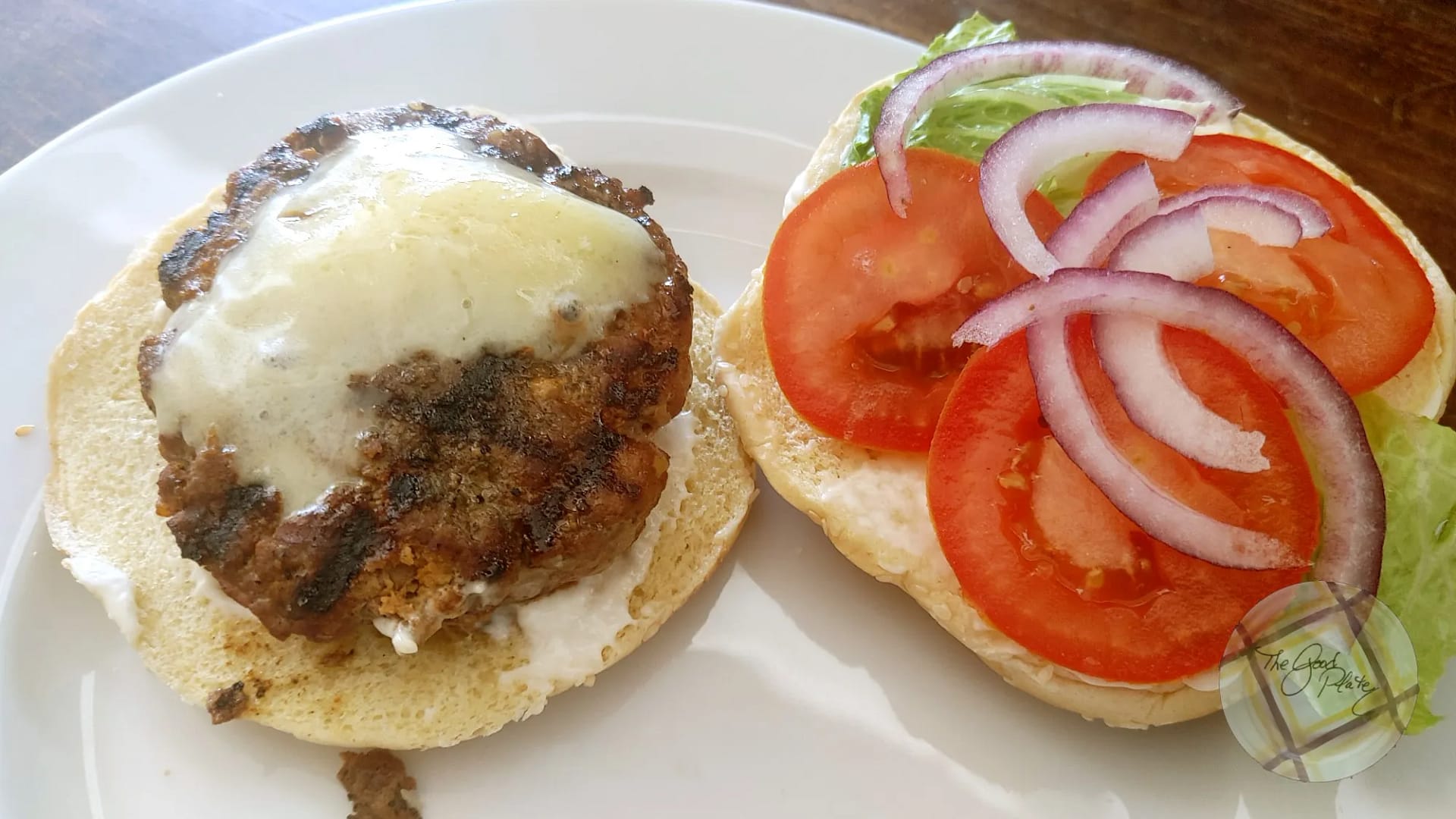 Barbeque burgers made with a special sauce and cooked on a cast iron grill taste like they just came off the backyard barbecue.
When I was a little girl, my father liked to barbecue on his Weber grill on the front lawn. We were a military family living in Seaside, California. Neighbors would walk past and say "Hello, Captain." I would stand far away from the grill as my father instructed me, but I would complain because the smoke would get in my eye. My father said, "The smoke only goes to the pretty ones." I'll never forget that. It made me smile. Well, it's not something I have to worry about now, these barbecue burgers are made on the stovetop and turn out perfect.
Barbecue Burgers Secret Sauce
The sauce that goes into these burgers isn't secret at all. It's Woody's Cook-in' Sauce. With its concentrated barbecue flavor and very little sugar, it makes food taste as it came right off the backyard barbecue all without burning.
Dehydrated minced onion also comes to the party and gives these burgers that great onion flavor you might find in a White Castle. The sauce moistens the onion just enough so they are not crunchy but still not runny. I like to serve them with sliced red onion, tomato, and lettuce. You choose whichever kind of bun, or no bun for that matter, you want.
I also use the same sauce when I make my Habanero Cheddar Burgers. Make some of those and have a wonderful barbecue.

Habanero Cheddar Burgers
Habanero Cheddar pub burgers are not for the faint-at-heart. But, if you like spicy food, this might just be the burger for you!
How to Make the Hash Mark
I like the hash mark on my burgers. It's actually pretty simple to do. First, put the burger on the very hot, oiled grill for a minute or so. Then, using a fish spatula, make a half turn. Continue cooking for another minute or so, then flip, and do the same half turn on the other side.
If you are going to be doing this indoors like I do, use a cast iron grill/griddle that flips for pancakes in the morning, and burgers at night.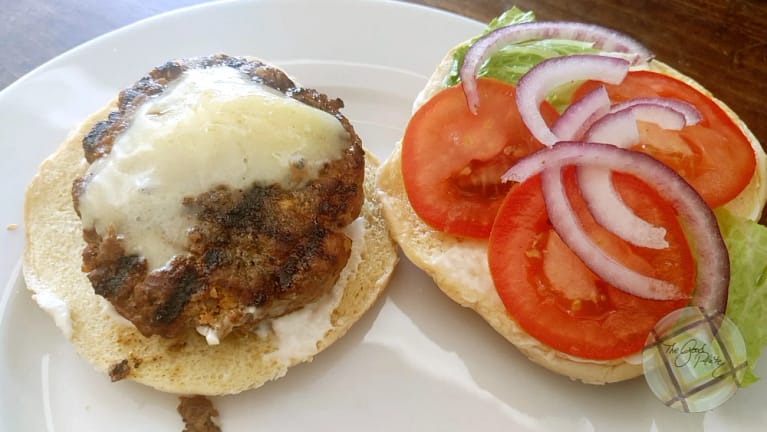 Servings (slide to adjust):
Calories per serving:
463
kcal
Ingredients
1

pound

Ground beef

,

freshly ground

1

tablespoon

Woody's Cook-in' Sauce

1

tablespoon

Dehydrated onion

4

slices

white cheddar

4

Hamburger buns

4

teaspoon

Mayonnaise

4

leaves

Lettuce

1

Tomato

,

sliced

½

Red onion

,

sliced
Ingredients necessary for the recipe step are in italic.
Instructions
1 pound Ground beef,

1 tablespoon Woody's Cook-in' Sauce,

1 tablespoon Dehydrated onion

Lightly mix the ground beef, sauce, and dehydrated onion.

To use them right away, heat the grill to very hot. Oil the grill and put the patties on the grill. Let them cook for about a minute, then to make the nice grill marks, do a half turn. Let the burgers cook for another two minutes, then flip, wait one minute and do another half turn.

Top the burgers with the sliced cheese, cover, and cook for an additional minute. Use an instant-read thermometer to make sure they are done to your liking. If you use ground beef from the supermarket, make sure to cook them well done, 160°F / 71.11°C. If you ground the meat yourself (recommended), you can cook them to your liking.

4 Hamburger buns,

4 teaspoon Mayonnaise,

4 leaves Lettuce,

1 Tomato,

1/2 Red onion

In the meantime, prepare a serving place with the buns. Lightly spread the mayonnaise on each side of the buns and put the lettuce, tomato, and red onion on the side that will be the bun topper.

When the burgers are done, put them on the flat side of the burger bun.
Nutrition
Serving:
240
g
Calories:
463
kcal
Carbohydrates:
36
g
Protein:
33
g
Fat:
20
g
Saturated Fat:
8
g
Polyunsaturated Fat:
2
g
Monounsaturated Fat:
7
g
Cholesterol:
92
mg
Sodium:
559
mg
Potassium:
552
mg
Fiber:
3
g
Sugar:
8
g