These gorgonzola burgers are part of my series on Pub burgers. What may look like a lot of fat is Gorgonzola cheese. Gorgonzola cheese is very similar to blue cheese. However, it's a little lighter in flavor.
Gorgonzola Burger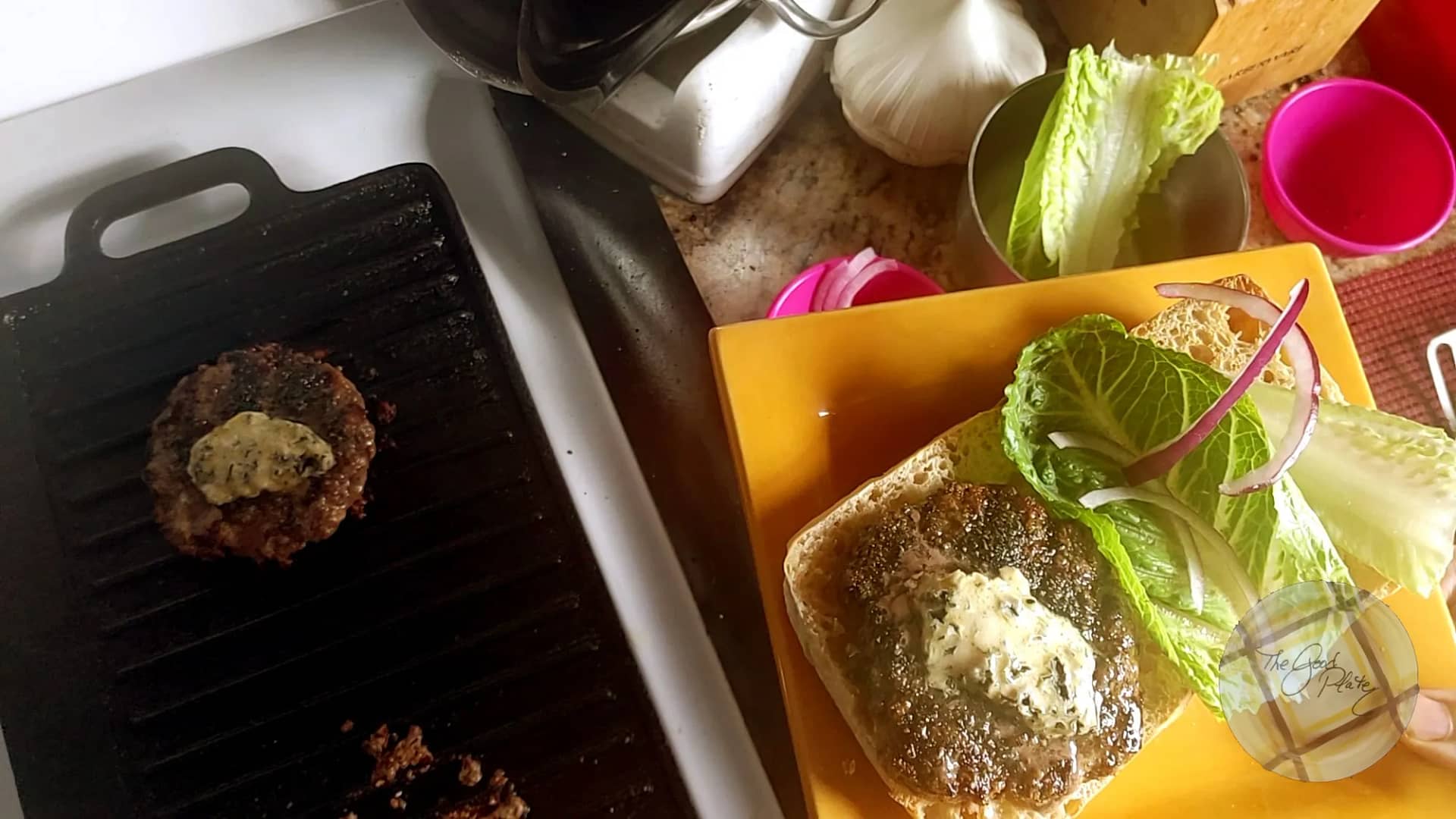 These gorgonzola burgers are part of my series on Pub burgers. What may look like a lot of fat is Gorgonzola cheese. Gorgonzola cheese is very similar to blue cheese. However, it's a little lighter in flavor.
I love blue cheeseburgers, and these burgers made from gorgonzola are just fantastic. Blue cheese can get a little intense at times, but gorgonzola is a bit lighter in taste, so it doesn't interfere with the flavor of the beef itself.
These are great for a holiday like Memorial Day, the 4th of July, or Labor Day. You can serve them alongside Habanero Cheddar Burgers or Barbecue Burgers, both of which are part of my series on Pub Burgers.
Preparing the Burgers
Steakhouse pub burgers are easy to make at home if you follow a few steps.
Whether you use an outdoor barbecue or an indoor cast iron grill, make sure that you liberally oil the grill beforehand. After all, there is cheese in these burgers that can stick if you don't.
After many years of using a regular spatula and having a few disasters, I finally changed to a fish spatula. They work well because they are thin so they can easily get under your burgers, they have slots so excess fat easily drains away, and they're flexible so your burger doesn't fly away when you flip it. I highly recommend getting a few of those.
What to Serve with Gorgonzola Burgers
Red onions and Romaine lettuce make perfect accompaniments for these burgers. Ciabatta rolls do an excellent job of soaking up juice. Toast them with a bit of butter before serving them. You can add mayonnaise, but I don't think it's necessary.
Servings (slide to adjust):
Calories per serving:
390
kcal
Ingredients
16

ounce

Beef

,

freshly ground

1

teaspoon

Worcestershire sauce

1

teaspoon

Dehydrated onion

1

ounce

Gorgonzola

1

teaspoon

Black pepper

,

freshly ground
— For Grilling —
1

teaspoon

Avocado oil

2

teaspoon

Mis Rubins Black Magic

1

ounce

Gorgonzola

,

sliced

4

Ciabatta rolls

1

teaspoon

Butter

8

leaves

Romaine

½

Red onion

,

sliced
Ingredients necessary for the recipe step are in italic.
Instructions
16 ounce Beef,

1 teaspoon Worcestershire sauce,

1 teaspoon Dehydrated onion,

1 ounce Gorgonzola,

1 teaspoon Black pepper

Weight the ground meat and put it in a large bowl. Add the Worcestershire, dehydrated onion, gorgonzola cheese, and black pepper. Mix lightly with your hands.
To grill
Get your grill very hot and put the avocado oil on it.

Put the burgers on the grill. Wait about 30-40 seconds, then do a half turn. Let the burgers cook for an additional two minutes.

2 teaspoon Mis Rubins Black Magic,

1 ounce Gorgonzola

Flip the burgers. Sprinkle the Mis' Rubins Black Magic on the burgers generously and put a pat of the gorgonzola on each patty.

Cover the patties and continue to cook them for another one to two minutes, depending on how you like them. They should be at 130 F / 54.4 C on an instant-read thermometer.

4 Ciabatta rolls,

1 teaspoon Butter

While that is happening, slice each ciabatta roll in half, spead a little butter on each and toast them until they are lightly toasted.

8 leaves Romaine,

1/2 Red onion

To serve, put two leaves of Romaine on each roll and some sliced onion. Put a patty on each roll and serve.
Nutrition
Serving:
175
g
Calories:
390
kcal
Carbohydrates:
11
g
Protein:
26
g
Fat:
27
g
Saturated Fat:
12
g
Polyunsaturated Fat:
1
g
Monounsaturated Fat:
11
g
Cholesterol:
89
mg
Sodium:
960
mg
Potassium:
478
mg
Fiber:
1
g
Sugar:
1
g
Good afternoon and welcome
to The Good Plate's kitchen.
This afternoon we're
making gorgonzola burgers.
These are part of
my series of burgers
and we have the barbecue burgers
and the habanero cheddar burgers.
What may look like a lot
of fat is actually
Gorgonzola cheese
Gorgonzola cheese is
very similar to blue cheese.
It's a little lighter in flavor. So
the first thing we are going to do
is we were going to.
oil the grill.
See I have some
avocado oil
Just lightly oil
the grill. You can
see is very very hot.
Smoking that's perfect
you can hear it sizzling!
That's a good thing
Now,
I highly recommend it.
that you use
a fish spatula.
These fish spatulas are
movable and do a
really good job. Ok,
so you take your burger
Like this.
put it down like that.
At any other one, put him in the back.
Now we're going to let
the
for about a minute.
If you want the nice
hash grill marks
I'm going to show you how to
do that that's actually pretty easy.
And you will have burgers that look like
they came out of a fancy restaurant.
So it's been.
Forty-five seconds or so.
What we're going is take these
See how you go like this?
And turn it – half turn it
about two minutes on this side
and then we'll flip them
see how the
nice Mark on there
Beautiful
the one also.
Now I'm going to
Sprinkle
liberally.
With.
Mis' Rubin's Black Magic.
This is wonderful stuff
And I'm also going to add
Extra blue cheese.
This is actually the cover for my roster
and you know what it does a great job
for burgers. We're going to cover
these and let them continue to cook.
Okay while
the burgers are grilling
you can prepare the buns
I have some
lovely.
Ciabatta rolls that I thought
would be perfect for this.
That I toasted.
And put butter
before I toasted then.
If you want you can
add mayonnaise but
I don't think it's
really necessary.
And we're going to put
the romaine lettuce on there
any kind of lettuce you have
is fine. This just happens to be.
Romain and
red onion I think red onion
is the kind you would want. They're sweet
and lovely.
In they're not as
strong as white and very good
especially with gorgonzola cheese
Now it's time to take the top off because
the burgers are done.
You have to be careful
with this because.
To make sure that you use.
Up with okay are you
okay look at those are
just absolutely beautiful.
Cheesy is all melty
are just absolutely perfect.
The use the fish spatula.
To take them off
the grill.
Now this is
ready to serve
And you will find
ingredient amounts
and instructions
on The Good Plate.
Thanks for watching.
Please enjoy.
Subscribe.
See you next time.
at The Good Plate.
Enjoy.
And bye for now.