Coconut Butterscotch Pecan Cookies will remind you of Girl Scout Samoas. They are easy to make and fun to eat.
Coconut Butterscotch Pecan Cookies
Coconut Butterscotch Pecan Cookies will remind you of Girl Scout Samoas. They are easy to make and fun to eat.
I've always loved Girl Scout Samoa cookies and when I developed this recipe based on my favorite Betty Crocker Ultimate Chocolate Chip cookies, I was thinking of them. The biggest difference is that since there is no chocolate on the outside of the cookie, these don't make a mess.
When I made these, I happened to have some leftover candied pecans from making Grapefruit Pecan Salad with Raspberry Dressing, but regular pecans would work fine here. Of course, if you have a nut allergy, you would omit them entirely. You could also substitute walnuts if you have those on hand. Actually, use could use any nut that you like or none at all.
You can also substitute some of the chips. I have made these with 1/3 white chips, 1/3 semi-sweet chips, and 1/3 butterscotch. However, I prefer them with just the butterscotch. You can find butterscotch chips with the chocolate chips in the baking section of your market or as always, on Amazon.
I recommend using parchment paper on your half-sheet pan or cookie sheets. Parchment paper is reusable, so you can either do two parchment-lined pans for 24 cookies at a time or one parchment-lined pan for 12 cookies at a time. It depends on how many baking sheets you have. You can get pre-cut sheets that will fit your pans. It's a win-win!
Shaping Coconut Butterscotch Pecan Cookies
The best tool for shaping drop cookies is a small ice cream scoop. The reason you want to use one of those is that you will have evenly shaped cookies. Even shapes mean the cookies will all bake uniformly and you won't have any half-cooked or over-cooked. They will all be perfect.
Storing the Cookies
These cookies store very well in a dark place, like a cookie jar. Cookie jars are old-fashioned, but they're fun and they do exactly what they are supposed to do; they keep soft cookies soft and hard cookies hard. They also keep bugs and other nasties out of the treats.
What to serve with Coconut Butterscotch Pecan Cookies? Why milk, of course! Enjoy! Now, let's make some cookies!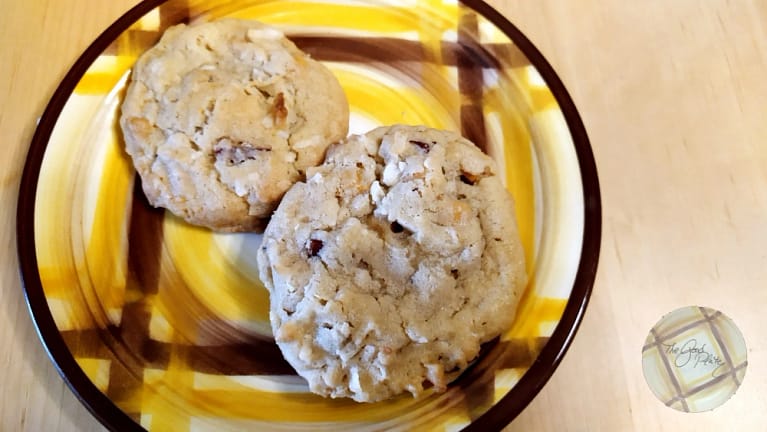 Servings (slide to adjust):
servings
Calories per serving:
125
kcal
Ingredients
2 ¼

cups

all-purpose flour

1

teaspoon

baking soda

½

teaspoon

salt

1

cup

butter

,

softened

¾

cup

granulated sugar

¾

cup

brown sugar

,

packed

1

egg

1

teaspoon

vanilla

1 ½

cup

butterscotch morsels

1

cup

sweetened coconut

½

cup

pecans

,

coarsely chopped
Ingredients necessary for the recipe step are in italic.
Instructions
Heat oven to

375

°F

. Line your pan with parchment paper. This recipe makes 4 dozen cookies, and parchment can be reused, so you can do it two pans or one pan at a time.

Let the butter and egg come to room temperature, about 30 minutes.

2 1/4 cups all-purpose flour,

1 teaspoon baking soda,

1/2 teaspoon salt

In small bowl, mix flour, baking soda and salt; set aside.

1 1/2 cup butterscotch morsels,

1 cup sweetened coconut,

1/2 cup pecans

In another bowl, mix together the coconut, butterscotch morsels, and pecans.

3/4 cup brown sugar,

3/4 cup granulated sugar

Put the butter and sugar together in the bowl of a stand mixer. Beat them until the butter is light and fluffy.

1 egg,

1 teaspoon vanilla

Add the egg and vanilla and beat until smooth. Carefully stir in the flour mixture until it is blended. The dough will be stiff.

Add the coconut, morsel, and pecan mixture and stir. If your mixer struggles, switch to a heavy spoon.

Put the dough on the parchment-lined pan. Space them about 2 inches apart. You will be able to fit 12 cookies per sheet.

Bake 8 to 10 minutes or until light brown (centers will be soft). Cool 2 minutes; remove from cookie sheet to cooling rack. Cool completely, about 30 minutes. Store covered in an airtight container.

Enjoy!
Nutrition
Serving:
28
g
Calories:
125
kcal
Carbohydrates:
18
g
Protein:
1
g
Fat:
6
g
Saturated Fat:
3
g
Polyunsaturated Fat:
0
g
Monounsaturated Fat:
2
g
Cholesterol:
16
mg
Sodium:
86
mg
Potassium:
31
mg
Fiber:
0
g
Sugar:
14
g