Chipotle Shrimp Salad has spice to warm you up and creamy avocado to cool you off. It's a great, easy to make, summer salad.
Chipotle Shrimp Salad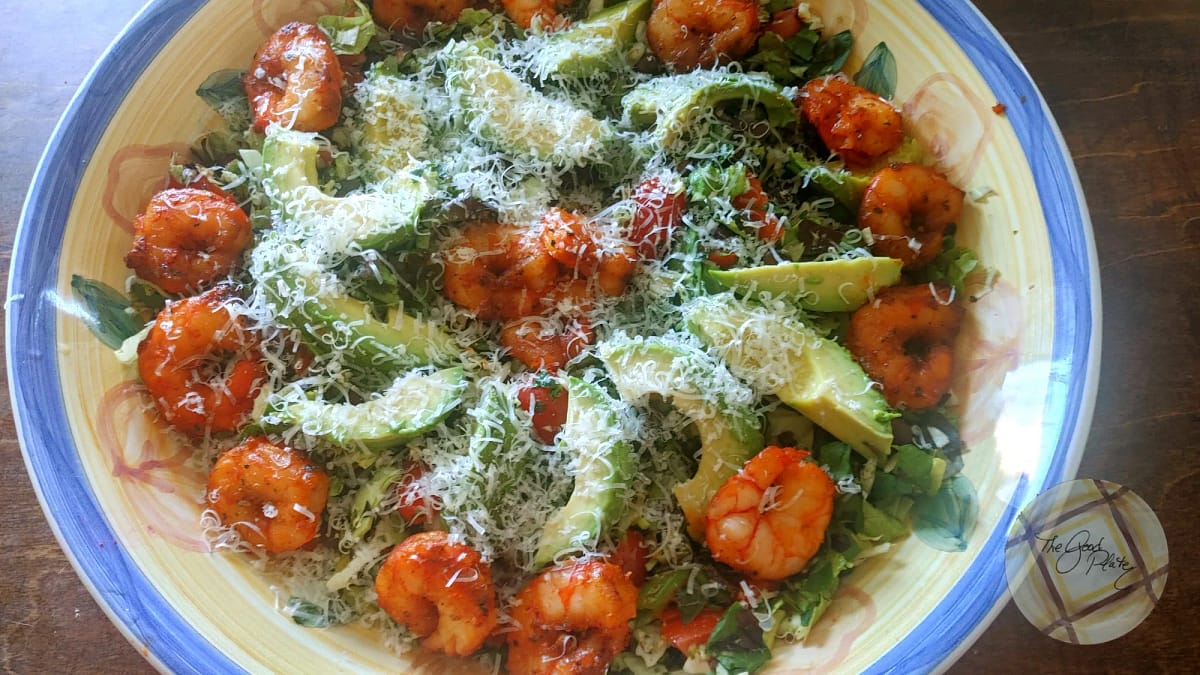 Chipotle Shrimp Salad has spice to warm you up and creamy avocado to cool you off. It's a great, easy-to-make, summer salad. It has a variety of salad greens as a base, with black beans, Cotija cheese, tomato and avocado.
Aldi Frozen Chipotle Shrimp
If you haven't tried the Aldi Fremont Shrimp Skewers, you are missing out. You can cook them straight from frozen, either on a grill, air fryer, or pan. You could also take them out of the freezer and defrost them in your refrigerator for the day to have for dinner. If you don't have an Aldi or they are out of the skewers, feel free to use my recipe for Grilled Shrimp Salad and add chipotle to the marinade for Chipotle Shrimp.
Using Canned Beans for Salad
It's fine to use canned beans for salads. They're already cooked and all you have to do is drain them and wash them well. I don't like the sauce that comes in canned beans so I drain them and then run water over them until the water runs clear. If you are concerned about wasting water, do this over a large bowl and let your plants have the bean water, they'll love it!
Mexican Cotija Cheese
You can usually find this cheese in the Mexican refrigerated section of your supermarket. Cotija is often called the Parmesan of Mexico, and it is indeed a salty, crumbly cheese, but not as assertive. It's as if Cotija whispers instead of yells like parmesan. It is also the preferred cheese for Street Corn. If you can't find it, feel free to substitute Feta instead.
Chopped Salad Base
I really like chopped salads, and the best tool for that is a Mezzaluna, or moon-shaped knife. They make quick work of chopping lettuce, cabbage, spinach, herbs and a variety of other foods. Simply hold the handle in your hand and rock it back and forth.
My favorite chopped salad base is a mixture of salad greens, cabbage, and spinach. I use whatever salad greens I happen to have on hand, red leaf, romaine, even the freshest, most crisp iceberg works fine. For cabbage, I recommend green cabbage. Bagged spinach leaves are fine unless you are lucky enough to have it growing in your garden.
What Dressing for Chipotle Shrimp Salad
Caesar Cardini invented Caesar Salad in Mexico in 1924. Cardini was an Italian immigrant who lived in San Diego and was chef at and his restaraunt at Hotel Caesar in Tijauana, Mexico. I couldn't think of a better dressing for this than Cardini's Caesar dressing, available at your supermarket. I recommend serving the dressing on the side.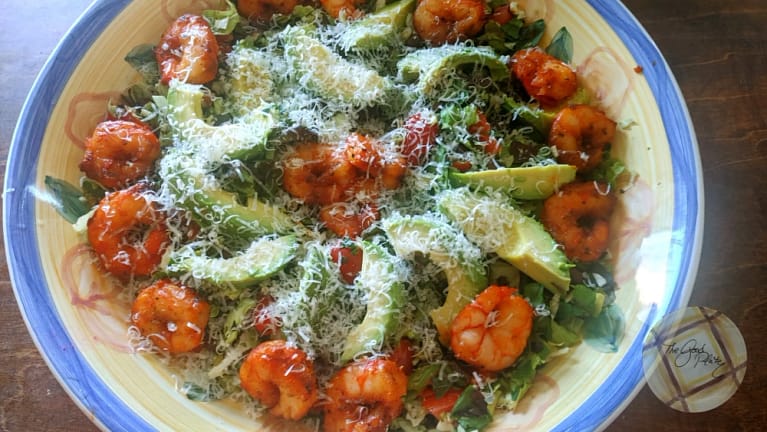 Servings (slide to adjust):
Calories per serving:
320
kcal
Equipment
Ingredients
~~ For the Shrimp ~~
8

ounce

Chipotle Shrimp

,

from Aldi
~~ Base ~~
½

cup

Romaine

,

leaves

½

cup

Spinach

,

leaves, fresh

½

cup

Cabbage

,

leaves, fresh
~~ Additions ~~
¼

cup

Green onion

,

diced

1

Tomato

,

diced

10

ounce

Black beans

,

canned

2

tablespoon

Almonds

,

slivered

2

tablespoon

Cojita cheese

,

crumbled
~~ Topping ~~
2

Avocado

,

sliced

1

tablespoon

Parmesan

,

grated
Ingredients necessary for the recipe step are in italic.
Instructions
For the Shrimp
If you are using the Aldi Chipotle Skewered Shrimp, then cook it according to the package directions. You can cook it from frozen in an air fryer at

400

°F

for 10 minutes. Let the shrimp cool. If you are not using the Aldi, then use the method in the Grilled Shrimp Salad recipe and add chipotle powder to the marinade.
Make the Base
1/2 cup Romaine,

1/2 cup Spinach,

1/2 cup Cabbage

Put the lettuce, cabbage and spinach in a large bowl and use a meza luna or very sharp knife to chop the salad finiely. The pieces should be between 1/4 and 1/2 inch square.
Add Additions
1/4 cup Green onion,

1 Tomato,

10 ounce Black beans,

2 tablespoon Almonds,

2 tablespoon Cojita cheese

Drain the beans and wash them under running water until the water is clear. Dice the tomato and green onion. Add the tomato, green onion, black beans, cojita cheese, and slivered almonds to the base. Toss the ingredients together then put the mixture in a large pasta or other large shallow bowl.
Toppings
2 Avocado,

1 tablespoon Parmesan

Slice the avocados and arrange them in a clockwise pattern on top of the salad. Arrange most of the shrimp at the top of each slice of avocado. Put the remainining shrimp in the center. Grate parmesan cheese over all.
Notes
Omit the almonds for anyone who has nut allergies, Feel free to use other salad dressings if you wish.
Nutrition
Serving:
258
g
Calories:
320
kcal
Carbohydrates:
26
g
Protein:
22
g
Fat:
16
g
Saturated Fat:
3
g
Polyunsaturated Fat:
2
g
Monounsaturated Fat:
9
g
Trans Fat:
0
g
Cholesterol:
108
mg
Sodium:
402
mg
Potassium:
963
mg
Fiber:
11
g
Sugar:
2
g