Watermelon salad with feta and mint brings a sweet and salty combination with cooling mint and a little spike of spiciness to make things interesting.
Watermelon Salad with Feta and Mint
Watermelon salad with feta and mint brings a sweet and salty combination with cooling mint and a little spike of spiciness to make things interesting.
This is one of my favorite summer salads. The sweetness of the watermelon combined with the saltiness of the cheese, the fresh mint, and Aleppo peppers are a winning combination. The original recipe from Jeff Potter's Cooking for Geeks only includes mint and spice as extra ingredients to try. Well, I put them together and they really are a winning combination. The cheese softened whatever bite the Aleppo pepper has and the mint cuts the heat of the spices as well.
The other "secret ingredient" that takes this salad over the top is Pico Fruta from Penzey's Spices. It mimicks the spice that Hispanic street vendors put on fruit. If you haven't had spice on fruit, you're missing out. It brings out flavors and makes them pop in your mouth.
What Kind of Watermelon?
If you have a large group to feed this watermelon salad with feta and mint, get a large watermelon. Look for watermelons that don't have a large yellow portion. The yellow skin is the skin that did not get exposed to the sun when the melon was growing. Melons with a small amount of yellow skin were turned while they were growing and will taste better. Also, knock your hand on the melon. If you hear a hollow sound, that's a good thing. If you hear nothing, or the skin feels mushy, then the melon has gone bad.
The same goes for the small mini melons now available at the supermarket. A small melon is enough to make a salad for four people. You will not have leftovers to munch later.
Don't throw away the peels because you can make amazing watermelon rind pickles with them. Were you lucky enough to get a watermelon with black seeds? Even better, the melon will be sweeter and the seeds, once roasted, are a tasty treat that happens to be full of nutrients.
Pickled Watermelon Rind and Pickled Beets – I'm in a Pickle!
Ah summer! The art of pickled, watermelon rind and beets. Share a bowl of potato salad, and life is good.
What Kind of Cheese?
Feta is the preferred cheese here. Get plain feta from whichever country you like, it's even okay to get the pre-crumbled feta. If you have leftover feta, you can put it in a quiche!
Why Onions Make You Cry
If onions make you cry, there's a reason for that. Human eyes have water and fumes from onions are attracted to that. Here's the science from Jeff Potter:
When cut, an enzyme (allinase) reacts with sulfoxides from the onion's cells to produce sulfenic acid, which stabilizes into a sulfuric gas (syn-propanethial-Soxide) that can react with water to produce sulfuric acid. This is why we cry when cutting onions: the sulfuric gas interacts with the water in our eyes (the lacrimal fluid) to generate sulfuric acid, which triggers our eyes to tear up to flush the sulfuric acid. Because sulfides are water soluble, soaking the cut onions removes most of the undesirable odors. You can soak them in water, or try vinegar to impart a bit of additional flavor. Also, cutting onions in a wet environment provides liquid for the sulfur compounds to dissolve into.

Jeff Potter, Cooking for Geeks
Let's make Watermelon Salad with Feta and Mint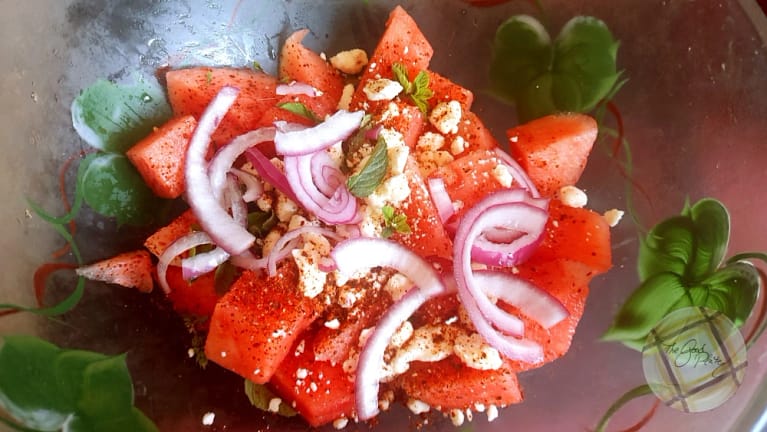 Servings (slide to adjust):
Calories per serving:
217
kcal
Ingredients
¼

cup

Red onion

,

thinly sliced and soaked

¼

cup

Water

4

cups

Watermelon

,

1 mini

¼

cup

Feta cheese

2

tablespoon

Mint

,

fresh leaves

½

teaspoon

Aleppo pepper
Dressing
2

tablespoon

Balsamic Vinegar

¼

cup

Olive oil

½

teaspoon

Pico Fruta
Ingredients necessary for the recipe step are in italic.
Instructions
1/4 cup Red onion,

1/4 cup Water

Soak the onions in the water for at least 15 minutes so they will lose their sharpness.

4 cups Watermelon,

2 tablespoon Mint

Cut the watermelon into bite-size pieces. Use your favorite way of doing it. Remove the stems from the fresh mint.

1/4 cup Feta cheese,

1/2 teaspoon Aleppo pepper

Put the watermelon, feta cheese, and mint into a nice serving bowl. Drain the onions and add them to the bowl. Sprinkle Aleppo pepper on the salad.

2 tablespoon Balsamic Vinegar,

1/4 cup Olive oil,

1/2 teaspoon Pico Fruta

Put the vinegar in a small bowl with the Pico Fruta. Slowly start whisking in the oil until you have an emulsion.

Pour the dressing over the salad and serve. Enjoy!
Notes
Feel free to omit the Aleppo pepper and Pico Fruta if you don't like spicy food.  If you want to make this vegan, you can omit the cheese or substitute your favorite vegan cheese instead.
Nutrition
Serving:
226
g
Calories:
217
kcal
Carbohydrates:
15
g
Protein:
4
g
Fat:
17
g
Saturated Fat:
4
g
Polyunsaturated Fat:
2
g
Monounsaturated Fat:
11
g
Cholesterol:
13
mg
Sodium:
166
mg
Potassium:
273
mg
Fiber:
2
g
Sugar:
11
g