This salad is a meal!
Bread Salad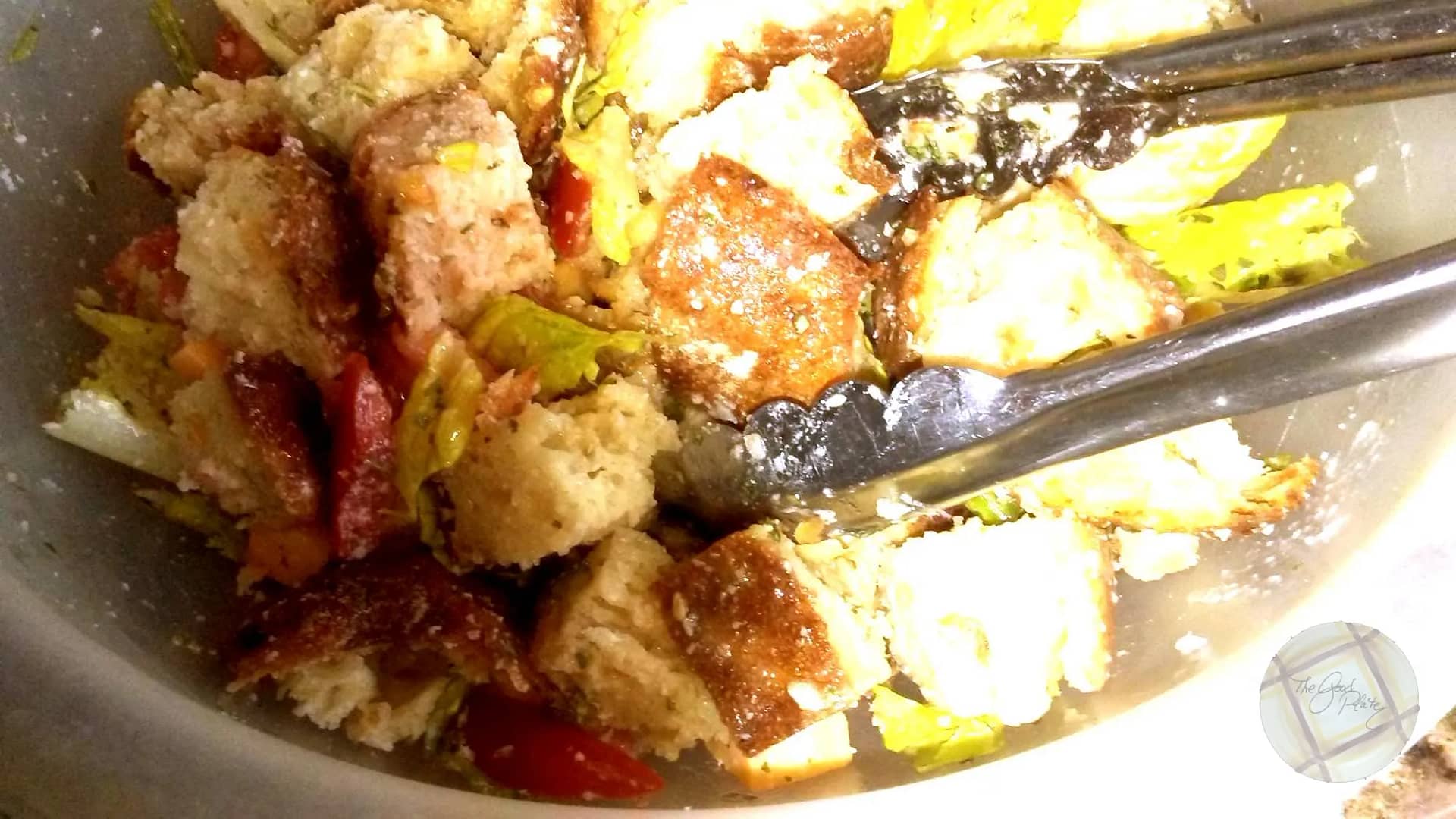 Bread salad is a great way to use up leftover, day-old bread.  You can use any kind you want.  If you are gluten-intolerant, then gluten-free bread is for you.  Vegan?  Substitute vegan cheese.
Sometimes, you get a large load of rich, crusty bread but can only finish part of it before it starts to dry out. What can you do with it? Well, you can make croutons, or you can make a summer favorite, Bread Salad.
Bread Salad Ingredients
There is no real "recipe" for this bread salad, put in it what you like to put in regular salads, let your imagination flow! But, I will give you the recipe for the salad I made tonight. I like to add cheese, swiss and cheddar are here.  I also used spring onions or scallions, but only the green part.  Tomatoes should be cut into very small pieces.  This is very much like a chopped salad so everything should be small so the pieces of bread can shine through.
This bread salad makes a whole meal.  If you want to, you can add other ingredients, too.  Avocado would be an excellent addition.  If you have some leftover rotisserie chicken, cut that up and add it.  Leftover Thanksgiving turkey?  Add that! Leftover Christmas ham?  You know that would be good.
One thing you do have to do is use the right bread. A good crusty French bread or a good sourdough would be ideal. It should be a whole loaf, not sliced because you will want to cut it up yourself. Don't be scared, it's really easy with a good sharp knife.
A flavorful dressing is also important. The Brown Derby Dressing would be ideal, or a simple Balsamic Vinaigrette would also be good. I used Girard's Champagne Dressing on our salad tonight for a change.
Original Brown Derby Salad Dressing for Antipasto
My two favorite restaurants, both closed, but both come together here. The original Brown Derby Salad dressing with an antipasto similar to Little Joe's. You can go back.
Enjoy!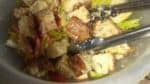 Servings (slide to adjust):
servings
Calories per serving:
316
kcal
If you purchase any of the products through these affiliate links, I get a few pennies that help keep The Good Plate open. I use these products myself and want you to be able to easily find them.
Ingredients
1

loaf of crusty bread

,

preferably day old, cut into 1 inch cubes

2

tomatoes

,

chopped

1

cup

Romaine

,

chopped

4

basil leaves

,

chiffonade

4

slices

cheddar cheese

,

or Swiss cut up into 1/2 inch pieces

2

tablespoons

spring onion

,

chopped ,green parts only

1

tablespoon

Parmesan cheese

,

grated

2

tablespoons

Girard's Champagne Dressing
Ingredients necessary for the recipe step are in italic.
Instructions
Cut or tear the bread into bite-size pieces

Cut the cheese into bite-size pieces

Tear or chop the romaine into very small pieces

Chop the tomatoes into 1/4 inch pieces

2 tablespoons spring onion

Chop the spring onions into 1/4 inch pieces

Roll the basil together into a tight tube. Slice the tube to chiffonade the basil.

Combine ingredients in bowl, toss and serve.

2 tablespoons Girard's Champagne Dressing

Add the dressing and toss
Notes
You can use almost any kind of bread. I used an artisan roasted garlic bread, just make sure it's crusty, and at least one day old. You could also add meat to it, like salami or grilled chicken. Check out what's in the refrigerator that you want to get rid of.
Nutrition
Serving:
164
g
Calories:
316
kcal
Carbohydrates:
37
g
Protein:
13
g
Fat:
13
g
Saturated Fat:
6
g
Polyunsaturated Fat:
3
g
Monounsaturated Fat:
4
g
Cholesterol:
22
mg
Sodium:
668
mg
Potassium:
274
mg
Fiber:
3
g
Sugar:
2
g