This is a way to enjoy summer fruits all year long!
Cherry Brown Betty
Last Updated on October 20, 2019
Recipes in this Post
So I figured out the best bread to use for making Apple Brown Betty is Armenian Raisin Bread. They are small puffy breads about the size of a grapefruit, filled with yummy raisins that I think the bakeries maybe soak in cardamom.
A few days ago, my friend told me she had some bread that she was unfamiliar with, and did I want it. I was amazed to see that it was Armenian Raisin Bread, and I thanked her and promptly put it on top of the refrigerator to enjoy the next day. Well, the next day turned into a few days, and by the time I got to them, they were getting a little hard. But, that's perfect because then they would absorb whatever liquid I used.

In my pantry, I had a few little individual apple sauce containers and a can of sweet cherries. I thought to combine the two and have Cherry Brown Betty. I have to admit that I sampled the Cherry Brown Betty before I put it in the oven, and that cherry with the butter, brown sugar and spices was quite delicious. Can't wait to have it later after dinner. Here is a picture before it went into the oven: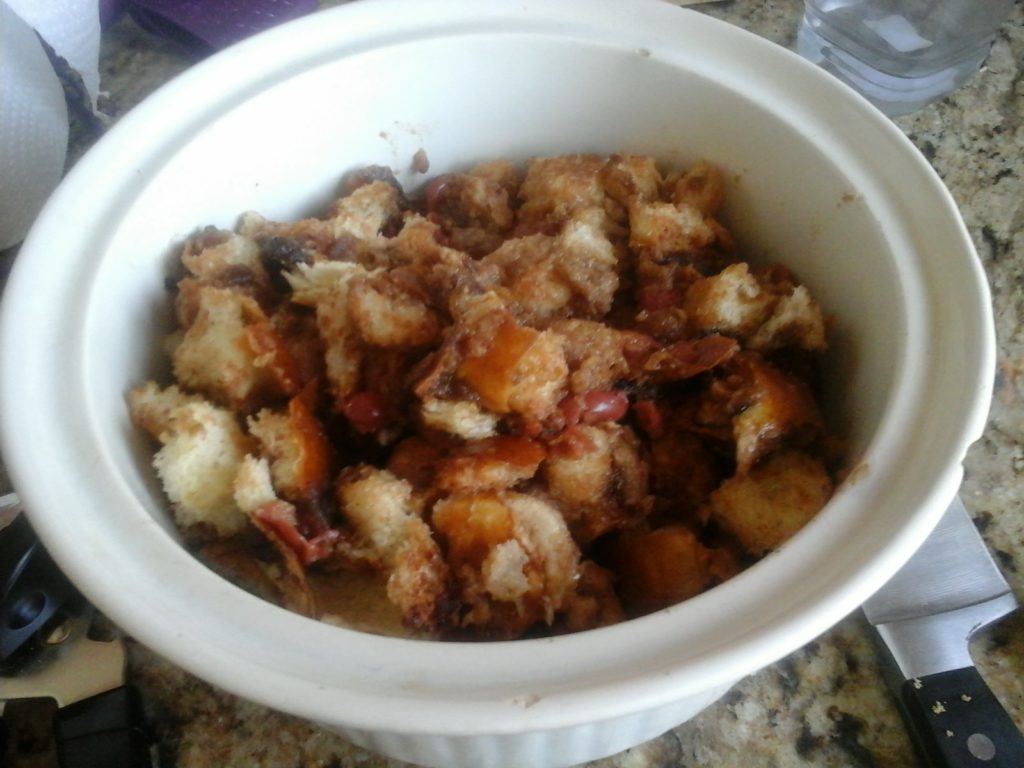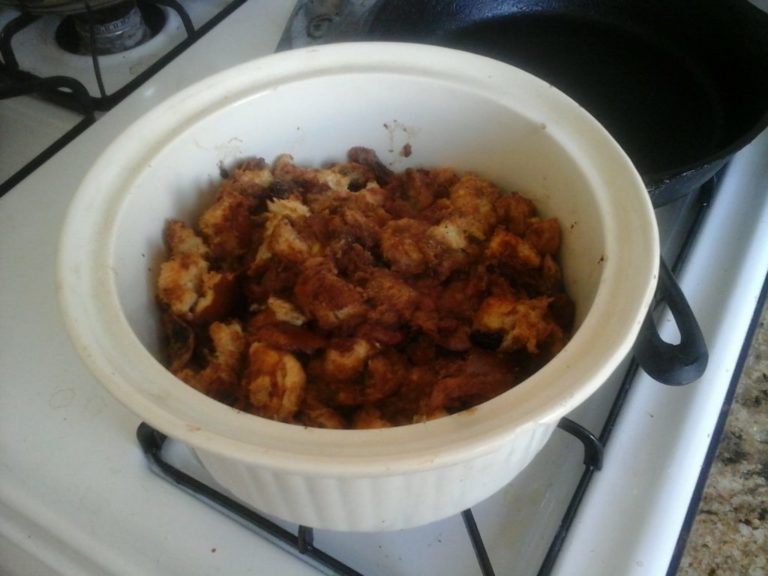 Servings (slide to adjust):
servings
Calories per serving:
387
kcal
Ingredients
Ingredients necessary for the recipe step are in italic.
Instructions
Preheat oven to 350. Break up the raisin bread into small pieces, about 1/2 inch. Put in large bowl and add remaining ingredients. Toss well to coat everything. Put into baker and bake for 30 minutes or until nicely browned.
Notes
This is excellent served with a dollop of sour cream.
Nutrition
Calories:
387
kcal
Carbohydrates:
57
g
Protein:
3
g
Fat:
17
g
Saturated Fat:
10
g
Polyunsaturated Fat:
1
g
Monounsaturated Fat:
5
g
Cholesterol:
42
mg
Sodium:
175
mg
Potassium:
274
mg
Fiber:
3
g
Sugar:
39
g