Three different methods of cooking make a moist, flavorful and tender brisket.
Smoked Brisket in the Instant Pot
This stovetop smoked brisket is cooked three ways to give it a unique flavor, moistness, and tenderness. You get the great smoke flavor from smoking on the stovetop, tenderness from the Instant Pot, and a wonderful sauce from the Dutch oven.

As many of you know, I'm a real lover of Penzey's spices. I had a packet of Tsardust Memories and added that to my own barbecue rub spice mix. You can use your favorite barbecue rub for this and add Tsardust if you wish.
Stovetop Smoker
I have a large stockpot with a pasta insert that I use for stovetop smoking. Yes, I also use it for boiling pasta and hot water bath canning. This is dead easy.  Get a bag of regular wood chips in your favorite wood.  Soak some chips in water for a half-hour. Then put a large piece of foil on the bottom of the stockpot.  It should come up the sides. Then get another large piece of foil and put the drained wood chips in the center.  Tent the foil around it and put it on top of the foil in the stockpot.  Then put the pasta insert in and whatever food you want to smoke. This means you don't have to go outside in the rain to smoke your food.  Of course, it's not going to give you the char of a grill, but it does give good smoky flavor. Check Stovetop Smoked Chicken for pictures.
Instant Pot
The Instant Pot or other pressure cooker will make the meat that has been smoked nice and tender in a short amount of time. The meat gets browned then put in the Instant Pot with beef broth, garlic, and a bay leaf. It retains the smoky flavor.
Dutch Oven
The Dutch oven is used to brown the meat before going into the Instant Pot and flavor the smoked meat with a mirepoix. That browning develops a nice fond on the bottom of the pot, which in turn when adding the liquid from the Instant Pot and wine, makes a wonderful sauce for the meat.
Beurre manié
This is translated to kneaded butter.  It's an equal amount of softened unsalted butter and flour that you massage together and form into tablespoon-size balls.  I keep them in the refrigerator to thicken sauces at the last moment.  Always put it in at the end of cooking, not at the beginning because the flour will lose its thickening abilities. If you want to do this Kosher, then use a non-dairy fat; salt-free margarine is a good choice.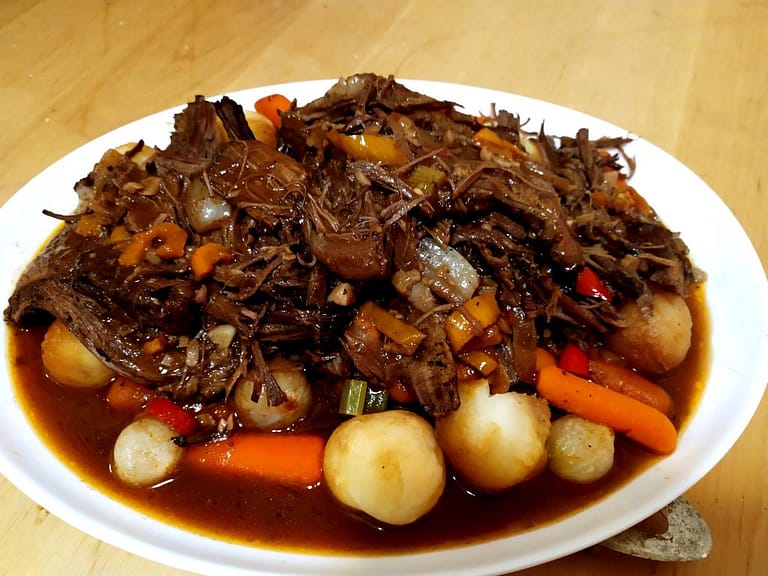 Servings (slide to adjust):
Calories per serving:
343
kcal
If you purchase any of the products through these affiliate links, I get a few pennies that help keep The Good Plate open. I use these products myself and want you to be able to easily find them.
Ingredients
~~ -- For the Rub -- ~~
1

teaspoon

Tsardust Memories

2

tablespoon

Barbecue Spice

½

teaspoon

Black pepper

,

freshly ground
~~ -- For the Dutch Oven -- ~~
1

Onion

,

chopped

5

cloves

Garlic

,

chopped

½

cup

Bell pepper

,

chopped

1

tablespoon

Olive oil
~~ -- For the Instant Pot -- ~~
1

cup

water

,

boiling

1

teaspoon

Beef Base

1

clove

Garlic

,

whole

1

Bay leaf
~~ -- For the Dutch Oven Sauce -- ~~
½

cup

Red wine

½

cup

Ketchup

3

Carrot

,

cut

6

pearl onion

12

potatoes

,

small

1

stalk Celery

,

chopped

1

tablespoon

Beurre manié

,

for Kosher, replace the butter with unsalted margarine
Ingredients necessary for the recipe step are in italic.
Instructions
Notes
Use unsalted margarine instead of butter for the

Beurre manié for Kosher.
Nutrition
Calories:
343
kcal
Carbohydrates:
24
g
Protein:
21
g
Fat:
18
g
Saturated Fat:
6
g
Polyunsaturated Fat:
1
g
Monounsaturated Fat:
8
g
Cholesterol:
62
mg
Sodium:
228
mg
Potassium:
809
mg
Fiber:
4
g
Sugar:
7
g