This is a quick and easy bread to make, great for breakfast with cream cheese and butter, or any time.
Steamed Molasses Brown Bread
Steamed Molasses Brown Bread is easy to make, low fat, and does not require yeast. You don't even need a loaf pan or an oven. It's made in a coffee can on top of the stove!

This is something I used to have when I was a girl in school. My mother came from New York and she bought the B&M Boston Brown Bread in a can. I loved it and was thrilled when I found a can in the supermarket. The market that had it closed, so no more bread. Then, one day, someone posted about it and I knew I had to find a recipe for it.
I made a few changes to the original recipe. I think that brown bread has to have raisins, and I also like a little extra sugar.
When you make this bread, it's best to use rye flour in addition to the all-purpose and cornmeal. Rye flour can also be used for a host of other types of bread, so don't hesitate to get a small bag of it. The cornmeal should be the finest grind that you can get. The rye and cornmeal add a little sweetness in addition to the molasses.
What you need to make Steamed Molasses Brown Bread
Have you been wondering what to do with leftover cans of coffee? Yes, they make great storage and now you know you can use them to make this wonderful bread. A regular size coffee can should do just fine. You don't need a huge can, but if that's all you have, then double the recipe.
A stockpot with a pasta insert is best for steaming. If you don't have a pasta insert, then you could put a steamer or a rack on the bottom of the pot. Butchers' twine is perfect for making sure the foil stays sealed on the can. You will find yourself using the twine for other things in and out of the kitchen.
I recommend a stand mixer because it does a better job of mixing.  However, just two bowls and a spoon will do fine as well.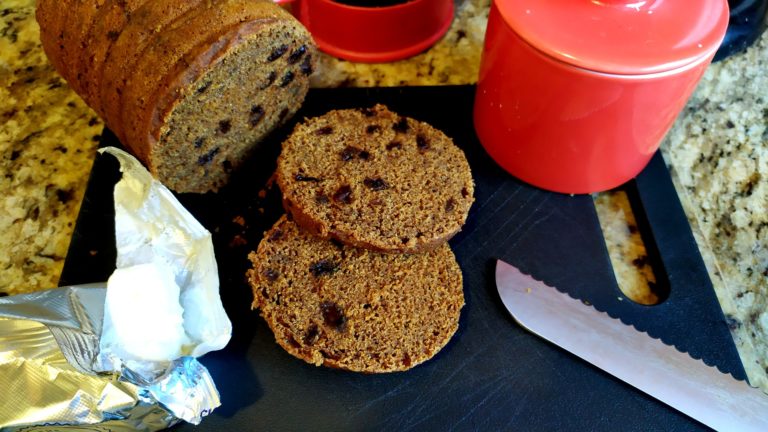 Servings (slide to adjust):
Calories per serving:
143
kcal
Equipment
One metal 5x4 coffee can, rim removed
Ingredients
½

cup

all-purpose flour

,

plus 2 tablespoons

½

cup

rye flour

,

plus 2 tablespoons

½

cup

cornmeal

,

(must be finely ground)

½

teaspoon

baking powder

½

teaspoon

baking soda

½

teaspoon

salt

½

teaspoon

allspice

½

cup

molasses

¼

cup

sugar

1

cup

buttermilk

1

teaspoon

vanilla extract

½

cup

raisins

1

teaspoon

butter
Ingredients necessary for the recipe step are in italic.
Instructions
In a separate bowl, mix together the buttermilk, vanilla, molasses, and sugar. Carefully add the dry ingredients to the wet ingredients. Mix together thoroughly.

If your coffee can has a rim, remove it with the can opener. You have to remove it to be able to get the bread out.

Butter the inside of the coffee can well.

Spoon the batter into the coffee can and fill it only 2/3 full. The extra room is needed for expansion.

Cut a piece of foil large enough to completely cover the can with about an inch over the sides. Take a piece of butchers' twine and secure the foil.

Put the top on the pot and heat it on high. Let it boil for about 2 1/2 hours. Check at 1 1/2 hours to make sure there is still enough water, if not add some more.

At the end of cooking time, turn off the heat and let the bread cool in the pan for about 15 minutes. Then remove the can to a rack and let it sit in the can for another 15 minutes.
Nutrition
Serving:
63
g
Calories:
143
kcal
Carbohydrates:
33
g
Protein:
3
g
Fat:
1
g
Saturated Fat:
0
g
Polyunsaturated Fat:
0
g
Monounsaturated Fat:
0
g
Trans Fat:
0
g
Cholesterol:
2
mg
Sodium:
194
mg
Potassium:
338
mg
Fiber:
2
g
Sugar:
17
g