This is a little East meets West on your grill or stovetop cast iron grill.
Silk Road Chicken - Grilled Kabobs with Honey Balsamic Glaze
Silk Road Chicken Kabobs with Rice Pilaf are an East meets West delight you can have for dinner in a flash even on a busy night.
I served this Asian grilled chicken with rice pilaf, and it reminded me that most of the ingredients would have been found on the Silk Road. The peppers, of course, would not have been found there because they were not cultivated in that area until after the Columbian exchange.  I always thought it would be wonderful to have been able to travel along the Silk Road, although I'm sure during the days of the Roman Empire, it must have been slow going, dirty, and dusty. Find out more about the Silk Road on Wikipedia.
You can put anything you want in this.  It's a great way to get rid of bits of vegetables you might have in the refrigerator. I wanted to put dried apricots in this pilaf but forgot to get it at the store, so I will have to do it next time.  If you have nut allergies, of course, don't put the almonds in the rice pilaf.  If you don't like spicy foods, then omit the Szechuan pepper, and use red bell pepper instead of the peppadews. Enjoy!
A word about my platter.  One day near Thanksgiving, I happened upon this platter.  It's plastic, with a beach scene and an old woody station wagon in the center.  The title above the car says "Seas N Greetings".  It was just too much for me to pass up, and I use it a lot.  It has become a conversation piece.
Silk Road Chicken Kabobs with Rice Pilaf Recipe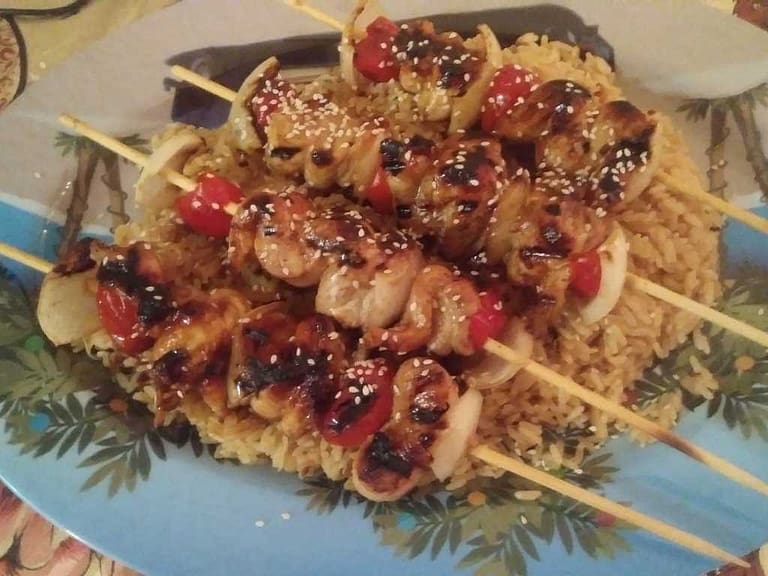 Servings (slide to adjust):
servings
Calories per serving:
401
kcal
Equipment
Ingredients
For the Kabobs:
5

chicken thighs skinless

,

boneless

½

onion
For the Marinade:
2

tbsp

balsamic vinegar

1

tbsp

Worcestershire sauce

2

tbsp

Soy Sauce

1

tsp

Sesame oil

2

teaspoons

onion powder

1

tsp

Szechuan pepper

,

finely crushed

2

tbs

honey

2

cloves

garlic

,

crushed

1

teaspoon

ground ginger

1

tbsp

sesame seeds
For the Glaze:
2

tbsp

honey

1

tbsp

soy sauce

½

tsp

sesame oil
For the Rice:
½

tsp

sesame oil

1

tbsp

Shallots in Oil

1

tbsp

butter

½

onion

,

minced

½

tsp

ground ginger

½

tsp

turmeric

2

tbsp

slivered almonds

2

tbsp

cilantro

,

finely chopped

1

cup

rice

2

cups

chicken broth
Ingredients necessary for the recipe step are in italic.
Instructions
Soak the bamboo skewers in water for at least one-half hour before cooking.

5 chicken thighs skinless

Cut chicken thighs into 1/2 inch pieces.
For the Marinade:
2 tbsp balsamic vinegar,

1 tbsp Worcestershire sauce,

2 tbsp Soy Sauce,

1 tsp Sesame oil,

2 teaspoons onion powder,

1 tsp Szechuan pepper,

2 tbs honey,

1 teaspoon ground ginger,

1 tbsp sesame seeds,

2 cloves garlic

In a separate bowl, mix the marinade and pour it over the chicken. Mix completely so that all the chicken pieces are covered. Let it marinate for 1-2 hours.
For the Glaze
2 tbsp honey,

1 tbsp soy sauce,

1/2 tsp sesame oil

Mix the ingredients for the glaze and set the glaze aside.
For the Kabobs:
1/2 onion,

10 Peppadew whole piquant peppers

Cut off the root of the half onion. Cut the half in half so you have two quarters. Separate the layers and set them aside. Put a layer of sliced onion on a skewer to hold the food in place. Next, put a piece of the marinated chicken, then a peppadew, repeat until once, then repeat on the other skewers. If you have any leftover, just put more on each skewer until everything is used up.

Heat a cast iron grill on the stove top. When it is very hot, put some oil on it to prevent sticking. Put the skewers on the grill and reduce the heat. Cook on one side until the chicken has browned or slightly charred. Turn one quarter, cook two minutes, turn, cook two more minutes. On the final turn, brush with the glaze, then turn again for one minute, and keep on turning until the glaze has thickened a bit. Don't worry about your grill, the caramelized honey comes right off in hot soapy water.
For the Rice:
1/2 tsp sesame oil,

1 tbsp Shallots in Oil,

1 tbsp butter,

1/2 onion,

1/2 tsp ground ginger,

1/2 tsp turmeric,

2 tbsp slivered almonds,

2 tbsp cilantro,

1 cup rice,

2 cups chicken broth

Put the oils and butter into a saute pan. Let the shallots get a bit of color, then add everything but the rice and broth. Saute until the onion is translucent, don't worry about the cilantro turning brown, it's supposed to be that way. Add the rice and saute it as well making sure all the grains are well coated. Finally, add the broth and cover the pan. Reduce the heat and cook for about 20 minutes, checking at 15 minutes. When the rice is done and all the broth has been absorbed, fluff with a fork.
To Plate:
Put the rice on a platter and place the kabobs on top. Sprinkle sesame seeds over all.
Notes
You can put other fruits or vegetables on the kabobs. Pineapple would be a good choice for the kabobs. Pickled cherry peppers or pieces of raw red pepper, bell or chili pepper, would be a good substitute for the peppadew peppers. If you don't like heat at all use only bell peppers, and omit the Szechwan Pepper.
Nutrition
Serving:
436
g
Calories:
401
kcal
Carbohydrates:
47
g
Protein:
20
g
Fat:
17
g
Saturated Fat:
4
g
Polyunsaturated Fat:
4
g
Monounsaturated Fat:
7
g
Cholesterol:
50
mg
Sodium:
1242
mg
Potassium:
829
mg
Fiber:
5
g
Sugar:
27
g
If you are having problems finding Peppadew peppers, you can find them on Amazon. They are very tasty and I recommend them highly.