You can actually add whatever seafood you like. I prefer shrimp and crab, but lobster would also be amazing in this.
Seefood and Bows (Seafood and Farfalle)
Last Updated on December 20, 2020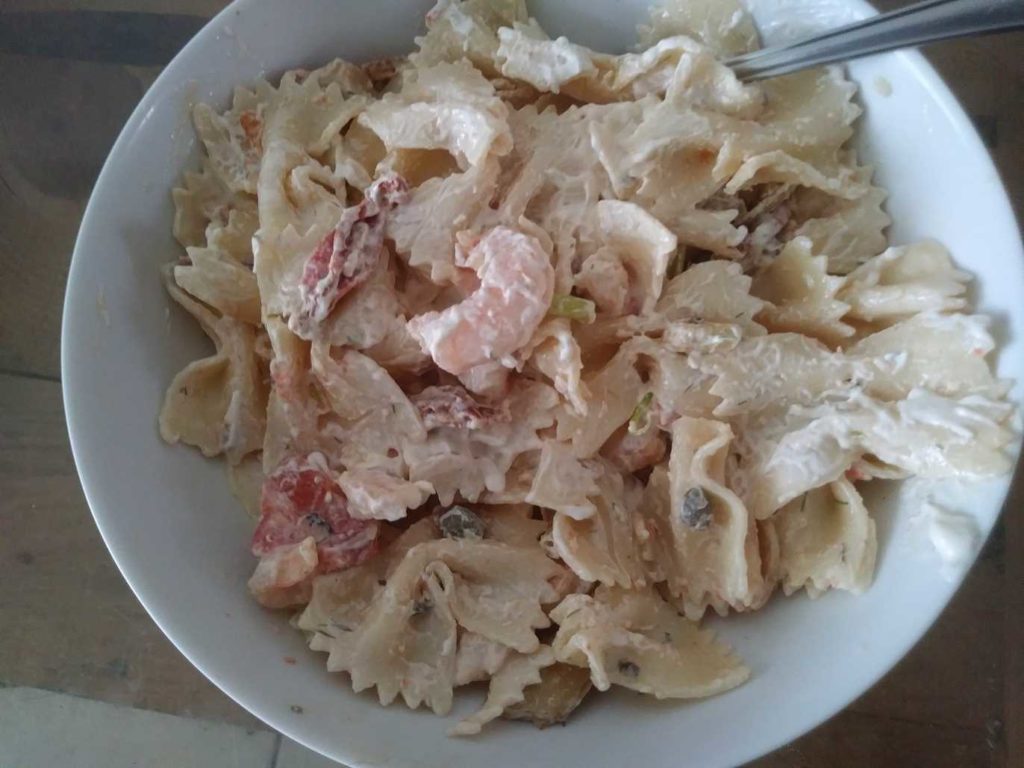 Seefood and Bows (Seafood and Farfalle)
That's no misspelling when I made this dish the first time, I wanted to give it a catchy name, hence Seefood and Bows. It's actually Seafood and Farfalle, an Italian bow-shaped pasta.
I use a light lemony dressing over this.  What makes the dressing stand out is the
Sunny Paris seasoning blend from Penzey's spices. You will find yourself using this wonderful spice in all kinds of foods. It stars shallots and chives, plus pepper and herbs.
You can use almost any shellfish, but I prefer shrimp and crab. No need to bust the bank, Krab works just fine in this, and you don't need much. If you want to go fancy, you can add lobster or King crab.

Seefood and Bows (Seafood and Farfalle)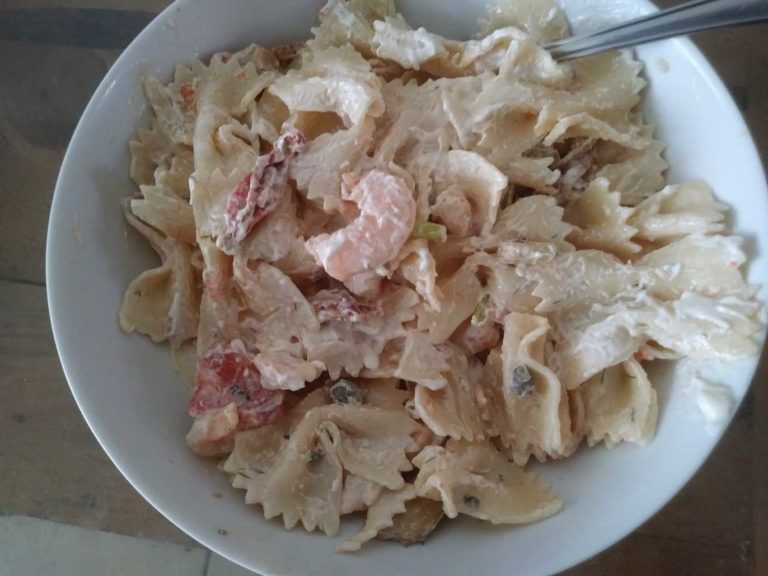 Servings (slide to adjust):
servings
Ingredients
For the Salad
1

box Farfelle

,

cooked and drained

½

pound

shrimp

,

peeled and cooked, tails removed

⅛

pound

crab

,

real or pretend

1

tablespoon

capers

2

tablespoons

marinated sun-dried tomatoes,

chopped

¼

cup

roasted red pepper

,

sliced

4

or 5 marinated artichoke hearts
For the Dressing
¼

cup

mayonnaise

¼

cup

real sour cream

¼

teaspoon

True Lemon or a couple of squeezes of lemon juice

½

teaspoon

Penzey's Sunny Paris seasoning blend

splash white wine vinegar
Ingredients necessary for the recipe step are in italic.
Instructions
Make sure the pasta is no longer hot. Add the salad ingredients and toss together. In a small bowl, mix the dressing ingredients together. Pour over the pasta and toss to combine. This is nice with a glass of white wine.