Savory Waffle Croque Monsieur with ham and Mornay sauce are perfect for brunch or a light dinner. Enjoy them with fresh fruit or a small salad.
Savory Waffle Croque Monsieur
Last Updated on December 6, 2022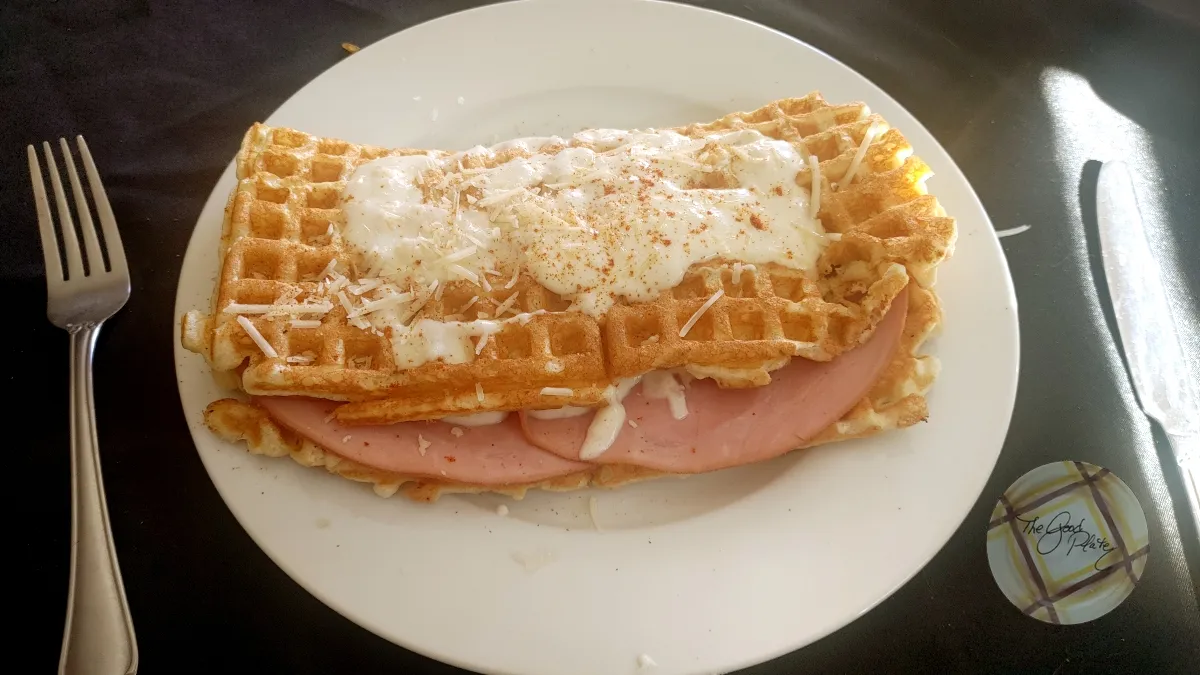 Savory Waffle Croque Monsieur with ham and Mornay sauce is perfect for brunch or a light dinner. Enjoy them with fresh fruit or a small salad. White wine would go perfectly with it.
This is one of those dishes I threw together, and was very surprised at how tasty it was. These are savory waffles made with sourdough starter and no sugar. The other secret ingredient is the wonderful Justice from Penzey's. Seriously, everything needs a little Justice, right?
Waffles done correctly require beaten egg whites. A stand mixer is too big for a couple of egg whites, but a hand-held eggbeater does the perfect job. A hand-held mixer will also be fine, but if you don't feel like hauling it out and want a little workout, use an egg beater. You could also make this with buttermilk, as I did with the Buttermilk Waffles with Strawberry Sauce.
The Waffles
These waffles turn out light as feathers, and one of the reasons they are so light is that they are made with sourdough starter. You can use sourdough discard or freshly fed starter, whichever you happen to have on hand. If you don't have any starter, then add 1 cup of flour and 1/2 cup of water.
The Croque Monsieur
What is a Croque Monsieur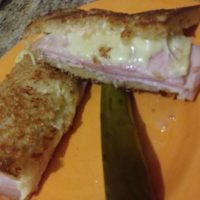 Croque Monsieur – The Glorified Ham and Grilled Cheese
The Croque Monsieur is a French bistro sandwich, so we bring the French cheese and the Russian ham together on French Pullman  bread for an absolutely sublime sandwich.
A croque monsieur (French pronunciation: ​[kʁɔk məsjø]) is a hot sandwich made with ham and cheese. The name comes from the French words croque ("crunch") and monsieur ("mister").

The dish originated in French cafés and bars as a quick snack. In the early 1900s, bistro owner Michel Lunarca popularized the croque-monsieur.

A croque monsieur is traditionally made with baked or boiled ham and sliced cheese between slices of pain de mie, topped with grated cheese and slightly salted and peppered, and then baked in an oven or fried in a frying pan. The bread may optionally be browned by grilling after being dipped in beaten egg. Traditionally, Gruyère is used, but sometimes Comté or Emmental cheese as well. Some brasseries also add béchamel sauce.

Wikipedia https://en.wikipedia.org/wiki/Croque_monsieur
So what we are doing here is substituting a savory waffle for bread. This sandwich is rich, and two waffles will easily serve four people with a salad. Make it tastier by grilling the ham before you assemble it into a sandwich.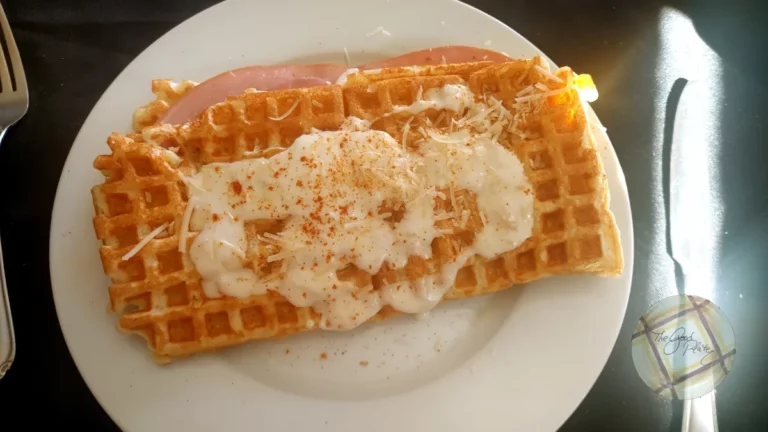 Servings (slide to adjust):
Calories per serving:
448
kcal
Equipment
Ingredients
1

cup

Sourdough starter

½

cup

Flour

½

cup

Milk

2

teaspoon

Baking powder

2

Egg yolk

4

tablespoon

Ghee

2

teaspoon

Butter Powder

½

teaspoon

Justice

1

teaspoon

Salt

½

teaspoon

Black pepper

,

freshly ground

2

Egg white

1

teaspoon

Olive oil
~~ — Mornay Sauce — ~~
2

teaspoon

Flour

2

teaspoon

Butter

1

cup

Milk

¼

teaspoon

Dry mustard

½

teaspoon

Worcestershire Sauce

¼

cup

Swiss

,

shredded

2

slices

Ham

⅛

teaspoon

Cayenne
Ingredients necessary for the recipe step are in italic.
Instructions
Turn the waffle iron on high.

1 cup Sourdough starter,

1/2 cup Flour,

1/2 cup Milk,

2 teaspoon Baking powder,

2 Egg yolk,

4 tablespoon Ghee,

2 teaspoon Butter Powder,

1/2 teaspoon Justice,

1 teaspoon Salt,

1/2 teaspoon Black pepper

Put the flour, starter, milk, baking powder, egg yolk, ghee, butter powder, Justice, salt, and black pepper in a bowl and thoroughly mix until there are no lumps. Beat the egg whites separately.

2 teaspoon Flour,

2 teaspoon Butter,

1 cup Milk,

1/4 teaspoon Dry mustard,

1/2 teaspoon Worcestershire Sauce

Put the butter and flour in a saucepan. Turn the heat to medium. Let the butter melt and mix it with the flour. When it has turned white, add the milk. Stir continuously until the mixture has thickened. Add the mustard, and Worcestershire sauce. Turn the heat off.

When the waffle iron is ready, fold the egg whites into the batter. It's okay if there are little streaks of white.

Spray the waffle iron with olive oil then pour half the batter on the waffle iron and close it up. Let it cook until it has browned, about 5 minutes. Remove the waffle and keep it warm while you cook the other one.

While the waffles are cooking, add the cheese to the roux and mix it to make a lovely sauce.
To Make the Sandwich
2 slices Ham,

1/8 teaspoon Cayenne

Lay a slice of ham on one side of the waffle, Pour a little of the sauce on it, spread it all over, Then fold it and cut the waffle in half. Plate one-half for each person. Do this for both waffles. Pour the remaining sauce over the waffles. Sprinkle a little cayenne over before serving.
Nutrition
Serving:
210
g
Calories:
448
kcal
Carbohydrates:
36
g
Protein:
16
g
Fat:
27
g
Saturated Fat:
14
g
Polyunsaturated Fat:
2
g
Monounsaturated Fat:
9
g
Cholesterol:
177
mg
Sodium:
1264
mg
Potassium:
292
mg
Fiber:
2
g
Sugar:
5
g
How to Use an Eggbeater Transcript
This is an eggbeater. This is what people used to use a long time ago. But they still do a great job. So I'm going to put that in here. And then I'm going to start whipping. As. you can see it's already starting to get thick. You get a little bit of a workout while you're doing this. And that's fine. See? They hold a soft peak. And that's exactly what we want.