Instant Pot Pork Loin - Garlicky Cuban style has lovely grapefruit, lime flavor, and tons of garlic. Lean pork loin is used for less fat.
Instant Pot Pork Loin - Garlicky Cuban Style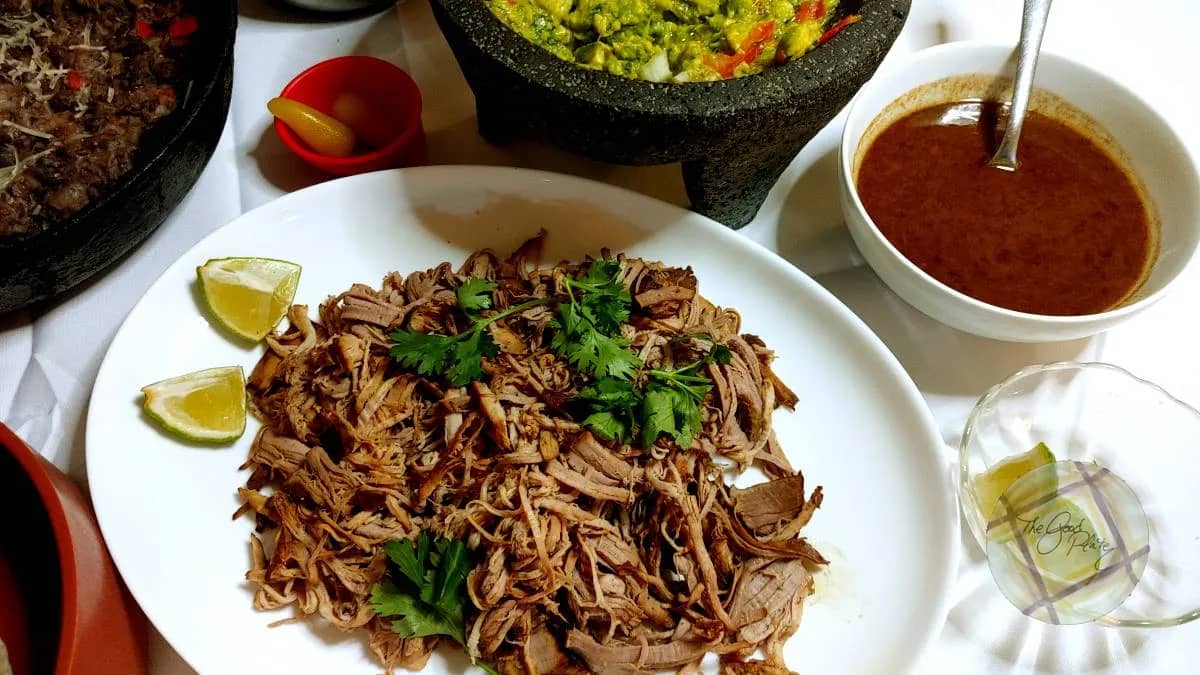 Instant Pot Pork Loin – Garlicky Cuban style has lovely grapefruit, lime flavor, and tons of garlic. Lean pork loin is used for less fat.
This recipe is based on Pressure Cooker Garlicky Pork from Dinner in an Instant by Melissa Clark. The biggest difference between hers and mine is this one has less fat.
This shredded meat has a fresh, grapefruit flavor backed by plenty of garlic. Because it is made in the Instant Pot, and under pressure, the good nutrients do not escape into the air and are retained in the very flavorful sauce. It's great in tacos, burritos, or just by itself.
As good as a pork shoulder or butt is, the loin is a smaller piece of meat with a lot less fat. It's perfect for a smaller household. Serve this with corn tortillas, fresh guacamole, and limes. Beans and rice make good side dishes.
How to Store Instant Pot Pork Loin Leftovers
If you have any of this luscious pork left, it will keep covered in the refrigerator for about four days. You can also portion in out in Souper Cubes and when they have frozen, put them in freezer bags.
Why is it called a pork butt when it's from a pig's shoulder?
Ancient monasteries had a buttery, a large cellar under the monastery where food and drink were stored for serving passing strangers and guests. The huge barrels where food and drink were stored were called butts. When colonists arrived in New England the practice continued. Butchers stored inexpensive cuts of pork, including shoulders, in butts, and this is where the term pork butt comes from.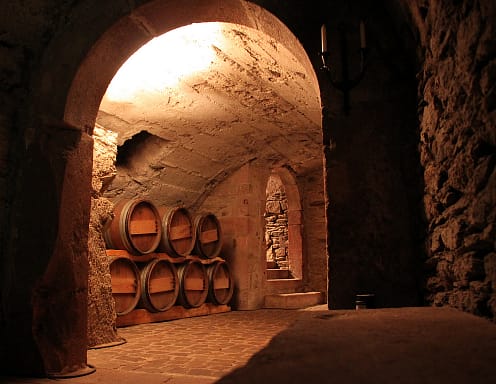 What is the difference between pork shoulder, butt, and loin?
The shoulder and butt pieces both come from the pig's shoulder in the front part of the animal. Pork butt comes from above the shoulder blades, while pork shoulder meat extends down to the pig's front hoofs. The pork butt is fatter than the shoulder. The loin comes from the rib area and is lean.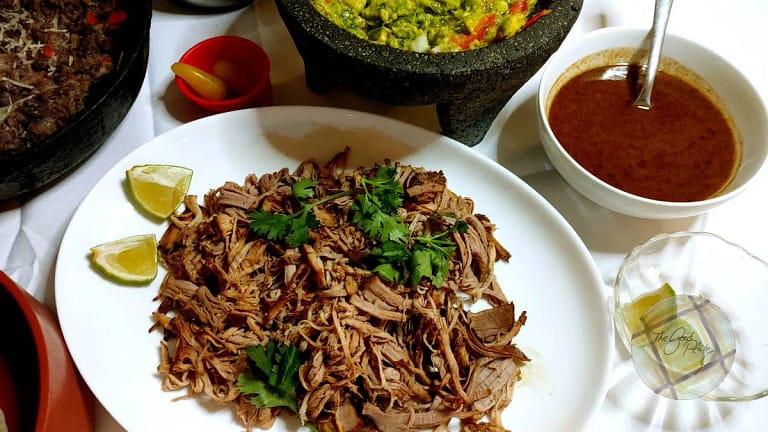 Servings (slide to adjust):
Calories per serving:
373
kcal
If you purchase any of the products through these affiliate links, I get a few pennies that help keep The Good Plate open. I use these products myself and want you to be able to easily find them.
Ingredients
For the Marinade
8

cloves

garlic

1

grapefruit

1

lime

2

tablespoons

olive oil

2

tablespoons

brown sugar

1

tablespoon

oregano

,

fresh leaves

2

teaspoons

ground cumin

1 ½

tablespoons

Salt

,

kosher

1

tablespoon

olive oil
For the Pork
1

bay leaf

¼

cup

white wine
For Serving
1

cilantro leaves

1

Lime

1

Hot Sauce

,

Optional, your favorite
Ingredients necessary for the recipe step are in italic.
Instructions
For the Marinade
8 cloves garlic,

1 grapefruit,

1 lime,

2 tablespoons olive oil,

2 tablespoons brown sugar,

1 tablespoon oregano,

2 teaspoons ground cumin,

1 1/2 tablespoons Salt

Zest one side of the lime. Juice the grapefruit and lime and set those aside.

In the small bowl of the food processor, combine the garlic, grapefruit juice, lime zest and juice, 2 tablespoons of the oil, brown sugar, oregano, cumin, and salt. Process until blended.

Put the meat and the marinade in a vacuum-sealing bag. Close it up, and vacuum as much air as possible, then seal it. If you don't have a vacuum sealer, put the meat in a bag, get as much air out as possible, and put the bag, open side down, in a bowl.
To Make the Pork
When the pork has finished marinating, remove it from the marinade, but reserve it because you will be using it to make the sauce.

If you have a removable pot, do this part on the stovetop, otherwise, set the cooker to Saute. When the pot is hot, add the remaining oil. Add the pork to the pan and brown it on all sides. You may have to do this in batches to prevent boiling instead of browning. Keep the browned pieces in a bowl, so the juices don't get away.

1 tablespoon olive oil,

1 bay leaf,

1/4 cup white wine

Remove the pot from the stovetop, and return it to the Instant Pot or turn the unit off. Add the reserved marinade to the pot and scrape the bottom of the pot to release the fond. Then add the pork back to the pot with the bay leaf and wine. Cover the unit and make sure the vent is sealed. Set the cooker to 1 hour and 10 minutes or 70 minutes on high. When it is done, use Natural Release.

Remove the top of the cooker and carefully move the pork only to a large bowl. Keep the juices in the inner pot. Shred the meat using two forks. It will be hot, so unless you are using heatproof, waterproof gloves, don't use your fingers.

Remove the bay leaf from the sauce. You may use the saute function or remove it to the stovetop to thicken the sauce if you wish. Add a few tablespoons to the shredded pork and toss it, so all the pork gets a little sauce.
Nutrition
Serving:
292
g
Calories:
373
kcal
Carbohydrates:
9
g
Protein:
49
g
Fat:
15
g
Saturated Fat:
4
g
Polyunsaturated Fat:
2
g
Monounsaturated Fat:
8
g
Cholesterol:
143
mg
Sodium:
1445
mg
Potassium:
961
mg
Fiber:
1
g
Sugar:
3
g
Instant Pot Garlicky Cuban Pork Loin Transcript
Good afternoon. Today I am making a recipe from Dinner in an Instant. By Melissa Clark and this is Garlicky Cuban Pork and for the Instant Pot. So. we're going to do this and we have some – this differs a little bit from her recipe because I'm using loin of pork. I don't want to have a lot of fat and that's why I'm using loin Pork And we have lots of garlic cloves. Grapefruit. Lime Cumin. fresh oregano leaves from outside. Bay leaves. Brown sugar. And right here are the beginnings of the guacamole I'm going to be making with that and need for that the cilantro and that also goes into this dish.
Okay let's get started. Okay the first thing you're going to do is prep the citrus and I have a Braun Food processor that has a citrus juicer I am going to put it on Seven. Just for fun. Put that here After a moment Time for the lime I'm only going to use a half lime because I need some for garnish and remove this.
It's now it's time for the rest of the some of the rest of the ingredients. Which include, lime zest Okay. Now, to that I'm going can add S Blade in there and Add the brown sugar. Two teaspoons of sea salt Add. Two teaspoons of ground cumin. Just. Three tablespoons of. Most important part is what? The dish is called garlicky so and add All the garlic. Add all the garlic right here And we're going to also add Oregano Just right here. Top on. I'm going to turn it down to five and then I'm going to just put it on.
Okay, now that our marinade is made the marinating process starts. And the best way to marinate is to put something in a vacuum sealed bag. I have a vacuum seal bag in a bag holder, one two, three. Okay the pork is nicely sealed up and it's time for a relaxing rest in the refrigerator.
Okay we're back and it's been about two hours. Now I have a Duo Evo Plus which means that my Instant pot's can – my inner pot comes out. And I could put them on the stove top, which is what I'm going to do today. If you don't have that what you would want to do is put your Instant Pot on saute or use a regular pan and saute. Okay first is to. turn on the pan and add about a tablespoon of olive oil to the pan/ I'm sure it's all done in there. okay. Now pork pieces. as you take them out of the marinade. Take the pieces in the marinade shake them. Here we go. Oh now you can hear it sizzling. That's good. Okay. And there's another piece and the last piece in this case. And I am putting my marinade in a little bowl so it doesn't get away because I'm going to be adding that back in. Use tongs and there it is. I'm going to take it and brown on each side.
So it will take a few minutes to do this I'm going to wait until it's brown on each side and we'll come back. Okay, now we have browned these on both sides Lovely and we're going to add the marinade back in add the marinade back in Make sure you scrape up that good stuff on the bottom. It's called the fond. Okay, there you go. Now, let's put it in the pot. Okay. It's in the Instant Pot.
However, I really don't think that's enough liquid. So, I'm going to add some white wine. Just to be in the safe side. There we go. Okay, the Instant Pot is on. And we're going to put it on pressure cook We're going to put it on custom. Press the button and dial to This is loin of pork so I'm gonna make it go for an hour and ten minutes. Okay. I. Go. Do. Alright. See you in an hour and ten minutes.
Okay, so it has been an hour and ten minutes. The pork is perfect. It's mostly already shred. Sauce. It's pretty thick but it could get a little thicker Put a flame under it. While that's happening, I'm going to shred this with a fork. See how lovely and easily that does that. That pork was cooked perfectly. Give this a taste. Some sauce, get a little taste and put a little sauce on it Mmm That is absolutely amazing tasting. Well, I'm going to go now and eat my taco. See you next time. Don't forget to subscribe.