Waffles with fresh strawberry sauce are a wonderful start to any morning, loved by kids of all ages, from two to ninety-two.
Buttermilk Waffles with Strawberry Sauce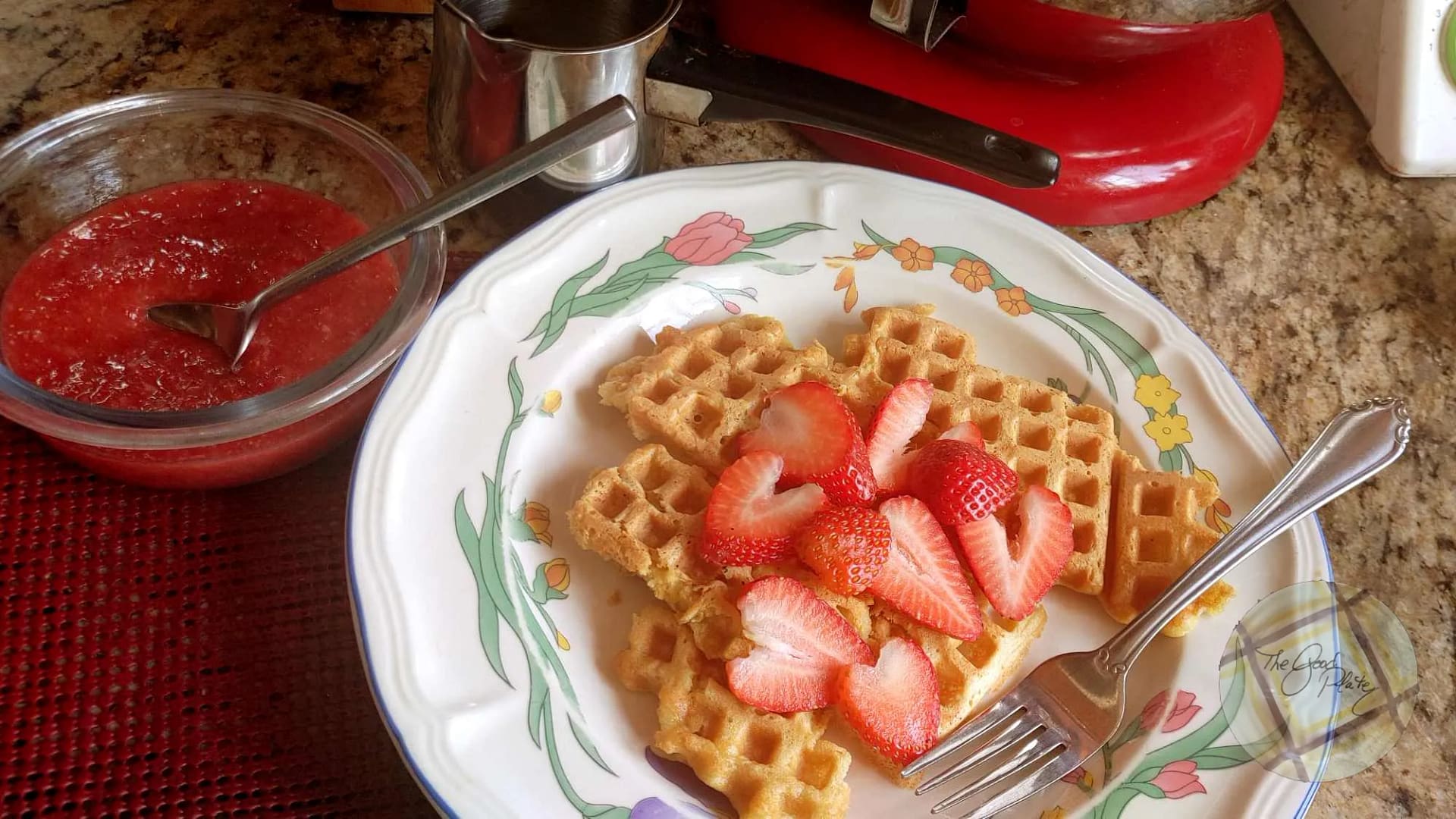 Waffles with fresh strawberry sauce are a wonderful start to any morning, loved by kids of all ages, from two to ninety-two.
Waffles vs Pancakes and Crèpes
Pancakes, crèpes, and waffles all start with a flour-based, egg, and milk batter. Crèpes don't use baking powder for leavening because they are supposed to be thin. Pancakes do use it and get nice and fluffy. However, because waffles are being crushed in a waffle iron, they need a little extra help. They get that help from stiffly beaten egg whites which are folded into the batter.
Buttermilk Waffles
You can easily make your own buttermilk and butter from heavy whipping cream. When you make the butter, you will have buttermilk leftover. You can see how to do this in a Braun food processor.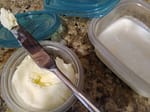 How to Make Butter in a Braun Food Processor
You will be really surprised how easy it is to make butter in a Braun food processor – creamy butter and fresh buttermilk are yours in minutes.
Strawberry Sauce
Strawberries are so refreshing bursting with sweet juice. They are a wonderful way to welcome summer and a nice change from the traditional maple syrup. Making the sauce from them is very simple. Just put them in a food processor or blender and puree them. You can add sugar if they are not very sweet.
An Old Friend Comes to the Rescue
The most important part about whipping egg whites is that the bowl has to be absolutely free of any kind of fat. That means it should be scrupulously clean and that there should not be any egg yolk with the whites. There are a few ways to keep that from happening and the best way is to use the tools you were born with – your hands.
Get three small bowls and put them in front of you
Tap the edge of the egg on one of the bowls to crack it.
Pour the egg into one of your open hands.
Hold the egg over the second bowl and let the white drip.
Put the yolk into the third bowl
The first bowl is there in case you have an accident
Unless you are going to make meringue for a Lemon Meringue Pie, you do not need a stand mixer to whip egg whites into stiff peaks. If you want to build strong muscles, I recommend a balloon whisk. A handheld mixer works well for this, but the very best is an old-fashioned egg beater. Because you are turning the crank yourself, you have much more control than you do with a handheld mixer. Besides, it's kind of fun watching the egg whites turn from clear to bright white.
Now that you have separated the eggs, you can continue to make the buttermilk waffles with fresh strawberry sauce.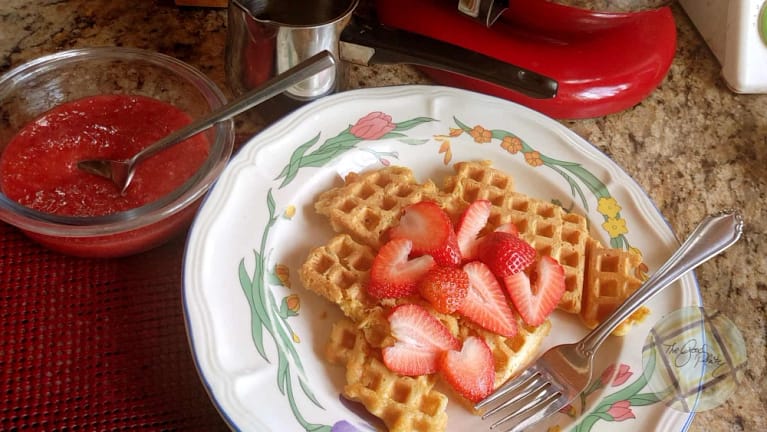 Servings (slide to adjust):
servings
Calories per serving:
391
kcal
Ingredients
~~ — Waffles — ~~
1 ½

cup

flour

1 ½

teaspoon

baking powder

½

teaspoon

baking soda

½

teaspoon

salt

1 ¼

cup

buttermilk

4

tablespoon

butter

,

melted

½

teaspoon

vanilla

2

eggs

,

separated

1

tablespoon

sunflower oil
~~ — Strawberry Sauce — ~~
5

Strawberries

½

teaspoon

Balsamic Vinegar

1

teaspoon

Sugar
Ingredients necessary for the recipe step are in italic.
Instructions
5 Strawberries,

1/2 teaspoon Balsamic Vinegar,

1 teaspoon Sugar

To make the sauce, put the strawberries into a small food processor bowl with the balsamic vinegar and sugar. Process them, then stop and scrape the bowl, then process them again to puree. Set the sauce aside.

Preheat the waffle iron to medium.

1 1/2 cup flour,

1 1/2 teaspoon baking powder,

1/2 teaspoon baking soda,

1/2 teaspoon salt,

1 1/4 cup buttermilk,

4 tablespoon butter,

1/2 teaspoon vanilla

Sift the dry ingredients together. Add the two egg yolks and half the milk. Mix together then add the rest of the milk as you stir. Finally add the butter and stir completely.

Whip the egg whites until peaks form. Put a little of the batter into the whites to break them up a bit, then fold the whites into the batter. You will have white streaks, and that's okay. You will also have a nice, light products.

1 tablespoon sunflower oil

Oil the waffle iron and then pour/spoon enough of the batter to make one waffle. Put the lid on, and bake until the light goes off, or until the lid comes off easily without the waffle sticking.

Remove the waffle, and re-oil the iron, and make more waffles until all the batter is gone.

Serve the waffles with the sauce. You can melt additional butter to serve with the waffles. For presentation, you can dust the waffles and strawberries with powdered sugar. 
Notes
If you do not use all the waffles in one sitting, you can put them in the freezer and pop them into the toaster to reheat.
Nutrition
Serving:
203
g
Calories:
391
kcal
Carbohydrates:
43
g
Protein:
11
g
Fat:
19
g
Saturated Fat:
9
g
Polyunsaturated Fat:
2
g
Monounsaturated Fat:
6
g
Cholesterol:
157
mg
Sodium:
708
mg
Potassium:
252
mg
Fiber:
2
g
Sugar:
6
g