Chocolate Basque-Style Cheesecake takes the easiest cheesecake you've ever made to a whole new level. Still easy-to-make, more delicious.
Chocolate Basque-Style Cheesecake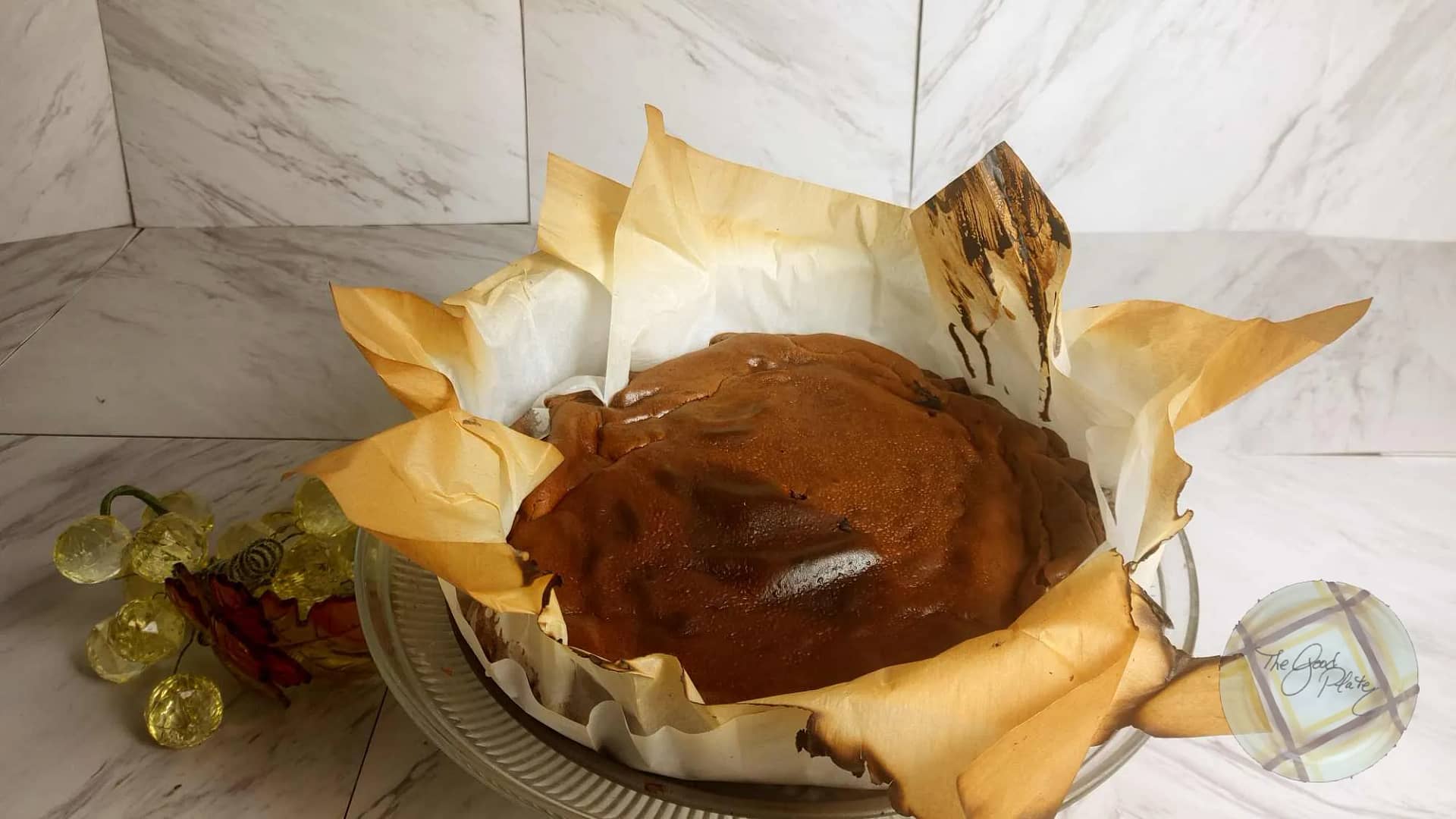 Chocolate Basque-style Cheesecake takes the easiest cheesecake you've ever made to a whole new level. Still easy to make, more delicious. You may have heard this cheesecake is all the rage in 2022, and there is a reason for it. It's probably the easiest, no-fail cheesecake to make.
What is Basque-style Cheesecake
The main difference between Basque-style and New York-style is the lack of crust. This cheesecake is baked in a very hot oven, so hot that it forms its own crust. It does this the with help of a springform pan and parchment paper. The parchment paper forms a basket to keep it from leaking all over your oven and the springform pan gives it its wonderful shape.
.I was pretty skeptical when I first saw this in one of my Facebook groups and then I saw it all over the place. It seemed to be becoming as ubiquitous and commonplace as Red Velvet cake. But, I knew I had to try it and I just happened to have three bricks of cream cheese, eggs, and cream in the fridge, so why not? For my first one, I followed the recipe at King Arthur Baking. It was so easy to make and so good, that I even made it for my March 2022 Pi Day.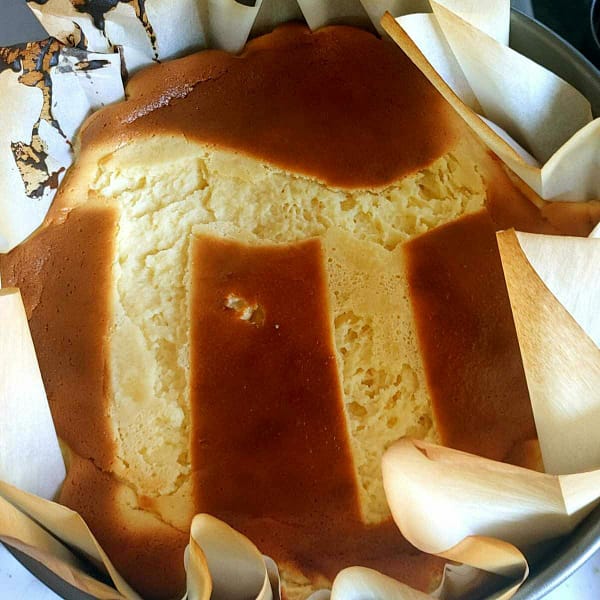 I liked the plain one so much that adding chocolate to it was a no-brainer. I used a little brown sugar and espresso powder to give it more depth of flavor. You have to try this, you will LOVE it.
Equipment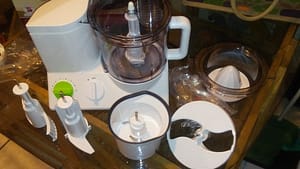 The other piece of equipment you will need is a food processor with a large bowl. All that cream cheese is a little too tough for a stand mixer, even the best stand mixer will struggle with this, but a good food processor does the job without a sweat. I cannot recommend the Braun Food Processor more, mainly because of its variable speed which greatly helps this recipe. The one pictured is my food processor. It does a lot of work in my kitchen.
Parchment paper is also needed, and I highly recommend the precut sheets. They are a lot more convenient than the kind you have to tear off, which never tear off evenly. Did you know that you can reuse parchment paper? You can reuse it until it starts getting looking burned and crumbles.
A 9-inch springform pan is the best pan to use for this. Springform pans have a removable bottom and they come in several sizes. It's good to have three, an eight-inch, nine-inch, and ten-inch pan.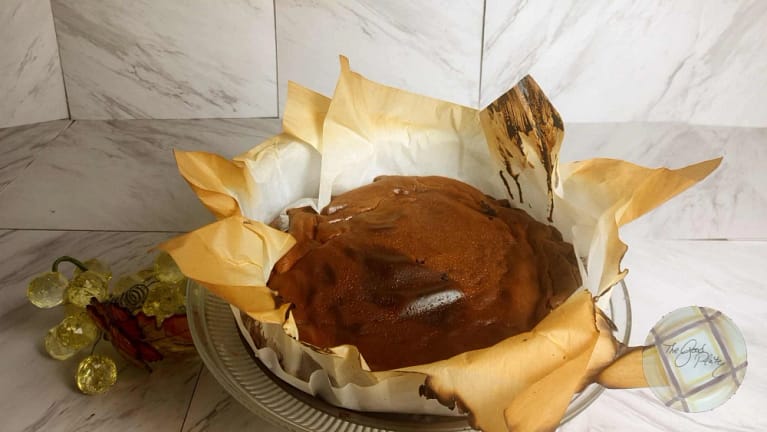 Servings (slide to adjust):
Calories per serving:
373
kcal
If you purchase any of the products through these affiliate links, I get a few pennies that help keep The Good Plate open. I use these products myself and want you to be able to easily find them.
Ingredients
24

ounce

Cream cheese

,

three 8-ounce packages

¾

cups

sugar

½

teaspoon

salt

5

large eggs

¾

cup

cream

¾

cup

brown sugar

¾

cup

cocoa powder

1

teaspoon

espresso powder

1

teaspoon

vanilla extract
Ingredients necessary for the recipe step are in italic.
Instructions
Position a rack in the center of the oven and preheat the oven to 500°F / 260°C.

To prepare the pan: Take two sheets of 16 1/2" x 12 1/4" parchment and crumple each into a ball. If you don't have parchment that size, you'll need enough to cover roughly a 15" square. Uncrumple the parchment completely and overlap the two sheets in a cross, pressing them into a 9" springform pan to completely cover the bottom and sides of the pan. The paper won't lie flush with the sides, but crumpling it first will make fitting it into the pan easier. Fold the overhanging parchment down over the outside edge of the pan to ensure that the top of the cake remains visible and open to the oven's heat.

24 ounce Cream cheese,

3/4 cups sugar,

1/2 teaspoon salt,

5 large eggs,

3/4 cup cream,

3/4 cup brown sugar,

3/4 cup cocoa powder,

1 teaspoon espresso powder,

1 teaspoon vanilla extract

Place all the ingredients in the bowl of a food processor fitted with the S-blade attachment

Process the batter until it's smooth and lump-free, about 5 minutes, scraping the bowl about halfway through.

Pour the batter into the prepared pan and transfer the pan to the middle rack in the oven.

Bake the cheesecake for 25 to 30 minutes, until the top is a deep-dark brown, the edges are just set, and the center is still quite jiggly. A digital thermometer inserted 1″ from the edge and 1″ down should just barely read 185°F / 85°C. For best results, start checking your cheesecake at the 25-minute mark, and continue to check at 1-minute intervals until the desired doneness is reached. Taking this cheesecake out of the oven at just the right point is critical to its success.
Notes
This cheesecake is very rich, so I suggest 12 servings and not 8.
Nutrition
Serving:
121
g
Calories:
373
kcal
Carbohydrates:
31
g
Protein:
9
g
Fat:
26
g
Saturated Fat:
15
g
Polyunsaturated Fat:
1
g
Monounsaturated Fat:
8
g
Cholesterol:
175
mg
Sodium:
306
mg
Potassium:
233
mg
Fiber:
2
g
Sugar:
26
g