This is simple to make, and just delicious.
Ginger Man Shrimp and Pasta
Ginger Man Shrimp and Pasta
This shrimp and pasta dish is very easy to make, comes together quickly, makes an excellent choice for a weeknight dinner, and would also make a great dinner for guests.  You can use raw shrimp, or cooked shrimp you might find on special at the supermarket.
Many years ago, when I was working in Beverly Hills, California, there was a restaurant called The Ginger Man. Owned by Carrol O'Connor (Archie Bunker) and Patrick O'Neal, it had many great reviews in local newspapers of the time. Sadly, it is no longer in existence, but the memory of a lovely dinner there lingers in my mind.
There was something on the menu called Shrimp and Pasta. I ordered it, and it was delicious. When I got home, I jotted down the main ingredients so I could make it myself. I even put the recipe in my cookbook software, where it languished for years.
When you make this, you can use shrimp that has already been cleaned and cooked, just watch it carefully so it does not over-cook. If you are using raw shrimp, then be sure to clean it carefully, and for a great presentation, butterfly the shrimp. Please use a good pesto sauce, one made with pine nuts, and not just walnuts. You can easily make your own homemade pesto sauce, and have it around when you want it.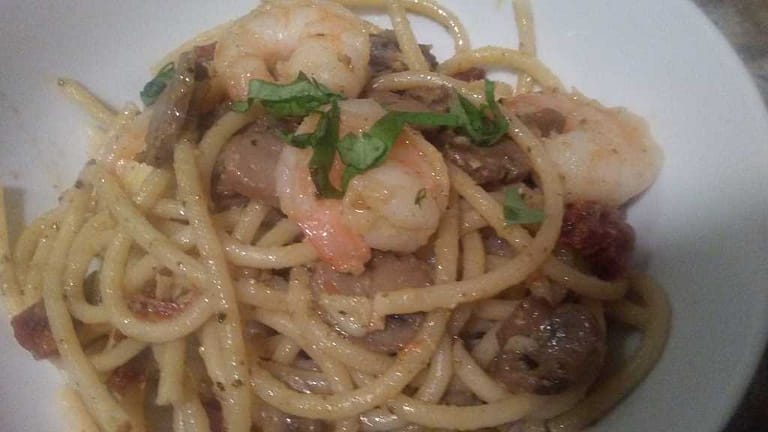 Servings (slide to adjust):
servings
Calories per serving:
184
kcal
Ingredients
½

pound

shrimp

½

pound

linguini

1

lemon

,

divided

4

tablespoons

unsalted butter

4

large garlic cloves

,

sliced

4

large mushrooms

,

sliced

4

sun-dried tomatoes,

sliced

¼

cup

good pesto
Ingredients necessary for the recipe step are in italic.
Instructions
If you are using raw shrimp, make sure the shrimp are shelled, cleaned, and deveined. Butterfly them for a nice presentation. If you are using already cooked shrimp, just remove the tails and check for any sand vein.

Start a large pot of salted water to boil for the pasta. Put the pasta in and cook until it is al dente. Drain and set aside.

Cut the lemon in half. Leave on half whole, and the other, cut into slices for serving.

4 tablespoons unsalted butter,

4 large garlic cloves

Melt the butter in a large saute pan. Add the garlic and saute until it turns translucent. Don't let it burn!

4 large mushrooms,

4 sun-dried tomatoes

Add mushrooms and saute them until they have slightly browned. Add the sun-dried tomatoes and saute them a bit, too.

Finally, add the shrimp and saute them until they are pink. If you are using already cooked shrimp, just saute until they are warmed through, don't overcook. Squeeze a half lemon over and mix together.

Add the cooked pasta to the pan, and top with the pesto sauce.

Combine all together, put in a large pasta dish and serve with the lemon slices.
Notes
You can also grill the shrimp separately and then add them at the end.
Nutrition
Calories:
184
kcal
Carbohydrates:
25
g
Protein:
8
g
Fat:
7
g
Saturated Fat:
3
g
Polyunsaturated Fat:
1
g
Cholesterol:
37
mg
Sodium:
119
mg
Fiber:
5
g
Sugar:
1
g
You might also like the related recipe for Shrimp and Pasta from the Blue Fin in South Carolina. That's another recipe I recreated because I enjoyed it so much.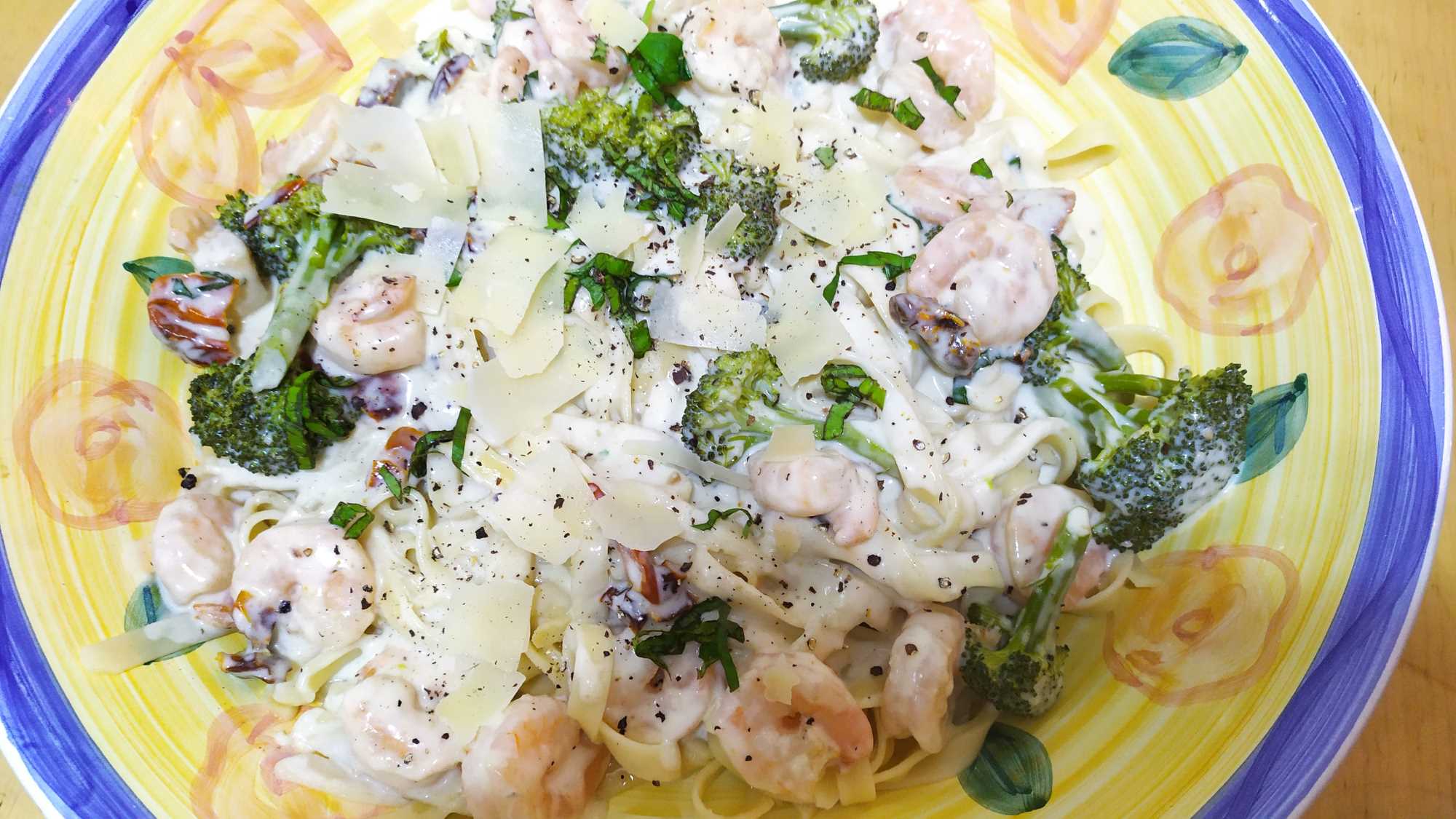 Shrimp and Pasta Blue Fin Columbia South Carolina
Shrimp and Pasta a la Blue Fin of Columbia is a tasty recipe for shrimp, broccoli, and sun-dried tomatoes in a blue cheese cream sauce.