No need to wait for eggnog at the store. Get that Christmas feeling all year with Eggnog French Raisin Toast.
Eggnog French Raisin Toast
Last Updated on December 20, 2021
No need to wait for eggnog at the store. Get that Christmas feeling all year with Eggnog French Raisin Toast.
One of my favorite things about the Christmas season is eggnog. Spane and I love eggnog. I like mine with a little Jack Daniels, Spane likes his plain. If we have any left, I make French Toast with it. Well, it's July now, and no hope of going to the market and getting eggnog.
What do you do when there is no eggnog at the store? You make your own. Some eggnog tastes strange – last year I wound up giving one I didn't like to an unsuspecting neighbor – they liked it, so no harm done. Based on what I made today, I'm confident that this Christmas, I'll be making my own eggnog. I have a friend who raises chickens, and always has fresh eggs – he even has a big orange chicken that I am waiting to get old – I've named her Coq au Vin (seriously).
Update: 2021 – Coq au Vin passed peacefully in her sleep and never made it to my pot.
But, I was able to make eggnog that I really liked. If you like eggnog, but don't like it being thick and sticking to your tongue seemingly forever, you might like this eggnog.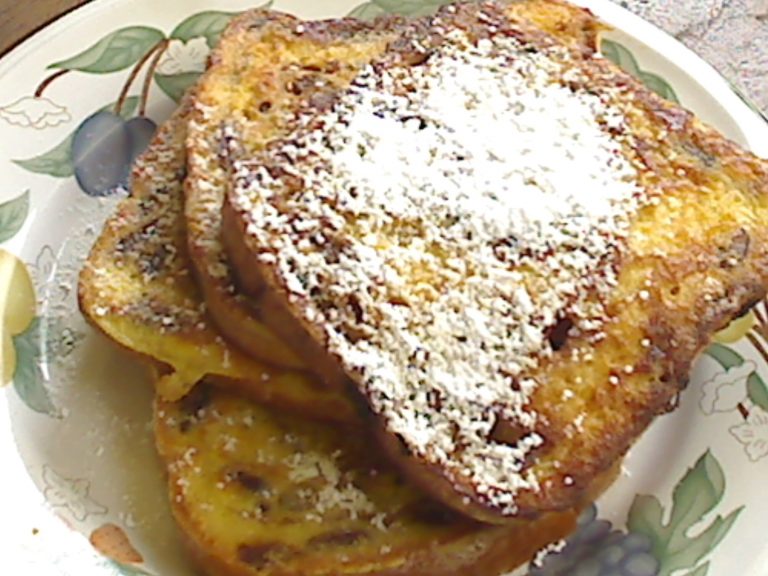 Servings (slide to adjust):
Calories per serving:
275
kcal
Equipment
Ingredients
Ingredients necessary for the recipe step are in italic.
Instructions
8 slices Raisin Bread,

2 eggs,

1/2 cup milk,

2 teaspoons sugar,

1/2 teaspoon nutmeg,

1/2 teaspoon cinnamon,

1/2 teaspoon Brandy flavoring

Combine the eggs, milk, sugar, nutmeg, cinnamon, and brandy flavor in a shallow bowl. Mix completely.

Heat a skillet to medium.

Put the butter in and swirl it around.

Dip a piece of bread in the egg mixture, making sure both sides have been dipped.

Put the soaked bread into the skillet. Continue with as many pieces of bread that will comfortably fit in the pan.

Let brown on one side, about 3 minutes, then turn and brown on the other side, about 2 minutes.

Stack at least two pieces of toast on top of each other, and dust with powdered sugar.
Notes
This will make enough French toast for 2 hungry people with no other sides. It will make enough for four if you include eggs, bacon, or sausage. You can also make this from whatever bread you happen to have on hand.
Nutrition
Serving:
131
g
Calories:
275
kcal
Carbohydrates:
38
g
Protein:
10
g
Fat:
10
g
Saturated Fat:
4
g
Polyunsaturated Fat:
1
g
Monounsaturated Fat:
4
g
Cholesterol:
135
mg
Sodium:
331
mg
Potassium:
231
mg
Fiber:
3
g
Sugar:
8
g