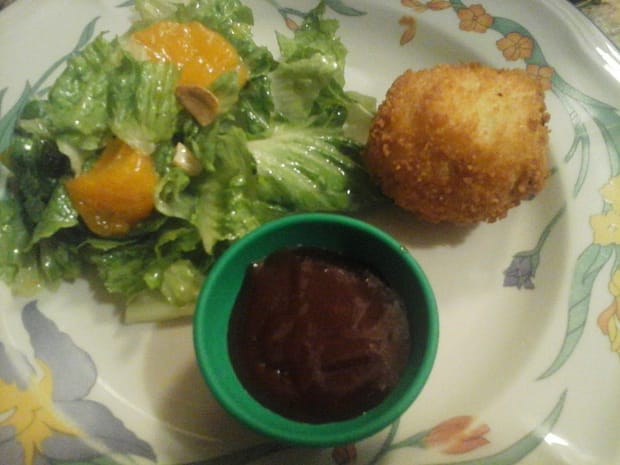 Meatloaf Stuffed Potato Balls with Dragon Sauce
One of my favorite things is to go to Porto's in Glendale and get Papas Rellenas (Cuban Potato Balls).  They are very tasty and make for a quick bite.  One day, I had leftover meatloaf, and leftover mashed potatoes, so I decided to try my hand at making them.  It's pretty simple, and a good way to use up your leftovers.  You could use other stuffing, I just happen to really like my Three Pepper Spicy Meatloaf.
A few words about mashed potatoes
Please use real ones, not the ones in the box, or the ones that are already made. Take a little time to make mashed potatoes.  I usually use one medium-sized potato per person, unless I want extra for something like this, and then I add an extra potato. For this recipe, you will need to peel the potatoes. Unpeeled potatoes are great, but the peels would get in the way when trying to keep them shaped correctly.  I cut my potatoes in half lengthwise, then cut each half into quarters.  I keep the cut, peeled potatoes in cold water until they have all been prepped, this keeps them from turning brown.  Rinse the potatoes and put them in clean, salted water. Always use a good amount of salt in the water, about a half a teaspoon per potato. Bring the water to a boil, then cover and reduce the heat to medium. Check the potatoes at about 15 minutes.  They are done when you can easily stick a fork or tip of a knife in them.  Don't let them get overcooked, or you will have a soggy mess. Drain them in a sturdy colander immediately so they will stop cooking.  I like to add butter at this point and mash them with a masher so the butter really gets in there, then I add milk and depending on how fluffy I want them, I either whip them by hand or use a stand mixer.
Meatloaf – It's all up to you!
To make this you will need about 2 cups of left over mashed and a few slices of left over meatloaf.  You can use your favorite meatloaf recipe, you are not tied to mine. You can even use – gads! – store-bought meatloaf if you like it.
The Dragon Sauce
You don't have to have a dip for these, they're good plain.  But, if you like an extra zip, please try this Dragon Sauce. If you don't like spicy foods, then you could always use Ranch or onion dip if you wanted.  This is one of those recipes that's really up to you.  Use what you enjoy!