Roasted Red Pepper Burgers and Aleppo Steak Fries
We really like stuffed burgers.  They are filling and are a great way to use up little bits of cheese or vegetables you have sitting around the refrigerator with nothing to do.  You can turn an ordinary burger into something extraordinary.  These Roasted Red Pepper Burgers and Aleppo Steak Fries are a really good example of this.
These burgers are stuffed with roasted red peppers and white cheddar.  I use the roasted red peppers for salads and sandwiches, as well as just out of hand. White cheddar is my favorite – it's very, very sharp with lots and lots of flavor.  Our burgers are topped with a simple pan sauce and crispy fried onions. The roasted steak fries have been sprinkled with Aleppo pepper, salt, and freshly ground black pepper.
This is restaurant quality food at home, for a fraction of the price.  This is the whole reason for The Good Plate, to share the news that we can all have restaurant quality food at home – where you know what goes into the food and can enjoy sharing it with friends and family.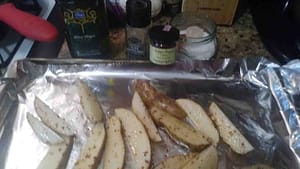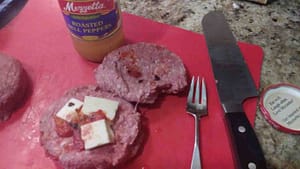 Let's Make Dinner – Roasted Red Pepper Burgers and Aleppo Steak Fries!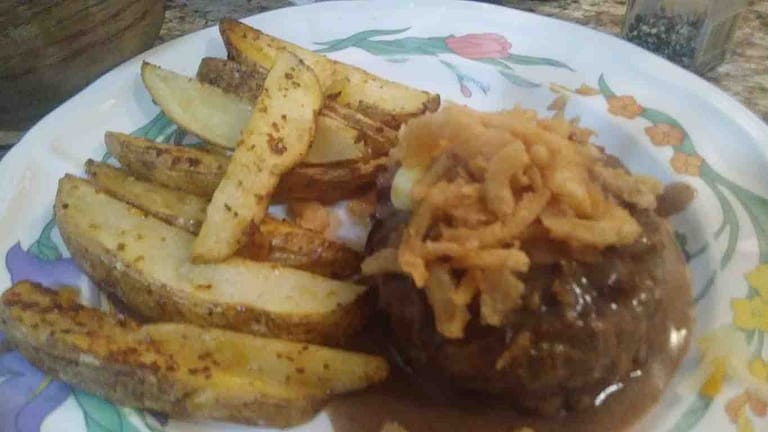 Servings (slide to adjust):
servings
If you purchase any of the products through these affiliate links, I get a few pennies that help keep The Good Plate open. I use these products myself and want you to be able to easily find them.
Ingredients
For the Fries
2

large russet potatoes

,

cut in eighths

½

teaspoon

Aleppo pepper

½

teaspoon

sea or Kosher salt

½

teaspoon

freshly ground black pepper

1

tablespoon

olive oil
For the Burgers
1

pound

ground sirloin or ground beef

2

roasted pepper pieces,

see notes

2

slices

white cheddar

Freshly grated black pepper

Sea or Kosher salt

1

teaspoon

olive oil
For the Topping
¼

teaspoon

beef base

½

teaspoon

Worcestershire sauce

¼

cup

water

1

teaspoon

red wine

1

teaspoon

unsalted butter

1

slice

white cheddar

Crispy fried onions

,

the kind that comes in a can
Ingredients necessary for the recipe step are in italic.
Instructions
For the Steak Fries
Preheat the oven to 400F/204C. Line a half sheet pan with foil. Put the potatoes, oil, and seasonings into a large bowl. If you bowl has a top, even better. Mix all together, making sure the potatoes are thoroughly coated. Pour the potatoes on the foil and make sure they are in a single layer. Drizzle whatever oil is left in the bowl over them. Roast them in the preheated oven for about 15 minutes, then turn them over and roast for another 10-15 minutes or until they are fork tender.
For the Burgers
Divide the meat into four patties. Put roasted red pepper and cheese on two of the patties. Put the other patty on top and use a fork to seal, then push the seal in so the burgers are a consistent thickness. Sprinkle salt and grate pepper over the patties. Put in the refrigerator until the potatoes are almost done.

Preheat a cast iron skillet on high. When the skillet is very hot, almost smoking, put in the olive oil and swirl it around. Add the patties. Cook on one side for 5 minutes, then flip and cook for another 3 minutes. Test with an instant-read thermometer that the burger is done to your liking. Remove from the skillet and let rest.

Put the beef base and water in the pan and stir vigorously to deglaze and get all the good tasty fond up. Add the Worcestershire and wine. Whisk together. Finally, add the butter and whisk to emulsify the sauce.

Pour the sauce over the burgers, put a piece of cheese, and top with the fried onions.
Notes
I really like the Mezzetta roasted red peppers. However, Sadaf makes good ones, as well as other brands. You can even make them yourself to have on hand.