Tender Steak Tartare made from your freshly ground beef is a delicious treat.
Steak Tartare
Last Updated on December 28, 2021
When my mother, Ruth, was growing up in New York during the Great Depression and Prohibition, her mother would wake her up because she was troubled and they would share Steak Tartare.  One day, she asked her mother, my grandmother, Julia, why she did this, and her answer was simple.  It was because her mother, my great-grandmother Christine, used to do it to her.  Apparently, Christine's mother, Maria, did to her in Copenhagen for the same reason before they came to America.  Did my mother do this to me? Does a bear defecate in the woods?  Yes, and I loved it – I loved it so much I would try to think of things that might make my mother anxious, and then I just fessed up, and we agreed we didn't have to wait for some crisis to have our favorite treat.
Isn't Raw Beef Dangerous?
No, actually it's not. What's dangerous is eating raw ground meat from the supermarket where you don't know about the meat, the grinder, grinding conditions, etc. You might be eating ground meat from many different cows, and any one of them could have been sick. If you have your own solid muscle, you are dealing with only one cow, and any bacteria is only on the surface, and if you keep the meat in a cold refrigerator, you are good to go.
What you Need
First, you need to have the meat very, very cold because it is easier to cut.  I usually cut my meat into manageable pieces and put it in the freezer for about 30 minutes, or just before ice crystals develop.
Knife
If you have a very, very sharp knife and feel like standing there chopping meat, go ahead, but I wouldn't recommend it because your meat could reach the temperature danger zone, 40F/4.4C to 140F/60C before you finished.
Food Processor
If you have a good food processor with a sharp S blade, you can use that.  It won't have the same tender texture, but it's fast and does a good job.
Grinder
The preferred way is to use a grinder.  There are grinders that you can clamp on your table or counter, but you have to manually grind them and unless you're Popeye, that can get rather tedious.  Note: my mother had a grinder that she attached to her work surface and I got to do the grinding – that's what kids are for.
But the best thing to do is just get an attachment for your KitchenAid mixer. You knew you could put attachments on there, right?  Just remove the little silver plate with the logo on it by unscrewing the screw on the side, put on the attachment, screw it back in and you're good to go.  This is the one that I have and like available on Amazon.  It's made from metal so it's not going to break.
Other Benefits of Grinding
If the knowledge that your ground beef can be coming from up to 200 different cows, and has interesting parts of the cow included that might not necessarily be muscle tissue, isn't enough to get you away from buying pre-ground beef, knowing that you will save money will. That's the whole point of this blog, gourmet recipes on a budget. Yesterday, I bought a 3-pound chuck roast for 10.00 and today I ground it up and I have 3 pounds of ground meat that would have cost about 18.00, so I saved about 8 dollars, less the bowl of Steak Tartare I just enthusiastically ate.  My grinder will pay for itself quickly.
Let's Make Steak Tartare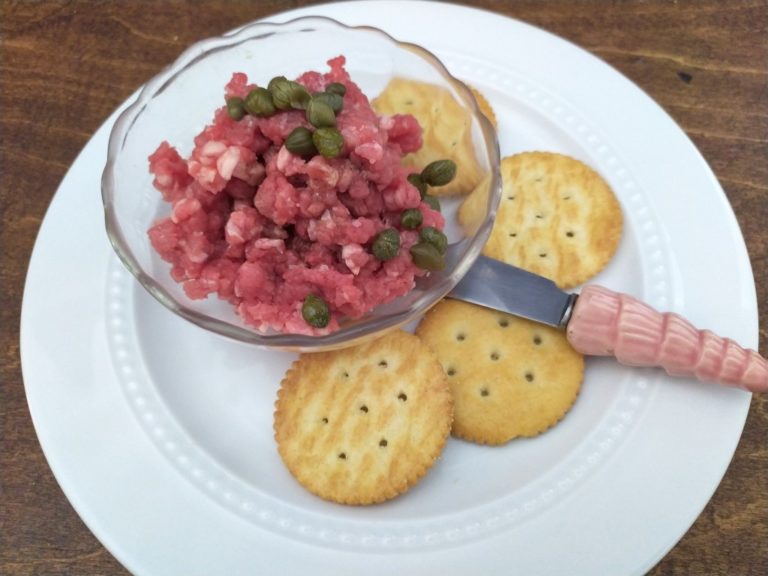 Servings (slide to adjust):
servings
Calories per serving:
190
kcal
Ingredients
1

pound

freshly ground beef

,

sirloin preferred, loin filet best

½

teaspoon

Worcestershire sauce

¼

teaspoon

sea or Kosher salt
Garnish
Capers

Chopped Onion

Chopped Spring Onion

Raw Egg
Ingredients necessary for the recipe step are in italic.
Instructions
Add the salt and Worcestershire to the ground meat. If you want, you can add finely minced onion at this point. Serve it with your favorite crackers or a good thinly sliced bread like pumpernickel. You can add a raw egg if you wish – I don't like it.
Notes
You can add anything you want to this to make it your own. If you like spicy, add some jalapeno. You could put this together with avocado toast for that "California" feeling.
Nutrition
Serving:
1
g
Calories:
190
kcal
Carbohydrates:
0
g
Protein:
25
g
Fat:
9
g
Cholesterol:
75
mg
Sodium:
235
mg
Fiber:
0
g
Sugar:
0
g