A rich and delicious, traditional carrot cake.
Carrot Cake with Cream Cheese Icing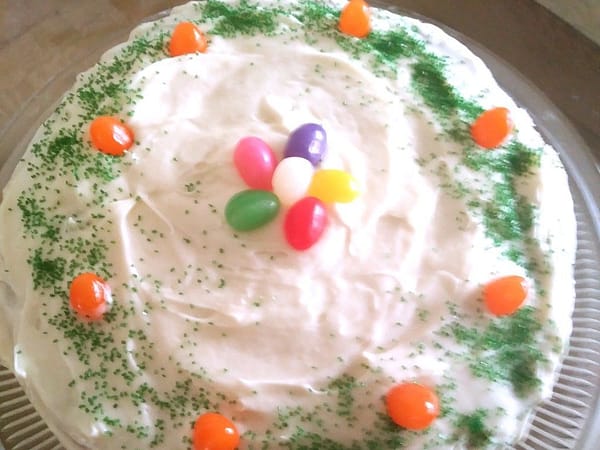 I don't know why I wait for Easter to make a carrot cake with cream cheese frosting. I think it just seems appropriate for the rabbits of Easter to have a carrot cake treat. This is a really rich cake, not something for every day.

The picture of the cake was taken a few years ago, and as of this writing, in these days of austerity and food shortages, I'm not sure whether or not the decorations will be available.  But, no matter what, the cake itself is delicious.
A Little History of Carrot Cake
Carrot cake has been a staple for a long time because carrots are sweet.  It is believed that carrot cake started in the Middle Ages as carrot pudding because sugar was very expensive. That evolved into a cake and was included in the L'art du cuisinier by Antoine Beauvilliers, chef to Louis XVI. Hmm, it makes me wonder if Marie Antoinette was talking about letting them eat this cake instead of bread – it's tasty and good for you.  Our recipe is much easier, but here's his recipe:
Gateaux de Carottes
Take twelve large carrots the reddest possible boil them in water with a little salt take out the hearts and drain them put them through the cullender into a stewpan dry them upon the fire as pate rotate make a cream patissiere put in as much flour as it will take add the carrots with a little confected orange flowers minced three quarters of a pound of sifted sugar four eggs one after another six yolks and a quarter of a pound of melted butter mix all well whip the whites mix them in lightly prepare a stewpan as for the gateau de riz three quarters of an hour before serving put it into the oven
~Antoine Beauvilliers – L'art du cuisinier
If you can't find green sugar crystals, you can put regular white sugar in a food processor or blender with a drop of green food dye or green food gel and whir it around until all the sugar has a nice color.  Pour it out onto a cookie sheet and let it completely dry before putting it into a container for storage. Pretty neat, right?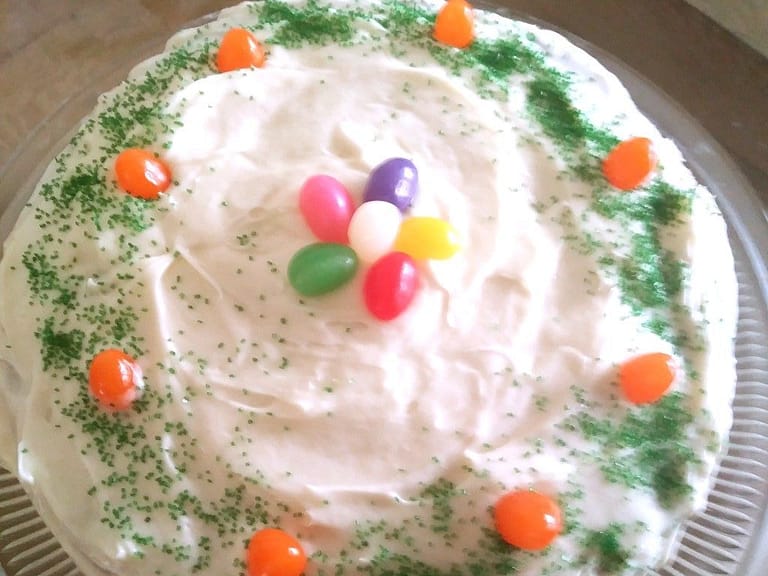 Servings (slide to adjust):
Calories per serving:
767
kcal
Ingredients
3

eggs

2

cups

sugar

1

cup

Sunflower oil

2

cups

flour

2

tsp.

baking soda

1

tsp.

salt

3

tsp.

cinnamon

2

cups

carrots

,

finely grated

1

cup

crushed pineapple

,

drained

1

cup

coconut

,

shredded

1

cup

walnuts

,

coarsely chopped and toasted (optional)

½

cup

raisins

,

optional
Frosting
1

package

cream cheese

,

softened

½

cup

butter

,

softened

3

cups

powdered sugar

1

teaspoon

Vanilla

1

tablespoon

Milk
Decorations
12

Jelly beans

,

orange

¼

cup

Sugar crystals

,

green or green sugar

6

Jelly beans

,

various colors
Ingredients necessary for the recipe step are in italic.
Instructions
Preheat oven to 350 F / 176 C.

Spray two 9-inch cake pans with Baker's Joy and set aside.

Use the fine shredding disk of your food processor to shred the carrots.

Combine eggs, sugar, and oil in a large bowl and mix until smooth and creamy.

Sift together flour, soda, salt, and cinnamon. Slowly add to egg mixture until combined and smooth.

By hand, stir in carrots, pineapple, coconut, raisins, and walnuts.

Pour batter into the cake pans.

Bake for 40 to 50 minutes. Bake the cake until a cake tester comes out clean. Leave the cake in the pans to cool for 10 minutes before turning them out to a cake rack.

Let the cake cool completely before frosting.

To make the frosting, cream the cream cheese and butter together. Add the vanilla and mix. Slowly add the powdered sugar and mix until well combined. Add the milk a little bit at a time until the frosting comes together. You may need to add more sugar or more milk depending on the humidity in your kitchen.

Put a little bit of the frosting on one of the cake layers and spread it out. Top with the other layer and spread the frosting nicely on the sides and top of the cake.

Decorate the cake by making a circle of green sugar on the outer rim of the cake. Place the orange jelly beans in the green sugar so they look like carrots. Then put the other colored jelly beans in the center like a basket of eggs.
Notes
If your grating disk gets stained when grating the carrots, rub it with vegetable oil and the stain will go away.
Nutrition
Calories:
767
kcal
Carbohydrates:
92
g
Protein:
8
g
Fat:
43
g
Saturated Fat:
14
g
Polyunsaturated Fat:
11
g
Monounsaturated Fat:
156
g
Cholesterol:
104
mg
Sodium:
449
mg
Potassium:
185
mg
Fiber:
2
g
Sugar:
72
g