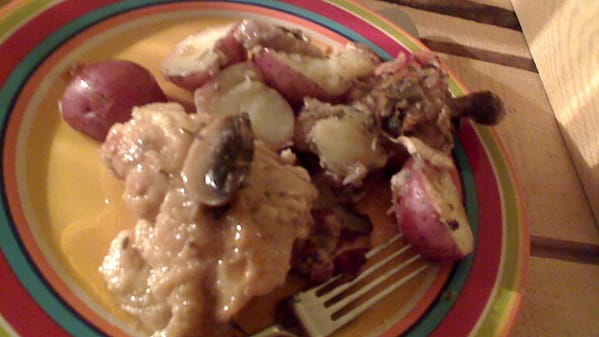 Recipes in this Post
I have a friend who has a chicken, who I have named Coq Au Vin. She's a big orange chicken, and she is going to live a nice long life in my friend's yard, with plenty of food, water and melon treats. Coq Au Vin even recognizes me when I go and visit with her. Why did I name her that? Well, when she is quite old, and not laying eggs anymore, then she will have the glory of becoming a real Coq Au Vin. It will be a good day for her to die because she will know that she is going to make a wonderful dinner.
Well, until that time, I'm not waiting to eat chicken. I bought a chicken, some nice boiling onions, and large mushrooms, most of which became Bacon Spinach Stuffed Mushrooms. I buy most of my produce at the local Armenian store, and they don't usually have the kind of wine I would need to make Coq Au Vin, but I did have some Marsala in the pantry. I also had some dried leeks in my pantry, which also went into my dish.
Whole vs Precut Chicken
A word about whole chickens vs precut chicken. You know, you pay more for the meat-packing company to cut the chicken, and you don't even know if it's all coming from the same bird. When you purchase a whole chicken, you know everything is from the same bird, and you save money by cutting it up yourself. It takes about a minute, and you can find plenty of videos on Youtube showing exactly how to do it. Here's my chicken, all ready to go.
How to Peel Whole Boiling Onions
This recipe calls for boiling onions. They are a little bigger than pearl onions, and smaller than regular onions. Their skin is also difficult to peel off. No problem, though. It's simply a matter of par-boiling them for about two minutes, and draining them. Then just cut the root end, squeeze and the onion pops out of it skin very nicely. Remember this next time you are thinking of paying more for prepared pearl or boiling onions. Save money, and be safer using fresh onions and preparing them yourself.
Recipe: Braised Chicken with Onions and Mushrooms
Summary: You can make this in a Dutch oven, I just think the Nesco is a better choice
Ingredients
1 whole chicken, cut up, neck and giblets reserved for another use
chicken fat from chicken
4 slices bacon
1 cup flour
1 tablespoon paprika
1/2 teaspoon sea salt
1 teaspoon poultry seasoning
1/2 teaspoon freshly ground pepper
1/2 onion, chopped
1 tablespoon shallots in oil
2 tablespoon dried leek
3 large mushrooms, sliced
8-10 boiling onions, peeled
1/4 cup Marsala
2 teaspoons chicken base
3 cups hot water
6 red potatoes, quartered
Instructions
In a large sauté pan, cook the bacon until crisp but not burned. Remove the bacon from the pan, but do not throw out the fat.
Crumble the bacon and set it aside.
Remove the little bits of skin from the chicken fat, and put the fat it in with the bacon fat. If you have a bacon press, put it on top of the chicken fat. Cook it on low until the chicken fat has completely cooked and is getting crispy. Remove the chicken fat. You may eat it – it's really tasty!
Get a large paper or plastic bag and put in the flour, paprika, poultry seasoning, salt and pepper. Put the chicken pieces in the bag, and shake it up so all the chicken gets coated.
In batches, fry the chicken pieces in the reserved fat, just until they start to brown.

Chicken in the Nesco

Put the pieces of browned chicken in the well of the Nesco.
Preheat the Nesco to 350.
Mix the chicken base and hot water in a saucepan and set aside.
Put the chopped onion, chopped shallot in oil, and leeks into the pan and sauté them until the onion is translucent. Don't worry about any sticking.
De-glaze the pan with the Marsala, then add the mushrooms, and sauté them until they are getting a little tan as well. Add the onions, and stir them so they get some of that good flavor.
Take a little of the chicken base stock and put in the pan to de-glaze it further. Get all to good bits up.
Pour the remaining stock over the chicken in the Nesco.
Put the well of the Nesco inside the cooking element, and cover.
Cook until the chicken is done, about 35 minutes
In the last 15 or so minutes, add the potatoes and cook until they are soft, about 15 minutes.
Reduce the heat to 200 until ready to serve.
Quick notes
The chicken fat when it is rendered is sometimes called schmaltz, and is quite tasty.
Variations
You can, of course, use fresh leeks. I just happened to have dried ones.
Preparation time: 30 minute(s)
Cooking time: 35 minute(s)
Number of servings (yield): 8
Culinary tradition: French
My rating 5 stars: ★★★★★ 1 review(s)
Copyright © The Good Plate.
Recipe by Adrienne Boswell.
Microformatting by hRecipe.