Italian Sausage Gravy and biscuits are a favorite treat. Comfort food for breakfast, lunch, or dinner. Find out about my secret ingredient!
Italian Sausage Gravy
Biscuits and Italian Sausage Gravy are a favorite treat. Comfort food for breakfast, lunch, or dinner. Find out about my secret ingredient!
When I was in college, one of my friends introduced me to another girl, Biba Hughes, who would become my best friend. I dated her brother, I got the father/daughter talk from her father because my father had died, and I was privileged to be in the kitchen with her mother, who made the absolute best food. One of our favorites was Biscuits and Sausage Gravy. Her mother made the best and still does. Mine is good, but Jeanne Hughes has some mother thing going that just makes hers the best.
What Type of Sausage?
Jeane always used Italian sausage, because she wanted to make it a real treat for her family.
Italian sausage is known for its bold and distinctive flavors. The combination of herbs, spices, and fennel seeds gives Italian sausage its signature taste, making it a perfect ingredient to incorporate into biscuits and gravy. The rich, savory notes of the sausage pair beautifully with the creamy gravy, creating a symphony of flavors that will leave you craving for more.
Biscuits
Before you start making the Italian sausage gravy, be sure and make my Flaky Buttermilk Biscuits. You can use the buttermilk leftover from making butter to use in your biscuits.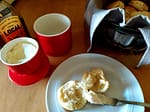 How to Make Flaky Buttermilk Biscuits
Ever wondered how to make your biscuits nice and flaky? Let me show you how to make flaky buttermilk biscuits in a food processor.
If you feel like making something other than homemade biscuits, rest assured you can also use canned biscuits. Thickly sliced sourdough bread would also make a nice base for the gravy.
If you want to make this gravy for lunch or dinner, it's also very good on mashed potatoes or rice.
Substitutions
If you want to make this and don't have Italian sausage available, you can use bulk sausage and add the missing ingredients, garlic, and fennel seed.
If you don't want to use pork sausage, you could use a good Italian chicken sausage like the one at Aldi, Never Any! Chicken Sausage, Mild Italian Style. I like my Italian sausage on the spicy side, so I add extra fennel seeds and chili flakes.
The Secret Ingredient
Ssh! The secret ingredient is an old one you have probably seen at the grocery store's spice aisle many times. It's Lawry's Lemon Pepper. Yes, there are other lemon peppers out there, but this one the grated lemon peel is superior and it's what Jeanne always used. It's good on fish, too!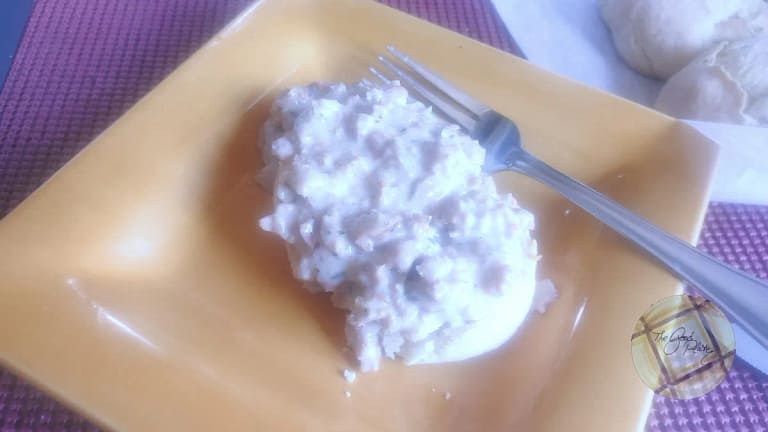 Servings (slide to adjust):
Calories per serving:
195
kcal
If you purchase any of the products through these affiliate links, I get a few pennies that help keep The Good Plate open. I use these products myself and want you to be able to easily find them.
Ingredients
4

Never Any! Chicken Sausage Italian

1

teaspoon

Fennel seed

½

teaspoon

Chili flakes

2

tablespoon

Flour

1

cup

Milk

½

teaspoon

Lawrys Lemon Pepper

¼

teaspoon

Ham base
Ingredients necessary for the recipe step are in italic.
Notes
The nutritional information shown does not include the biscuits.  Nutritional information for the biscuits is available at How to Make Flaky Biscuits.  Nutritional information is for the Italian Sausage Gravy only.
Nutrition
Serving:
151
g
Calories:
195
kcal
Carbohydrates:
8
g
Protein:
16
g
Fat:
11
g
Saturated Fat:
4
g
Polyunsaturated Fat:
0
g
Monounsaturated Fat:
1
g
Cholesterol:
74
mg
Sodium:
615
mg
Potassium:
115
mg
Fiber:
1
g
Sugar:
4
g