This is from Chef John Farion for Halloween or any time
Bat Wings in the Air Fryer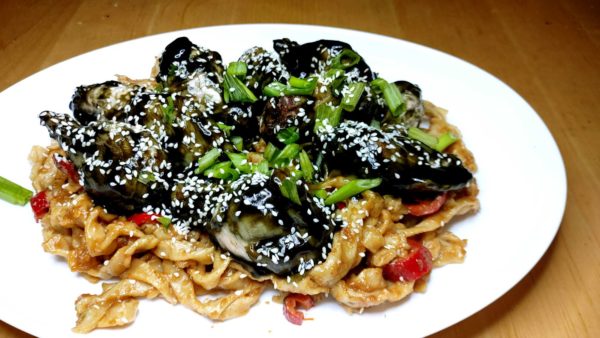 Boo! No, these are not really bat wings – they are chicken wings napped in oyster sauce. This recipe was given to me by Chef John Farion a long time ago and this was the first time I made it.  John did good, these were excellent.
Halloween is my favorite time of year.  Halloween is the Eve of All Hallows Day or All Saints Day.  Going to a Catholic middle and high school, we had All Saints Day off because it was a Holy Day of Obligation. Not being Catholic myself, I thought that was pretty cool to not have to go to school the next day after partying with candy and friends all night.  As I got older, I realized it's just a wonderful celebration of individuality and self-expression. What's better for a Halloween celebration than chicken in a luscious Asian sauce?
Not Really Bat Wings
The only real difference is these "bat wings" have black food dye in the sauce.  The sauce is dark, but the black really makes it look spooky.  I recommend using gel food dye instead of the liquid.  You really don't need much of the gel, just a 1/8 inch on the tip of a knife is plenty.  Wilson makes very good gel dyes that are always very true to color.  I have a variety that I use various times in the year.
You don't have to wait until Halloween to make these chicken wings in oyster sauce.  You can make them any time of year.  I cooked the wings in the air fryer, but you could deep fry or bake them if you want to.  The most important part is brining them before you cook them. To be sure you have a crisp skin, blot them with a paper towel before cooking them.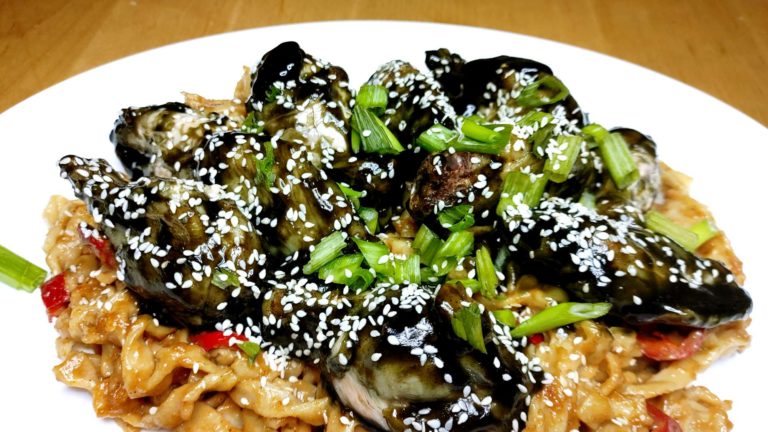 Servings (slide to adjust):
Calories per serving:
303
kcal
Ingredients
~~ -- For the Sauce -- ~~
¼

cup

soy sauce

¼

oyster sauce

½

teaspoon

anchovy paste

½

teaspoon

black pepper

,

freshly ground
~~ -- Slurry -- ~~
2

tablespoon

corn starch

¼

cup

water

¼

cup

sherry

⅛

teaspoon

black food gel

,

optional to make the sauce black
~~ -- Garnish -- ~~
1

teaspoon

sesame seeds

¼

cup

green onion

,

sliced
Ingredients necessary for the recipe step are in italic.
Instructions
For the chicken:
Remove the chicken from the refrigerator and wipe the pieces with a paper towel.

Roast at 400 F/ 204 C for 12-15 minutes or until nicely browned and crisp. The internal temperature should be 165 F/ 73 C
For the Sauce
Mix the sauce ingredients together in a saucepan. Mix the slurry ingredients together. Bring the sauce to a simmer and add the slurry stirring constantly until the sauce is nicely thickened. If you want to make the sauce black for Halloween, add the black food gel and stir until the mixture is dark black.
Notes
If you like your sauce hot and spicy, add sliced red jalapeno peppers.
Nutrition
Calories:
303
kcal
Carbohydrates:
10
g
Protein:
37
g
Fat:
11
g
Saturated Fat:
2
g
Polyunsaturated Fat:
3
g
Monounsaturated Fat:
4
g
Cholesterol:
106
mg
Sodium:
2020
mg
Potassium:
376
mg
Fiber:
2
g
Sugar:
2
g