Asian couscous is a no-cook side dish. It's a fusion of two cuisines that comes together in your kitchen in about 15 minutes.
Asian Couscous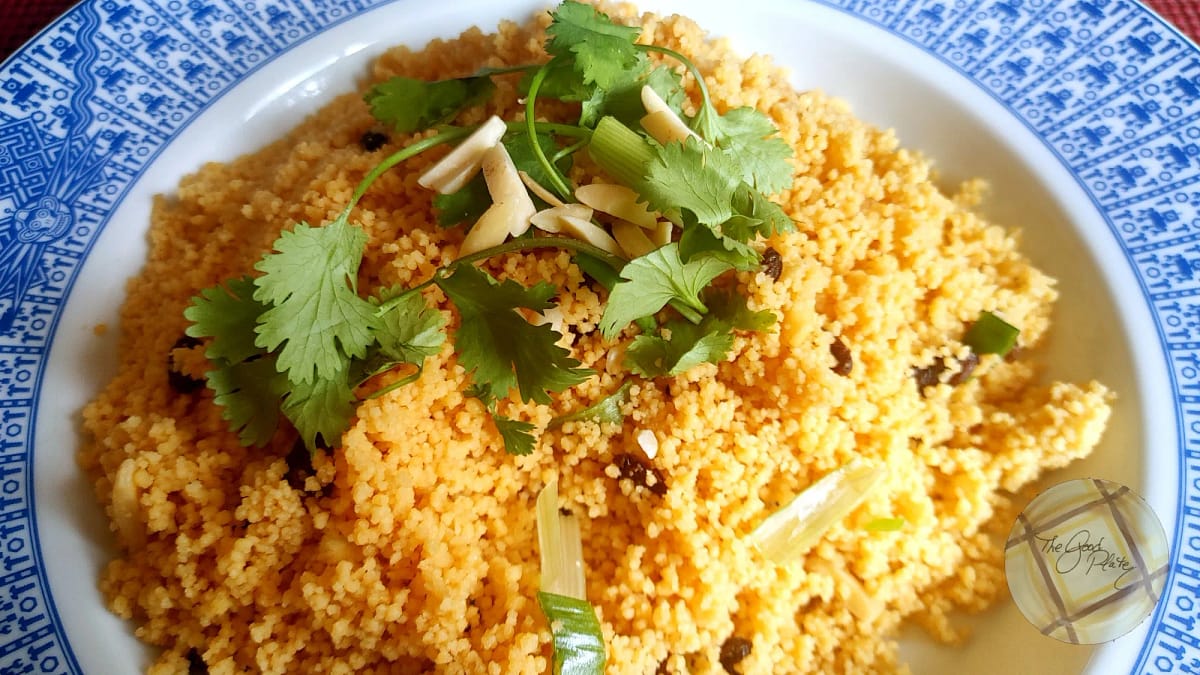 Asian couscous is a no-cook side dish. It's a fusion of two cuisines that comes together in your kitchen in about 15 minutes.
My good friend, Allisa, of The Heritage Eatery and My Favorite Place, introduced me to couscous, and I loved it. It's very versatile as you can add just about anything to it. When I made Teriyaki Burgers, I served them with this Asian couscous. They were perfect together.
Couscous
Couscous is a side dish made from semolina wheat. Couscous is not rice. Although it is often substituted for rice, it is not gluten-free. It is, in fact, almost a form of pasta. It is made by forming semolina mixed with water into small pellets and then dried. It is an ancient food dating back to the 3rd century BC, the kings of Numidia in Algeria. Today, it's not labor intensive at all. It's at your grocery store.
When couscous is hydrated with liquid, it's light and fluffy. You don't have to cook it, just cover it with boiling water and let it sit for five minutes. How's that for easy?
Asian Flavors
This Asian couscous gets its flavors with the addition of ginger, soy sauce, and toasted sesame oil. Both ground ginger and crystallized ginger are used here.
Sometimes crystallized ginger is difficult to find, but Penzey's has it, and you can often find it in Asian markets. I recommend keeping it on hand because it does wonders for an upset stomach. A little piece will usually settle your stomach, so you don't have to keep bottles of ginger ale.
Storing Leftovers
If you have any couscous leftover, which is unlikely, you can put it in a covered container in your refrigerator. You can reheat it in the microwave. If you don't want to you the microwave, you can melt a little butter in a pan and saute it until it's hot.
Happily, couscous also makes a nice salad by itself, or you can add it as an ingredient.
Servings (slide to adjust):
Calories per serving:
245
kcal
Equipment
If you purchase any of the products through these affiliate links, I get a few pennies that help keep The Good Plate open. I use these products myself and want you to be able to easily find them.
Ingredients
~~ Liquid ~~
1

cup

Water

,

boiling

1

teaspoon

Vegetable base

¼

teaspoon

Ground ginger

1

teaspoon

Soy sauce

¼

teaspoon

Sesame Oil
~~ Couscous ~~
1

cup

Couscous

¼

cup

Raisins

¼

cup

Green onion

,

sliced

½

teaspoon

Crystallized ginger

,

chopped

¼

cup

Almonds

,

slivered
Ingredients necessary for the recipe step are in italic.
Instructions
1 cup Water,

1 teaspoon Vegetable base

To make the liquid thoroughly mix the vegetable base and water together.

1/4 teaspoon Ground ginger,

1 teaspoon Soy sauce,

1/4 teaspoon Sesame Oil

Then add the ground ginger, soy sauce and sesame oil,

Let it sit for five minutes , then fluff it with a fork. Add additional garnish as desired and serve.
Notes
You are free to omit any of the ingredients or add others as you see fit.  It's your couscous, you make it the way you want it!
Nutrition
Serving:
130
g
Calories:
245
kcal
Carbohydrates:
46
g
Protein:
8
g
Fat:
4
g
Saturated Fat:
0
g
Polyunsaturated Fat:
1
g
Monounsaturated Fat:
2
g
Cholesterol:
0
mg
Sodium:
205
mg
Potassium:
216
mg
Fiber:
4
g
Sugar:
7
g